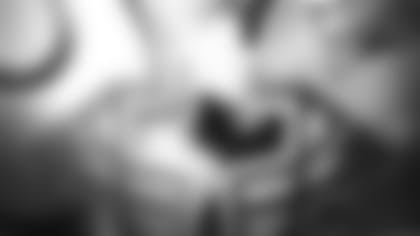 *Intro: *The Indianapolis Colts (6-3) will look to extend their NFL-best four-game winning streak this weekend when traveling to New England (6-3) for a 4:25 p.m. kickoff.
INDIANAPOLIS – Robert Mathis is a man of a few words in the Colts locker room but when he speaks, the ears around him are tuned in.
Mathis will strap on the pads this weekend for the tenth time against New England (the most against any team not in the AFC South) and offered his opinion of the Colts-Patriots matchup.
"History, rivalry.  Anything you want to call it, it's going to be that," Mathis said.  "There's no love lost between both clubs, so it's going to be a good game, hard fought."
For the 13th overall time since 2003, the Colts and Patriots will meet, and this one falls right in line with past series contests, and it fits into the best storylines this week in the NFL.
The Colts sit at 6-3 and carry an NFL-best four-game winning streak (shared also with three teams) into Foxborough.
Waiting for them is the 6-3 Patriots, whose three losses have been by a total of four points.
Tom Brady has been the leader for New England in many of the historic Colts-Patriots meetings, and he normally finds himself playing his best football as the season moves on.
Brady has won his last four November games, while throwing 10 touchdowns with no interceptions in those contests.  Since 2010, the Patriots are 17-0 in the second half of the NFL season.
Just as he has been in the past, Brady is not afraid to use any of his skill position players, and Colts interim head coach Bruce Arians talked about the task of defending an offense with a multitude of options.
"You don't know exactly how they're going to use all those tight ends or how Wes Welker is going to get open, but he's going to get in there and dance around and get open.  You've just got to have enough pass rush and patience to get there and make sure you tackle extremely well," Arians said.
"(Danny) Woodhead and all those guys are great run-after-the-catch guys.  You can't let them take a five-yard pass and turn it into a 50-yard gain.  You minimize the run after the catch with these guys and you'll do a pretty good job.  Then mix up your coverages, because you're not going to show Tom anything he's never seen.  You've just got to hopefully continue to change it to where he can't get comfortable."
The Patriots offense leads the league in points (33.2) and yards (430.3) per game and has benefited from running back Stevan Ridley.  A second-year pro out of LSU, Ridley ranks third in the AFC with 814 yards on the ground.
Tight end Rob Gronkowski continues to dominate in the red zone and has recorded five touchdowns in the past three games for the Patriots.
Welker leads the team with 66 catches, and is on the tail of Reggie Wayne (69) for the league lead in receptions.
Colts cornerback Darius Butler played for the Patriots from 2009-10 and is very familiar with the ability Welker can bring to the slot receiver position.
"We actually work out offseason at the same place, so we're definitely familiar with each other as far as athletic ability," Butler said of Welker.  "He's one of the best receivers in the game, obviously one of the most productive in the past few years in this league.  It'll be a great matchup for us for this defense."
Many Colts will head to Foxborough and Gillette Stadium for the first time this weekend.
A pair of Colts who are no strangers to the visitor's locker room there are outside linebackers Dwight Freeney and Robert Mathis.
Stopping the run and forcing the Patriots into a one-dimensional offense remains goal No. 1 for the Colts defense but when it comes to the pass, the return of the Pro Bowl duo on the outside is something that has Arians excited moving forward.
"I'm really anxious to see them play two or three weeks together.  I think we could really build a defense that is formidable against the run and the pass when we have those guys in there," Arians said.
Freeney and Mathis will be chasing Brady around Sunday and have combined for eight sacks of the Pro Bowl quarterback in 18 career regular season meetings.
The respect of Brady was heard throughout the Colts locker room this week, and his .774 winning percentage is the best for any quarterback in the Super Bowl era.
The Colts' own quarterback Andrew Luck has been a frequent observer of past meetings between Indianapolis and New England.  Now, Luck will be the one at the reins of a Colts team looking for its first five-game winning streak since winning 23 straight regular season games from 2008-09.
"Obviously as a football fan, you know about the New England Patriots.  I'm very excited to have the opportunity to play against them," Luck said.
"We know it's going to take our best shot to have a chance to win," Luck said.  "I'm sort of being educated on the great rivalry of the past 10, 12 years or so between the two franchises. Hopefully, we can continue that."
Patriots 31, Colts 24 – December 4, 2011
Looking for their first win of the 2011 season, the Colts almost pulled off a historic fourth quarter comeback.  The Patriots jumped out to a 31-3 after three quarters but thanks to quarterback Dan Orlovsky, Indianapolis began to chip away at New England's lead.  A drive taking 8:49 ended with a five-yard touchdown run by running back Donald Brown to cut the lead to 31-10 with 10:24 to play.  The Colts defense forced a pair of three-and-outs sandwiched around an Orlovsky interception.  Orlovsky bounced back from the interception with an 11-play, 93-yard drive that was capped off by wide receiver Pierre Garcon hauling in a 33-yard touchdown reception with 2:12 left.  The Colts defense put together another stand, with New England punting after an onside attempt by Indianapolis failed.  The Colts went 90 yards in five plays, with Garcon scoring his second touchdown of the afternoon, this one from 12 yards out on another Orlovsky pass.  Down 31-24 with 36 seconds to play, the Colts could not recover a Pat McAfee onside kick.  Orlovsky was 30-of-37 for 353 yards and would end up starting the rest of the 2011 season.  Garcon led the club's receivers with nine catches for 150 yards and two touchdowns.
*Patriots quarterback Tom Brady versus the Colts defense: *Brady once again is embarking on a Pro Bowl season with 18 touchdowns and just three interceptions through nine games.  He has plenty of weapons to spread the ball around to and is leading an offense with the fewest giveaways in the NFL.  Bruce Arians said the Colts' takeaways would come in bunches once they started and Indianapolis is coming off three forced turnovers against the Jaguars, all ironically from former Patriots cornerback Darius Butler.
Colts rushing attack versus the Patriots defense:  New England's rush defense ranks among the top ten in the NFL and is anchored by a massive front seven.  It is no secret the Colts are in the midst of a four-game winning streak thanks to a strong rushing attack.  The Colts have rushed for at least 138 yards in three of the past four games and have relied on a trio of running backs behind an offensive line that is beginning to create some quality depth.  Indianapolis has seen an average of 9.3 more rushing attempts and 52.3 more rushing yards per game during the winning streak.
The Colts and Patriots are meeting for the 10th straight season.
Colts quarterback Andrew Luck's 2,631 passing yards are the most through nine games among rookie quarterbacks in NFL history.
Colts wide receiver Reggie Wayne needs 69 receiving yards to reach 1,000 for the eighth time in his career.
Colts outside linebacker Robert Mathis can surpass his personal record with a sack in his ninth consecutive game played.
Colts cornerback Darius Butler was drafted by the Patriots and played in New England from 2009-10.
Colts kicker Adam Vinatieri (1996-2005) and safety Sergio Brown (2010-11) also played for the Patriots.
Since 2002, the Patriots are 70-14 (.833 winning percentage) at home.
The Patriots average an NFL-best 33.2 points per game and 430.3 yards per game.
Patriots quarterback Tom Brady has thrown a touchdown pass in 41 consecutive games, which is the third-longest streak in NFL history.
Patriots wide receiver Wes Welker has at least six catches in seven straight games.
Patriots defensive end Chandler Jones was the AFC Rookie of the Month in September and leads all rookies with six sacks.
Patriots linebacker Niko Koutouvides and defensive lineman Rob Ninkovich attended Purdue University.
Colts interim head coach/offensive coordinator Bruce Arians(on his message this week):
"The biggest thing is don't change what you're doing.  What you're doing is good enough.  You don't have to add or do anything different.  Just respect the process of what we got done and knowing that we haven't achieved anything, other than put ourselves in position to achieve something.  If we don't stay to exactly what we've been doing, start letting outside influences creep in, any team on our schedule can beat us.  We can beat anybody as long as we respect the process and get ourselves ready to play."
Colts interim head coach/offensive coordinator Bruce Arians(on if seen any drop off with QB-Tom Brady):
"No.  If anything, he's gotten better.  They do a very good job of keep pressing the envelope offensively.  They've gone through a couple different guys as coordinators, but Tom and Coach (Bill) Belichick have always got their hand on the pulse of the rest of the league and, 'These guys are doing this, how can we incorporate it?'  Defensively, he gets all the credit for utilizing his personnel, but I think coach has always done a great job offensively of putting guys in the best position to be successful, and that just helps Tom."
Colts interim head coach/offensive coordinator Bruce Arians(on TE-Rob Gronkowski):
"I think he's the biggest and fastest that's come along in a while.  I don't think it's a surprise because coming out of college, if his back held up, you knew he was going to be an outstanding player.  He was an outstanding blocker, and he could run and catch.  He's athletic.  I think they've streamlined and changed what they've done over the last two or three years because of Aaron Hernandez and Gronkowski.  I remember playing them when they were nothing but three wideouts out on the field and a tight end, and he was just out there.  They've evolved because they do a fantastic job of adapting to their personnel.  They obviously have wanted to have that style, so they've stockpiled tight ends and that's what they do."
Colts quarterback Andrew Luck(on heading into first taste of the Colts-Patriots rivalry)
"Hopefully, it's going to be a good game.  Obviously as a football fan, you know about the New England Patriots.  I'm very excited to have the opportunity to play against them.  Hopefully, we'll give them our best shot.  We know it's going to take our best shot to have a chance to win.  I'm sort of being educated on the great rivalry of the past 10, 12 years or so between the two franchises.  Hopefully, we can continue that."
Colts defensive end Cory Redding(on the importance of this week):
"Every week is big.  Every week is big, but this one in particular because of what we're doing and what we've done the last few weeks.  A lot of us are getting mentally and physically ready for this game.  (Bruce Arians) asked us in the meeting room who has been to New England before and who is going up there for the first time, a few hands were raised. Take a good look, it's Tom Brady on the front, don't be star struck, let's go out there and play football.  It's one of those deals where we're getting mentally ready and going up there to do our job and that's to continue this winning streak, keep stacking wins, and find a way to win in New England."
Patriots head coach Bill Belichick(on if impressed by quick Colts turnaround):
"I mean, this is a pretty good football team.  They had a lot of winning seasons and won a lot of games.  Of course last year was disappointing record-wise, but they played us very competitively here.  I think you see that quite a bit in the league.  Teams go from the bottom to the top, from the top to the bottom, new division winners every year, usually three or four of them.  So I don't think it's that unusual.  They've done a good job.  Coach Pagano and Coach Arians and Ryan Grigson and all the guys who have come into the organization have done a great job of taking their resources, adding to them and getting the players on the team to perform at a high level. So they certainly deserve a lot of credit for that, too."
Patriots head coach Bill Belichick(on QB-Andrew Luck):
"It looks like he's getting better every week, playing with more and more confidence.  He's got a great corps of receivers, tight end targets to throw it to.  He shows a lot of poise to make all those throws, very athletic in the pocket, scramble to run, can buy more time in the pocket to throw the ball down the field.  He's playing like a very experienced and poised player."
Patriots head coach Bill Belichick(on when facing a rookie quarterback if there are opportunities to throw something different defensively at them):
"Well I mean, I think, we have a lot of respect for all the players that we play no matter what year they are.  Good players are good players, whether they're good players in their first year or good players in their 10th year, they're still good players.  Sometimes the younger guys are in some respects more dangerous than an experienced guy because they are more aggressive and they don't worry about as many things.  I don't know.  I think that obviously Luck is playing very well, and I think we're very concerned about his skills and his playmaking ability and his poise and his production."
Patriots wide receiver Wes Welker(on if impressed or surprised by quick Colts turnaround):
"Yeah.  I'm definitely impressed.  Obviously, you would figure it would be a rebuilding type deal for the Colts and it's not that way at all.  They're playing some really good ball with a lot of young players, and then they have some veterans, too, who really kind of step up for them in crunch time.  Obviously their quarterback has done a really good job and Reggie Wayne is back to form, and those two ends are about as tough as they get."
Patriots wide receiver Wes Welker(on if enjoyed all the great games in this rivalry):
"Yeah.  I think both teams have had a good history, especially in the last decade.  Obviously, the Colts are playing some really good football right now and winning four in a row and everything like that, winning a lot of close games.  They are a tough, physical team and playing really well late in games."