 INDIANAPOLIS – When a player arrives in the flashy manner Trent Richardson did in Indianapolis on September 18, big anticipation follows.
When the price paid is next season's number one and it was spent on the player taken third overall in the previous year's draft, outside expectations sometimes exceed the realities of a team sport.
Richardson has rushed 75 times for a 3.0 average with Indianapolis, scoring two touchdowns and catching two passes.
His arrival partly was the result of a season-ending injury to Vick Ballard, and his offensive role was put under a magnifying glass when a neck injury in the first game he was paired in with Ahmad Bradshaw halted Bradshaw's year.
Any clamor over Richardson and his adaptation to the offense is not inside the Colts' headquarters.
"Trent is a great fit for us," said Ryan Grigson.  "Nobody is harder on himself or expects more of himself than Trent.  He defines the word 'grit' with his running style."
Sharing some backfield duties with Donald Brown has been the approach, the same one held when Richardson was imported from Cleveland.  After rushing for 950 yards as a rookie, he is absorbing a new offense on the fly.
"At 23 years old and learning his third offense in a season and a half, we knew going in that Trent was basically like getting our 2014 first-round draft pick this September with no off-season to learn or acclimate," said Grigson.  "Basically he's almost like a rookie for us, and we have him for the long haul."
Many are quick to undervalue spring work that spans nine weeks starting in April, then increases in intensity in training camp where most of the 25-to-30 practices are held at a higher level.  Learning is not an overnight process.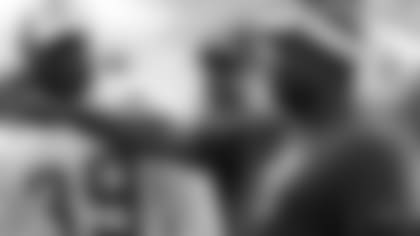 "(He's) working hard to understand the nuances of our offense," said running back coach David Walker.  "He's doing a good job with that.  It's still a work in progress.  Certain phases were quicker than others.
"In our playbook, there are over 200 route concepts.  It takes a while to get all that.  The run schemes he ran in Cleveland are similar to the schemes we do here, but different terminology.  Your 10 run schemes are not the hard part to learn.  It's all the complements, what passes are called, 'What's my checkdown on this or that one.'  All that takes a lot more time just because of the volume (involved).
Richardson has shown burst and elusiveness.  He has demonstrated the stay-with-it approach the club employs with a power running attack that can influence possession time while moving the chains.
He has had a 4.0 average once and has averaged 15 carries a game so far.  Those numbers should increase as games proceed and his complete assimilation in the attack is achieved. 
"We're pleased with where Trent is," said Walker, who commended Richardson's pass protection ability.  "Our run game has been productive.  We're efficient, and we're winning games. 
"He's obviously a guy that has the ability to make defenders miss tackles.  He made a lot of missed tackles in his short time here, and he finishes runs.  All the things when he was in Cleveland and throughout his college career that people see in him, those things have showed up and will continue to show up."
Walker does not think Richardson is putting extra pressure on himself.  He says the club's approach to ground success matches what Richardson feels, too.
"I think what he has done in his career is just run the ball, run the play.  The big ones will come," said Walker.  "Don't try to make a big play every time you get the ball.  Just read the play the correct way and the big ones will come. 
"That's the approach we're using with him, and it's the approach he has.  It takes time.  He'll have his opportunities to make plays for us.  He doesn't have to press or do anything extraordinary.  Just trust what you see and finish the runs."
Richardson produced in the nation's top conference (SEC), at powerhouse Alabama and under Nick Saban.  The Colts' head personnel chief and the triggerman on the trade is confident of what will come.
"We won't, and I know Trent won't, rest until he reaches his ceiling of development as a player," said Grigson.  "In the meantime he is making this offense go and is a key contributor in helping us win, and that is what truly matters."