 INDIANAPOLIS – As a 28-year old general manager, Jim Irsay stood in downtown Pittsburgh in 1987 as his Colts were facing the Steelers the next day.
Irsay said his ultimate goal was to do what never had been done before in the Super Bowl era, and that was to win three in a row.
He was in a city that had enjoyed four Super Bowl titles in the past 14 years, and he wanted his franchise to have the same success.
Trying to scale those heights, Irsay was not afraid to make things happen.  Two weeks after making that statement, he had Eric Dickerson in a Colts uniform. 
His aggressive nature in trading circles over the next three years was robust, and Irsay never lost the drive for success. 
It nearly came in 1995 when the Colts reached the conference title game.  It came indeed four years later, and Irsay presided over a 2000-09 run where the Colts posted the winningest regular-season decade (115 victories) in NFL history.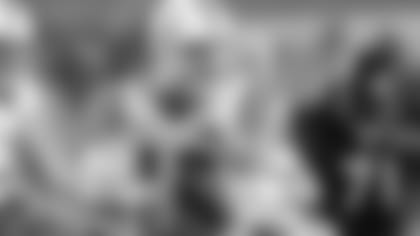 His team won one World Championship and played for a second, but the goal of successive titles still is out there.
Irsay's current regime of Ryan Grigson and Chuck Pagano dares to dream, and the goal of hoisting the Lombardi Trophy is one enunciated regularly in club circles. 
Speaking on the occasion of a blockbuster trade that landed Trent Richardson, Pagano said studying how to win on a large scale has been done internally by Grigson.
"What they did is go back and look at dynasties," said Pagano.  "All the great dynasties, whether it's the Yankees, the Celtics, the Lakers, he always points out they were innovative.  They thought outside the box.
"They weren't afraid to take chances, calculated chances.  Everybody checked their ego at the door, and they all had a common belief."
Trading became less frequent in the NFL in the early 1990s with free agency and the salary cap changing a time-honored practice.
Grigson joined the Colts in 2012, and the Richardson trade was his 16th as general manager.  Some were minor.  Others like Richardson and last year's landing of Vontae Davis included first- and second-round choices.  The 2012 draft-day acquisition of T.Y. Hilton was a bold stroke involving a fifth-round pick.
"When Jim Irsay had hired me, there was no how-to book or a blueprint of any sort," said Grigson.  "I just kind of try things and if they work, they (work).  If I see a ray of hope in something, I try to power through it and get something done."
Grigson has landed players from leagues across the country.  He commissioned a staffer to locate international talent – presto, Daniel Adongo (on the practice squad) came to America from rugby in South Africa.
Every year, Grigson tabs a personnel individual to prepare a presentation.  While Jon Shaw found Adongo, Jamie Moore put together a look at dynasties.
"It was just on dynasties of all different sports," said Grigson.  "I sat there and took notes and took away some common things from each organization.  You're talking about teams with phenomenal success, multiple championships – the Montreal Canadiens, the Boston Celtics, the Yankees, the Steelers.  A lot of them had some similarities (like) the drafts they had."
It takes dreams, elbow grease, passion, selflessness, commitment.  It takes a one-page organization with a dedicated owner.  Those are tangibles and intangibles present with the Colts as they strive to reach that level.
"The bar is set really high when you look at those franchises.  We're not there yet, but it's something to shoot for," said Grigson.  "Our owner sets the bar high.  That's why we have the Lombardi (Trophy banner hanging) in (our indoor practice facility).  That's the goal.  Anything that falls short of that isn't what we set out to do."
Says Pagano, "I think it's great on this organization's part.  I think it's great we have an owner that's more than willing to be innovative, to think outside the box, along with the general manager, and give this team the pieces needed to move forward to have an opportunity to reach that ultimate goal."
Grigson says the mission is evident for Colts fans everywhere.
"You have an owner that is committed to winning," said Grigson. "Every day we work to get better.  (Wednesday), we had a great day for the organization, but today is another day with our nose to the grindstone.  We have no choice but to attack it like that.  There are no siestas in the NFL."