 ](http://careyindiana.com)
INDIANAPOLIS – Ryan Grigson's first exposure to the NFL Combine came in 1998 as a scout with Saskatchewan of the CFL.
A year later, he joined St. Louis and has been at the annual process ever since.
Grigson's rise through the ranks with the Rams and Philadelphia had him in different roles at combines, but his view as the Colts' personnel chief is anything but a lone-wolf venture.
"I'd say the biggest difference is that now I can approach the entire process as general manager the way I feel is best for the franchise," said Grigson, "but I lean on all those previous experiences and the people around me to help me deem how to go about it."
Grigson oversees veterans on the personnel and coaching staffs, and Indianapolis seeks to supplement a program that has won 23 times in 34 games since 2012 and ranks as the only franchise not to lose consecutive games.
Grigson knows scouting is not an exact science, but he is aware talent is available far beyond the opening round. 
That is important because for only the fifth time in franchise history the Colts do not have a first-round pick.
Indianapolis relinquished that slot last September in trading for Trent Richardson, possibly making 2014 stand alongside 1988, 1991, 2004 and 2008 as the only times the Colts were idle in the opening round of a draft.
Preparations are status quo and with five selections, Indianapolis hopes to augment a roster more veteran than when Grigson and Chuck Pagano started building it two years ago.
At the combine, 335 players will undergo medical, psychological and physical testing by position groups.  The process started Wednesday and concludes Monday.  On-field work commences Friday.
"Timing the 40's is about the only thing that really ever gets me excited," said Grigson.  "Some guys you really liked may not run as well as expected, or some may really fly that you didn't think were fast from the film.  You make note of those things because it can affect them come draft day. 
"Also, some of the drills can generate excitement when players really jump out with their athletic movement and mannerisms.  Usually the elite guys look a tad different from the rest."
Perhaps more valuable is what is learned about prospects away from physical drills.
"Medical is huge because you want healthy bodies – ones that can play, stay on the field and play out the length of their contract," said Grigson.  "The formal interviews we conduct are as important as anything done at the combine.  Just sitting and listening to a prospect speak and tell you about themselves and also see how they respond to tough questions we may throw their way.  It's the ultimate job interview. 
"We want guys to drop the BS at the door and let us in to who and what they are.  If they have made mistakes we want them to act like men, own up to it and discuss it.  We want guys to be real.  We have developed a strong culture in our locker room.  We want to keep cultivating that with the right human beings who can buy into and live by the Colts' motto of 'Trust, Loyalty and Respect.'
Grigson says the club has no reservations about taking players who come out early.  This year, 98 underclassmen are draft-eligible with 85 attending the combine.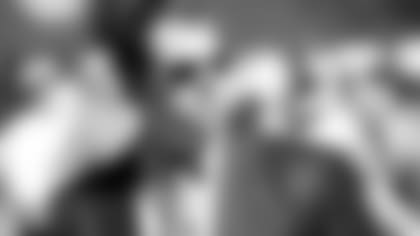 The combine was a smaller entity in the public consciousness in Grigson's first time around.  The NFL Network is telecasting 60 hours of the combine this year with 23 personalities, and last year's process drew 7.25 million viewers.
"I am thankful for all the attention because it just generates more interest for our sport," said Grigson.  "I was a draftnik myself before I got into this profession and would have loved to have all the media and internet information at my disposal nowadays like the modern day draftnik does."
Grigson will take copious notes knowing some attendees could join the club in May's draft or as untabbed free agents. 
Some eventually could find Indianapolis as home through veteran free agency.  Notes taken now always are data down the line.
When asked previous combine memories, Grigson recalls a fellow Boilermaker excelling in a 2001 interview with St. Louis.  
"Drew Brees comes to mind," said Grigson.  "(He was) just so intelligent, focused, mature but had an air of toughness and true confidence about him.  All those traits have obviously served him very well in this league, along with his God-given talents."
Sixteen previous combines hold a trove of memories.  One that stands out for Grigson involves a live-armed quarterback in 2000. 
"When I was a young combine scout, one of my many duties working for St. Louis was to be in charge of and recording the results of the radar gun for QB's.  (They no longer use this test at the combine).  You can usually tell before you even looked at the reading who was throwing the best fastball," said Grigson.  "(A) big, lankier type guy walks up and started throwing some balls with some real visible and audible velocity. 
"When a guy can really throw and has a tight spiral you can actually hear the ball ripping and cutting through the air.  It turns out that guy ended up going in the sixth round and is one of best to ever play the game (New England Patriots QB Tom Brady). 
"If my memory serves me right I'm pretty sure he finished second that day of all the QB's at the combine to Spurgeon Wynn.  He definitely got my attention that day but at the time, I honestly had about as much say in our draft process as that radar gun I was holding."