 ](http://careyindiana.com)
INDIANAPOLIS – With five picks in the 2014 draft, the Colts are looking to supplement a roster that has helped the team earn consecutive 11-5 records and playoff berths.
There have been a number of significant players taken at all roster positions in the last 30 seasons.  Here is a review of the top positional choices of the past, the last five or six taken by the Colts and a listing of my top five choices available in this year's process (these do not reflect the position of the Colts).
TOP QUARTERBACKS TAKEN IN INDIANAPOLIS ERA
*Winner – Peyton Manning (D1-98, 1st overall; Years: 1998-2011; Starts/Games: 208/208) *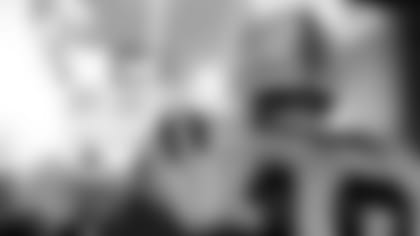 *Manning Notes (with Colts): *Hit 4,682-of-7,210 passes for 54,828 yards with 399 touchdowns and 198 interceptions.  Is only NFL player to open a career with 13 consecutive 3,500 -yardage and 25 -touchdown seasons.  Started the first 208 career games, an NFL career-opening record at any position, and is one of 11 players ever to start 200 consecutive regular season games.  Was at helm as club had 115-45 (.719) regular-season record from 2000-09, the most victories by team in any NFL decade.  Was a part of 141 victories, the most by any Colts player.  Upon departure, had produced the 13 best Colts seasons in completions and yards, the 12 best seasons in attempts, the 10 best seasons in games with a TD pass, 12 of the 13 best seasons in completion percentage and 13 of the 15 best seasons in touchdown passes.  Owns club seasonal marks in completions (450, 2010), attempts (679, 2010), yards (4,700, 2010) and touchdowns (49, 2004), and owns six of the club's seven 30 -touchdown seasons.  Twice (at New Orleans, 9/28/03; at Detroit, 11/25/04) tossed six touchdown passes in a game, and threw for five in four other outings.  Eleven-time Pro Bowler and record four-time (now five) NFL MVP.  Said Marshall Faulk, "Playing with number 18, you knew greatness was upon this kid.  He was going to out-work you off the field to make it easier to out-work you on the field.  I was glad I got a chance to be a part of being on his side and sharing a field with him.  He's going to go down as greatest quarterback in our league, no doubt."
Runner Up – Jack Trudeau.
THE LAST FIVE QUARTERBACKS DRAFTED BY COLTS:
2012:  Chandler Harnish, seventh round, Northern Illinois
2012:  Andrew Luck![](/team/roster/andrew-luck/ea912f8f-b6a5-4782-8b64-835b8fd58805/ "Andrew Luck") (click here for story), first round, Stanford
2009:  Curtis Painter, sixth round, Purdue
2004:  Jim Sorgi, sixth round, Wisconsin
1998:  Peyton Manning, first round, Tennessee
KELLEY'S TOP FIVE AVAILABLE IN 2014 DRAFT:
Johnny Manziel, Texas A&M
MANZIEL QUOTE-UNQUOTE:**  "I'm probably one of the most competitive people on the face of this earth.  Whether it's playing tic-tac-toe or rock, paper, scissors or whatever it may be, I want to win.  It's something that really dating back all the way to being a kid, I don't like the taste of losing.  (It) leaves a really sour taste in my mouth.  I'm an extremely competitive person (and) at the same time, I want to be a great leader as well."
Blake Bortles, Central Florida
BORTLES QUOTE-UNQUOTE:**  "The skill set I possess is being able to extend plays, being able to handle a lot of offense.  Having played at UCF, (I am used to) dealing with a lot of things as far as handling (the) offense, making all the throws, being trustworthy.  I think making the right decisions on and off the field, not embarrassing the franchise or your last name is huge, especially when you're playing quarterback in the NFL.  I think those things, the competitiveness, are all traits that are great to have as a quarterback."
Teddy Bridgewater, Louisville
BRIDGEWATER QUOTE-UNQUOTE:**  "I feel that I'm the best quarterback in this draft.  I'm not just going to say it.  There's obviously actions that have to back up these words, and I'm just confident in myself and my capability to be able to play this position.  I'm just going to go out there and prove that I'm the best guy. … The biggest thing (that separates me) is my accuracy.  This past season, I was able to complete 71 percent of my passes.  My third-down passing completion percentage was pretty much off the charts, my pocket presence, I'm a competitor.  I'm eager to learn, remain a student of the game, and I think that right there just separates me."
Jimmy Garoppolo, Eastern Illinois
QUOTE-UNQUOTE on GAROPPOLO:  "I watched Jimmy Garoppolo throw five passes at Eastern Illinois University, and the first thing out of my mouth was, 'Somebody screwed up big time' because he should have been at an FBS school.  Jimmy would have been the starter at Texas A&M.  Jimmy would have been the starter at Arizona.  Jimmy Garoppolo is a big-time quarterback.  Everybody's going to figure out real quick how good this young man is.  This guy is going to be a starting quarterback.  He's intelligent, sharp, (has) one of the fastest releases I've probably seen (since) Dan Marino." – Dino Babers, Garoppolo's coach the last two years and now at Bowling Green
CARR QUOTE-UNQUOTE:**  "I've been getting ready for this since I was three.  I've been trained by my dad and my brother.  I've been watching NFL film since I was 12.  I think, from a mental standpoint, just having David is such an advantage, such a resource.  He's done all this.  It's such an advantage to have him.  I'm not 6-6 and I'm not going to run a 4.3, but I will out-prepare anybody."
TOMORROW:  Previewing and reviewing running backs and fullbacks.
Note:  The content in this story and in the series of draft-eligible players that appears on Colts.com in no way reflects the position of the Indianapolis Colts.