INDIANAPOLIS --- Sunday in Denver was his signature game plan as Colts defensive coordinator, but Greg Manusky's success in Indianapolis goes beyond telling players where to line up, what blitzes to use, and which coverages to call. It all begins with his personality.

"He's just always got jokes for you," Toler explained of Manusky's humor. "He's played in the NFL and been around football for a long time. He's always telling us old stories about guys he played basketball with, or when he was the Redskins when he played in his day, he would hurt someone. He's funny, man."

"I'm not agreeing to that," safety LaRon Landry said, joking Manusky's basketball skills are up for debate but not his coaching. "He played in the league. So, you know he's a players coach. With that being said, he gets guys to gravitate towards him, want to play, and want to do well for him."

Manusky's playing career lasted 12 years in the NFL as a linebacker and special teamer with Washington, Minnesota, and Kansas City, playing in 113 consecutive games at one point and earning All-Madden Team honors in 1991. That's a big reason why Colts players respect him. They gravitate towards Manusky, in a way that makes them feel like he's a comrade but also commanding officer.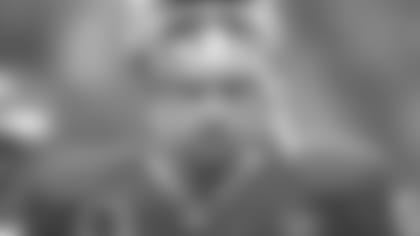 "Greg is unique in many ways. One being that he has the respect of the players, not only because of all those years he grinded as a player in this league, but because he tells it like it is," said Colts general manager Ryan Grigson, a former player in the NFL himself. "They accept his coaching style and the blunt way in which he challenges them, because they know where his heart is at the end of the day. Just a very sound ball coach that doesn't own a pair of kid's gloves, but at the same time has a heck of a lot of fun with the players and coaching staff. That's unique."

"He's learned that fine balance of being funny and loose, crack jokes on everybody, including coaches, and to put the serious hat on, get the message he wants out to the defensive guys to get their mindset prepared for the week and for the game," said veteran defensive end Cory Redding. "He's very good at that."

"I think he does a great job by just holding you accountable...if you're slacking, he's not too friendly," said Toler with a laugh. "No one would be, but I think he does a great job of that. I think you need that, because some guys take coaching differently. You have to have different aspects of how you come in coaching, different personalities."

"Greg's a great leader of men. Those guys will run through a brick wall for Greg, got great respect for him," said head coach Chuck Pagano.

And when it came time to for Manusky to also draw up a game plan to stop Peyton Manning with a trip to the AFC Championship game on the line, he delivered.

"He drew up a great plan, a great game plan," said Redding. "He said, 'We gotta do this. We have to do that in order for us to win, and if you guys don't do it, we're going to get embarrassed. If you stick to the process, do the game plan. I don't have magic calls. How every player works is how hard you guys play. When I dial up a blitz, dial up a play, just execute. As long as you do that, we'll be fine.' That's what we did. We played hard."

"He's got great knowledge of the game. He's a tireless, tireless worker. He spends a tremendous amount of time working to break a team down and study them and try to put our guys in the best possible position to be successful," said Coach Pagano. "Glad he's on our side."

"We don't know where we'd be if we didn't have a guy like him at defensive coordinator," said Toler.

Maybe preparing for next season, instead of moving within one win of a trip to Super Bowl XLIX.