Joanna Garvey describes her son, Will, as a "happy, active and thoughtful soul." That's how everyone knew him. But what everyone didn't know was that he struggled with depression. He had been on and off of medication over the last few years and sought counseling for it at times.
Growing up in England, Will was introduced to American football in college at the University of Leeds. He played linebacker for their club, the Leeds Celtics, he started playing the Madden NFL video game and he always picked the Colts as his team.
Eventually, the Colts became his real team.
Will loved the Colts, says Joanna. He was a statistician and he followed everything they did on and off the field. So when they heard they were coming to London to play the Jacksonville Jaguars at Wembley Stadium, Joanna and her husband, Kevan, bought tickets for the three of them to attend.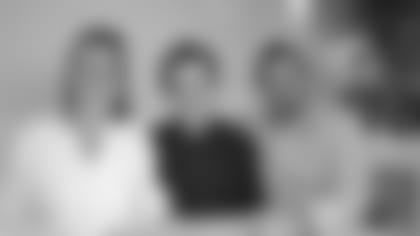 The tickets were a surprise for Will's 21st birthday on June 19th. On May 8th, during Mental Health Awareness Week and just six weeks before his 21st birthday, Will succumbed to his depression and ended his life.
His family took up Will's cause and rallied behind an organization he supported, the Campaign Against Living Miserably or CALM, and Kevan reached out to the Colts for an item to raise money of their behalf.
"He wrote to us, that's kind of how it started, but he just wanted to share his story with somebody. Almost like part of his healing process was to let us know that his son was such a huge fan and it brought joy to his life," says Kalen Jackson, Vice Chair and Owner of the Colts.
"Of course, we were so touched by it," she says. "I flagged it and wrote a note to my dad about it and he said, 'You know, I think we should do something special.'"
Joanna, Kevan, Will's sister, Rose, and her fiancée, Alex, were invited to meet Jackson on the field prior to the start of the game.
"Being football or 'soccer' fans, Wembley is a special place to us," says Joanna. "It is the spiritual home of our national game and being pitch side was an incredible experience for us. It was incredibly emotional too, as we'd always said we'd go with Will one year when Nottingham Forest got to a playoff or an F.A. Cup final. It never happened in Will's lifetime and he never got to Wembley. He'd have been absolutely thrilled to have walked out of the tunnel and onto the famous turf. I cried when we walked onto the pitch. I like to think he was there with us."
Jackson calls it the most memorable, emotional meeting she's ever been a part of. She presented the family with a Colts jersey they had made for Will and a check for £10,000 to the CALM organization.
"We did the jersey first and just immediately, flooding tears down their face. It was almost a happy sad too. I was like, 'I hope you really feel him here today.' I felt him there," she says.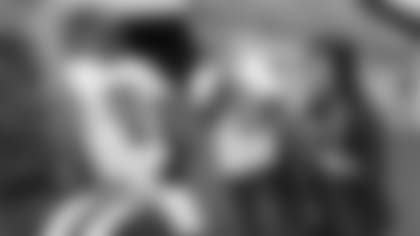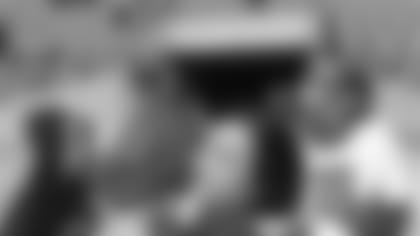 "And then, we gave them the check and they didn't really even know what to say, but they didn't have to say anything - it was such a beautiful moment. It was just us, it wasn't on the big screen or anything and I think there was something to that. They were really able to feel it."
A quiet moment in a place not known for solitude, it was one Joanna says will stay with them for the rest of their lives.
"Our visit to Wembley was a fitting tribute for our wonderful son, who cared so much for a team he never thought he'd see live and is a day we will never forget."
Will never got to see his beloved Colts play. But his family did in his honor. And it's in his honor that they'll use the donation.
"That money will save people's lives. It's as simple as that," says Joanna. "So, on behalf of the families who will be saved from the nightmare we're now living, thank you."
The team that meant so much to Will now means just as much to his family.
|
"We reckon we might be your biggest fans," Joanna says.
Even though they're still learning the game.