 ](http://careyindiana.com)
INDIANAPOLIS – When the Colts first went to training camp at Anderson University in 1984, Ronald Reagan was in the White House and players were reporting to the doghouse. 
No, make that they were reporting for the dog days of a six-week camp that had twice-daily practices. 
Frank Kush or Chuck Pagano?  It didn't matter.  Beverly Hills or Anderson?  It doesn't matter either. 
Training camp is pure grit, a necessary process to get to the regular season.  The venue cannot offset the rigor, though the hosting efforts of the community and university always have been outstanding.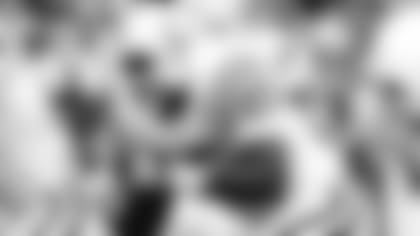 "I never found anything fun about training camp," said Chris Hinton, an eventual six-time Colts Pro Bowler who was on hand that first year in Anderson.  "It would not have been worth the time trying to do so.  We were only about 50 miles from home, but it might as well have been 500."
Hinton was coming off a star-studded rookie season that ended for him in Honolulu.  His 1984 year was not so kind – a broken leg that year halted his season at six games.
Hinton will not report Wednesday among 90 Colts, but he could tell any of them what camp is like in Anderson. 
He is one of the personalities I reflect on in reliving 20 moments, individuals and stories during those camp years in Anderson.
Reggie Time.  Reggie Wayne has arrived with military troops and via helicopter in a tradition that started with his buddy, Edgerrin James.  What's on tap Wednesday?  Stay tuned.  The only place where Reggie is more entertaining than opening day at camp is on the playing field.
Danny Hulse was a young fan early in our Anderson days who was quite sick, and Danny eventually passed away.  Players like Barry Krauss loved Danny, and the weight tent eventually was named for him.  Old-timers remember Danny to this day.  Players grunted in that sweltering setting, but fans flocked around the fence (maybe 15 feet from the action) to watch their heroes.  It's often said camp is the best way for fans to get close to players.  While the lifting conditions are different these days, it's still true.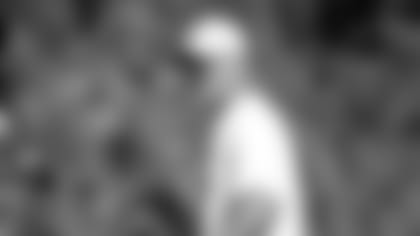 Chuck Pagano lightened the camp mood one day a couple of years ago when he spotted a fan wearing a jersey from another team.  An equipment man was dispatched to get a Colts jersey.  Pagano good-naturedly called out the fan and elevated his wardrobe.  Nice move by a classy coach.
Chris Hinton, called "The Dancing Bear" by Ron Meyer was a live personality who could take the edge off camp.  Players and coaches remember the exotic dancer he once arranged to perform for a trainer whose birthday always fell during the camp.  The performance was not off-color, but it fell shy of approval of university officials.  The dancer was put on waivers, but Hinton was at his entertaining best.
Meyer directed the Colts in camps from 1987-91, sometimes sporting a 'Top Gun' baseball cap in morning walk-throughs.  Though the public never was privy to his media sessions, Meyer would hold court honestly and humorously daily for about 45 minutes.  Writers came away with notebooks filled.  Often malapropisms were spawned – "Oh come on, it's not like I'm Moses coming off the mountain with the tabloids," said Meyer once when media reacted with surprise at a starting quarterback decision – and TV types got one-on-ones.  It was a different era, but a blast.
Speaking of daily, Meyer, in 1991, hinted he might invite John Daly, who had just won the PGA Championship at Crooked Stick (

click here for video clip

), to kick extra points in a preseason game.  He quipped this in one of those press briefings.  It created such a stir that 35 golf writers requested game credentials that afternoon.  Meyer had to "walk it back" (I hate that expression) the next day.
The summer of 1988 was hot around the country, but it got especially hot in Anderson (I'm swiping the line used by ESPN that day, in case you remembered) when an ambulance blew up and burned to the ground during an afternoon practice.  Thankfully, the team and fans had just moved to the far field away from the parking lot moments before the accident happened.  A strange hissing noise alerted the drivers and allowed them to escape before the explosion.  The intense flames were purple and burned for half an hour.  After about five minutes, Meyer blew the whistle and practice went on.  The weight tent roof burned up – the only casualty.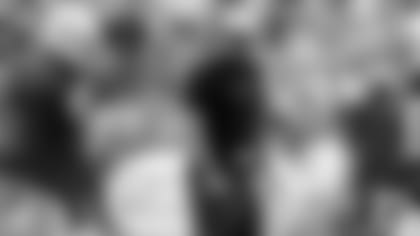 The dedicated fans were outstanding.  Though not great in numbers in the early years, they dutifully turned out for teams that sometimes did not produce great numbers of victories either.  Seeing the same faces daily was part of the deal, and you loved those people (remember the jeep every, every Colts player and coach autographed for years).  One who stood out to me was a kid, Chris Martin.  Chris never missed a practice, and I rewarded him for perfect attendance annually with my almost sweated-out Colts hat.  He treasures the collection to this day.  We left Anderson after the 1998 camp, and I felt bad for a young guy whose favorite team was moving away.  Chris was one of the first to call when the Colts returned after 11 years in Terre Haute.  Now grown, his team had come back.
Early on, the weight tent was not the only sweltering location.  Players and staff remember the 18-hour days (players were there only a portion of the time, but it's no exaggeration for the staffers) in the locker room without air conditioning.  Electric fans tried to cool the air and screen doors kept out the bugs.  Security?  Unlocked screen doors and a student security guard were all we had.  If the public only knew.
For the first 10 or so camps (pre-cell phones), the only communication to the outside world during practice was a phone stationed between the fields in a storage hut.  We were on an island when on the field.  When trades, injuries or newsworthy events happened, the appropriate person trekked to the phone.  Fans never knew that, but the media did.  Reporters were allowed to go from field-to-field, and they had to pass by the hut to do so.  It was uncanny how they always decided to switch fields when a club official went into the hut.  One enterprising sort always stopped to stretch his back.  They were instructed to keep moving and not eavesdrop.  Did they whine?  Guess.
Roster limits now are 90 players but in 1988, there were no limits.  One day in that camp, the roster maxed out at 110 players.  It was the year after a playoff berth and the team was gearing for a return and signed numerous veteran free agents like Joe Klecko, Billy "White Shoes" Johnson (

**click here for highlight**

) and Charlie Brown.  Practice field reps and seats in meeting rooms and dining hall were premium items.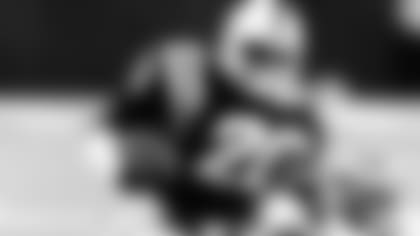 Albert Bentley was as heady as he was talented.  Players had to cross a parking lot through fans to reach the locker room.  Albert took off his practice jersey on the field and used the line, "Eric Dickerson is right behind me," to quickly navigate the crowds.  It worked all the time, at least for Albert.
Every player holdout always spices up a camp, and there were a few.  The most notable involved a prominent starter in the early 1990s.  It spanned the camp's duration and was a daily topic.  Taco Bell's slogan at the time was, 'Make a run for the border.'  The local Taco Bell jumped in with its own version of, 'It looks like XXXXXX (sorry, I won't name him) made a run for the border.'  Camps ran six weeks then, so you can imagine the strain of the accompanying questions every day.  A photo of that sign ran in Sports Illustrated.  Ouch. You'll have to dig through SI archives to find out the player involved. 
Among Anderson-area treasures are Carl Erskine, Sandi Patty (

**click here to hear her**

) and Bill Gaither.  No one comes any classier than Carl.  Whenever he caught hint that someone wanted his signature, he visited camp to deliver a signed baseball.  What a true gentleman.  Sandi is a long-time ardent supporter of the team, and no one sings an anthem like her – the voice of an angel.  Mr. Gaither is a giant in his industry.  Any practice he attends is a must greeting for me.
The pressure of getting players on the practice field is immense for coaches and trainers.  Years ago, a coach exploded on a trainer because a player who had an infected hair on his head could not practice.  The infection caused an egg-sized bump on the side of the player's head, and his helmet would not fit.  All parties remain nameless on this one, but it showed a bit of the pressure that accompanies training camp.
Fans may not notice quite as much when media attends, but there typically is pretty good foot traffic from national reporters during a camp.  John Clayton has been known to sign autographs.  Phil Simms and CBS visited in Peyton Manning's rookie year for a big feature.  What I've found rewarding are in-state relationships built on practice field sidelines.  Specifically, I'll mention the Anderson Herald-Bulletin for its coverage when we hit town.  Publisher Henry Bird is a nice man, and we've benefited from coverage from guys like Scott Underwood, George Bremer and Rick Teverbaugh.  Rick is an 'oldie' who chided us humorously in the recent past for tight access on the field.  He still wants an autographed tire cone from me for the tight "penalty box" that was allotted under a prior regime.  It's all good fun, trust me.
For the last four items, I will rank my four best talents that fans observed during the years we've trained in Anderson.
These are non-current players only, with consideration of where they were in their careers when they were practicing in Anderson.  (Example: Marvin Harrison's top-producing years were spent in Terre Haute.  While he certainly had those talents from 1996-98, they were not on display to the extent they were later in his career.  In the non-current vein, Reggie and Adam are excluded.)
Peyton Manning.  Though fans only saw him in Anderson in 1998 and 2010, Manning was at the top of his trade that last time.
Eric Dickerson (tie for second).  He was in camp from 1988-91, and he arrived in Anderson in full stride.  Eric's running style was unique, and what a treat it was to watch him.  No one ran so hard and so effortlessly.
Marshall Faulk (tie for second).  He burst upon Anderson and won rookie Pro Bowl MVP honors.  Marshall's final Colts season was the last one in Anderson for 11 years.  Like Dickerson, Marshall's style was his own.  It's a little gutless to tie them at second, but it defers to their greatness.  Go ahead and take your pick between them on game day.  I'll happily take the other and like my chances.
Chris Hinton.  Chris was a gifted player who was a Pro Bowler almost the extent of his career.  He's a very likeable guy who helped pave the way for some successful Sundays.
HONORABLE MENTION – Ray Donaldson.