Nearly seven years before he became the No. 77 overall pick in the 2022 NFL Draft, a high school junior from Austria named Bernhard Raimann filled out an application to spend a year abroad as a foreign exchange student.
Height: 198 centimeters
Weight: 98 kilograms
Country preference: United States
Likes: Playing American football
Career goals: NFL player or banker
He submitted the application. Then waited.
"That was kind of a scary process," Raimann said. "You sign up for this exchange program, and all you can do is write a profile about yourself — what you like, what you don't like, and then you sign up for the country that you want to be in. After that, you can be chosen by any family between Alaska and Florida."
This is the story of Bernhard Raimann's year as a foreign exchange student – which helped springboard him to where he is now: In the NFL, with the Indianapolis Colts.
Rollie and Marie Ferris already had four foreign exchange students come through their home in Delton, Mich., when they started sifting through applications in 2015. All four of those exchange students were girls who were interested in playing volleyball – the Ferris' daughter, Faith, played; she wound up playing volleyball collegiately at Cedarville University.
But their middle son, Tyden, had just finished up his freshman year at Delton-Kellogg High School. He was on the football team and, as one of the biggest kids in town, was on track to make varsity as a sophomore. Rollie and Marie hoped to find a foreign exchange student who was interested in playing football with their son.
The problem: "When you say football," Marie said, "it's usually soccer, not American football."
Unsurprisingly, most foreign exchange students from Europe were into what we call soccer. But when Raimann said he wanted to play football, he meant the game where using your hands is allowed – not the one where it's penalized.
Raimann started playing football at 14 years old with the youth arm of a local club in Austria, the Vienna Vikings. Unlike the youth teams for the big-time soccer clubs around him – like Rapid Vienna, the 123-year-old Austrian Bundesliga stalwart – his American football team played in front of smaller crowds made up mostly of players' parents.
"I was always jealous of all the soccer players who got to play in front of those cool crowds," Raimann said.
As Raimann grew to love football, he started consuming everything he could about the game. A friend of his had an NFL GamePass account. He traveled to London for one of the NFL's international games at Wembley Stadium. And he watched football movies, like "The Blind Side" and "Friday Night Lights," dreaming of playing in front of crowds that rivaled the ones that showed up to watch European soccer.
"To me," Raimann said, "that sounded like the most fun ever."
So Raimann's desire to play American football, and the Ferris family's desire to bring in a foreign exchange student who wanted to play the sport, were an easy match. And once the Ferris family learned Raimann would join them in Michigan, they began working to get him to the United States as soon as possible.
Delton-Kellogg's preseason practices started soon, after all.
It wasn't particularly normal for foreign exchange students to join their host families before about a week and a half ahead of the start of the school year. The foreign exchange agency was careful to keep kids from quickly getting bored and homesick before school started.
But thanks to a letter from Delton-Kellogg's head football coach, Ryan Bates (who didn't need much convincing to put Raimann on the team after seeing his size and highlights from Austria), about a week after he was paired with the Ferris family, Raimann was on a plane to Michigan.
Rollie Ferris didn't think Bernhard Raimann would be that tall.
As he and Marie converted centimeters to feet/inches and kilograms to pounds on Raimann's application, he figured the Austrian's size was a bit overstated on his application.
"Nah, let's see when he gets off the plane," Rollie told Marie. "I doubt it. He'll probably be 6-foot-4 or something."
But when the 6-foot-6, 217 pound Raimann walked off the plane in Grand Rapids, the Ferris family quickly learned: Yes, he is that tall.
"I'm a bigger guy too," Tyden, who was already over six feet tall then, said. "But in that moment I felt a little bit smaller than I usually do."
After meeting their hulking exchange student, the Ferris family hopped in their car and took Raimann out to eat at Red Robin.
The bottomless fries. The unlimited free refills of pop.
"He was like, this is awesome," Rollie recalled, as he watched Raimann slug French fries and pop. "Like, why would you leave this place, ever?"
They did eventually leave Red Robin, hitting the road for the 40-minute drive to Delton. On the way, Raimann — jet-lagged, full of fries and pop – had one request.
"Can we see the football stadium?"
Delton, Mich. is home to more named lakes (82) than members of the last class to graduate from Delton-Kellogg High School (74). It's one of the several small, blue-collar towns that dot the Midwest with a population of about 870.
The football team hadn't made the playoffs since 2001. And there weren't a lot of dudes who looked like Raimann around.
That led to some awestruck looks at Delton-Kellogg's first preseason practice.
"People were like, who is this guy?" Tyden said. "He really was ginormous at the time."
Delton-Kellogg is not a traditional football powerhouse. Their only graduate to play Division I football to that point was Rollie Ferris, the patriarch of the family Raimann lived with. Their roster, like every team in their division, was limited to 30 players. They ran the Power-T, a version of the Wing-T with a full house backfield. Wide receiver wasn't even a position that existed in the offense.
"I got to the team and all of a sudden, we only had 20-some players, whereas back in Austria we had a roster of like 60 guys," Raimann said. "So I had to play both ways for the first time, I had to learn a playbook — but even that, we ran a Wing T offense, so the offense was simpler — we ran the spread offense in Austria and the Wing T in Delton. So the offense, I thought was simpler. And Raimann, who only played on offense with his club team, actually felt like there were fewer resources where he landed in the United States than where he played in Austria.
"But then you get to the practice, alright, this period you're playing tight end and the next period playing defensive end. That was the hardest part to get adjusted to."
So the first thing Bates, the high school head coach, did with Raimann was teach him how to tackle.
"His idea of tackling was just running you over," Bates said.
But Raimann wasn't disgruntled or frustrated with his surroundings. The kid whose adaptability would become an asset as his football career grew – he converted from tight end to offensive line amid the COVID-19 pandemic in 2020 – just enjoyed the opportunity to play more, no matter what side of the ball he was on.
"You never left the football field," Raimann said. "That was awesome."
And once Raimann learned how to properly tackle, his new teammates weren't exactly eager to go against him in practice.
"People would kind of tuck their head around and start counting bodies to see who they were going to have to go up against to make sure they didn't have to up against Bernhard," Bates said. "Everybody else would kind of jump their spot in line so they didn't have to tackle Bernhard or Bernhard didn't have to tackle them."
Everybody except for one kid.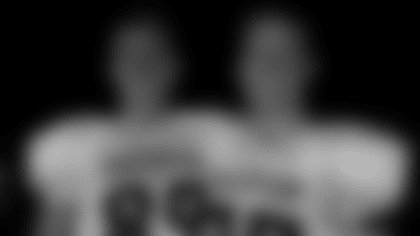 Bernhard Raimann (left) and Tyden Ferris (right). Photo courtesy Marie Ferris.
Marie Ferris remembers a road trip from Delton to the Chicago suburbs, one of the many recruiting trips she shuttled Raimann and Tyden to over their year together. This one was to visit Wheaton College. While driving there in her Chevy Suburban – with the middle seats folded down so the two tall teenagers in the back could stretch their legs – she looked in the rearview mirror and watched a competition unfold.
Raimann and Tyden broke into the case of water bottles Marie usually kept in the trunk and were challenging each other: Who could chug a bottle the fastest? Who could drink a bottle with the fewest swallows?
Those moments were typical. Raimann and Tyden were always competing, no matter if it was drinking water or lifting weights. The two boys pushed each other on a daily basis.
The Ferris family always wanted a foreign exchange student to play football with Tyden; they didn't know just how beneficial that relationship could be until Raimann arrived.
And there was no off button for Raimann, who did everything "900 miles an hour in a positive way," Bates said.
There would be some days when Tyden would want to rest or relax on the couch, and Raimann wouldn't have any of it. He'd prod Tyden — let's go throw a football, let's go run, go outside, go do something.
"I'm like, you serious, man?" Tyden recalled. "He wouldn't take breaks."
"Every day, every moment, they were never bored," Marie said. "They were always busy, they were always doing something, they were always feeding off of each other. They were always competing in the best, most positive way."
Raimann was wired to where, after five-hour, two-a-day practices, he'd want to run hills or hit the weight room while other players would have to drag themselves to get something to eat and go rest. Tyden would join Raimann for those post-practice workouts, since he always was pushing to do one more rep at a heavier weight than Raimann – and Raimann was trying to out-do Tyden, too.
"We learned to work against each other but still with each other in a way that was just tremendous for my own development as a player but also as a person," Raimann said. "… I felt it was super helpful for me to have that person that is athletic and is strong, so even though there's not many people there, you can still compete with someone and have someone there to push you."
The Ferris family was already a competitive, driven, athletic, hard-working family. And Raimann fit in perfectly.
"Tyden wouldn't be where he's at today without Bernhard," Marie said.
He just wrapped up his junior season as the starting left guard for Central Michigan.
Playing right next to Raimann on the Chippewas' offensive line.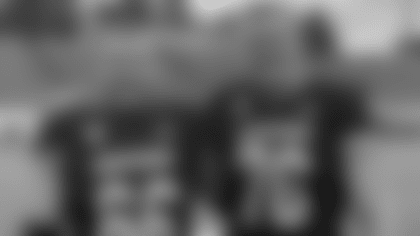 Tyden Ferris (left), Bernhard Raimann (right). Photo courtesy Marie Ferris.
It wasn't just that Raimann was a perfect fit for the Ferris family. He was a perfect fit for Delton.
And that's not how you might envision things going for a European high schooler spending a year in a small, rural, blue collar town in the United States.
"When people think about an exchange student from another country, Austria, coming in, like the kid was from a silver spoon family and everything was just kind of handed to him and that's not the case at all," Bates said. "Bernhard comes from a middle class, working family. Bernhard is as blue collar as they come.
"I think that's why, when he came here, he fit with our kids who come from millwright families, come from the trades, who come from farming communities and builders — he fit right in with those guys because that's who he is, a blue collar guy. He's unbelievably intelligent, but that's not — he hangs his hat on his work ethic. So he fit in here."
The day after Raimann arrived in the United States – after gorging himself at Red Robin and seeing the football stadium – he went to work at a construction site for Ferris Family Construction, Rollie's construction company. Raimann quickly took to enjoying the work. It reminded him of home, in a way.
"Getting to go to the construction site every weekend with (Rollie), he didn't only teach me some really helpful, handy skills," Raimann said, "but from a character perspective, working hard for the people you love."
Unsurprisingly, having a strong 6-foot-6 guy helped Ferris Family Construction build a few houses, too.
"We're on a job, we're putting up a staircase. I'm 6-foot-3 and I'm on a baby ladder, my kids are all on ladders, the homeowner's on a ladder," Rollie recalled, "and he's just standing flat on the ground holding the thing up."
Imagine being a 5-foot-5 high school defensive player, weighing maybe 150 pounds, staring down a long-striding tight end who's over a foot taller than you and weighs about 70 more pounds than you do.
Tyden remembers the look on those kids' faces as Raimann squared them up at full speed.
"You pull around the corner and there's an undersized linebacker on the other side who's up from JV the week before," Tyden said, "and is like, what am I doing here?"
Raimann quickly established himself as a dominant force on both sides of the ball in the Southwestern Athletic Conference Lakeshore – the kind of guy who opposing coaches would rave about to Bates after games.
And sometimes, those coaches would confide in Bates how difficult it was to convince their players that they'd be alright going up against Raimann.
"It's a small-town conference," Tyden said. "It's a bunch of farm schools. Already, every team's got no more than 30 people on it so they don't really have the depth in their team to have big players. So a lot of times they'll throw a kid who's 160 pounds on the D-line who has no business being there, or they'll throw a 280-pound kid on the D-line but whose body hasn't developed at all, he's 280 pounds in the wrong way.
"So the competition wasn't the hardest in our conference. So he was really able to dominate. If we were playing better teams he still would've dominated, but he definitely was not in the athletic level that he deserved to be in."
Raimann mostly played tight end in Dalton-Kellogg's run-oriented Power-T offense, which meant he often functioned as an extra tackle on the end of a formation. On defense, Bates played Raimann all over — defensive line, linebacker, cornerback, usually depending on the matchup.
Raimann's attitude was: "I'll play wherever you want me to," Bates said, "I just want to play."
Armed with a hyper-athletic, lengthy future NFL player in Raimann and a solid college prospect in Tyden, Dalton-Kellogg ended its 16-year playoff drought in 2016. After Dalton-Kellogg won a game that clinched a spot in the Michigan playoffs, the team returned to town to a welcome straight out of one of the movies Raimann watched back in Austria: Emergency vehicles blaring sirens and the whole town lining the street to welcome their boys back.
"You could see that thankfulness in his eyes," Bates recalled. "He was just thankful to be in the moment. He never asks for anything, he never accepts anything that he didn't work for. It just seemed like he was so thankful to be there."
A little while after Raimann figured out he could not only compete, but dominate, the level of competition he faced in the United States, he went to his first big-time college football game at Michigan State. As he soaked in the atmosphere — the marching band, the chants, the game — he realized something.
He could play at this level, too.
"I was like, okay, it's a dream," Raimann said, "but now it's also turning into a goal that's actually within reach, and I feel l can do this and I can work for it."
Raimann went to his host family and asked if he could start attending Saturday camps, and after the season participate in winter and spring seven-on-seven leagues. He was already participating in wrestling and track. Among other track events, Raimann ran hurdles – "He didn't even have to jump," Bates laughed, "he just glided over them."
But Raimann wanted to hone his craft as a football player; in turn, those camps and leagues would give him more opportunities to get noticed by college football programs. It would take plenty of driving and plenty of time, but Raimann felt like it would be important for his development.
It didn't take much convincing for the Ferris family to oblige.
"If you're going to play Friday night, it's worth doing right," Rollie said. "So let's play on Saturday."
Foreign exchange students are not allowed to drive, so Marie drove him across the Midwest to every camp he could possibly attend — skill camps, big man camps, you name it. He joined a seven-on-seven league and went on a number of recruiting visits — including two in one day, first to Ferris State in the morning and then over to Grand Valley State in the evening. It was a lot of driving, a lot of time spent in the back of Marie's Suburban.
"Every Saturday, we got the calendar out — where can we go?" Marie said. "I just knew he could do it. He just had to have someone give him the opportunity."
Tyden came along for those camps and visits, too, which Marie and Rollie initially thought would be good experience for when he would go through the recruiting process a year later.
But he wasn't just along for the ride. Tyden was getting noticed, too.
And when Raimann and the Ferris family sat down in Central Michigan head coach John Bonamego's office, they were hoping all that time, all those miles on the Suburban, all the energy they all put in would earn Bernhard a scholarship offer.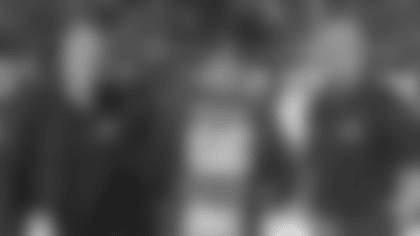 Tyden Ferris (right), Rollie Ferris (center), Bernhard Raimann (left). Photo courtesy Marie Ferris.
Raimann showed up in Michigan not knowing free refills existed or if he could actually play American football in America. He left Michigan with a scholarship offer to play Division I football at a school that — though it maybe wasn't relevant at the time, when he was still a tight end — developed NFL Pro Bowl tackles Joe Staley and Eric Fisher.
He made a tremendous impact on his host family, he fit the town of Delton perfectly, he helped end a playoff drought and he became a better player and person during his foreign exchange year. The kid from Austria who put "NFL player" as a career goal on his application had set himself on a path to make that goal a reality.
Eventually, it was time for Raimann to head home. He had to finish his senior year of high school and complete a mandatory six-month stint in the Austrian military before he could come back to Michigan and re-start his stateside football career. As he was packing up, the Ferris' youngest son, Caden, suggested Raimann should do his best Schwarzenegger impression before he left (a new "Terminator" movie came out before Raimann arrived).
The whole Ferris family drove Raimann back to the airport. They made an emotional walk with Raimann to the security checkpoint.
"We're all in tears," Marie said.
Raimann started making his way through the maze of ropes.
And then he turned and looked back at the Ferris family, and said in his Austrian accent: