 ](http://www.careyindiana.com)
INDIANAPOLIS – Pat Angerer plays a kid's game that puts him on a pedestal to be admired.
Clyde Christensen coaches in the same sport and used that platform recently to visit service personnel, and it helped bring him to a fuller appreciation of the duties military people perform.
Both Angerer and Christensen are thankful daily for men and women in the service, and Memorial Day carries a deep meaning for them. 
"My brother, Nate, has been out of the service for a while," said Angerer, the youngest of five children.  "He was in the Marines and served in Somalia during everything that went on over there.  He was a darn good Marine.  He is an unbelievable person, a great soldier, a great father, a great brother – a real warrior, all around. 
"He was a mentor, someone I looked up to.  Nate always stood up and fought for what he believed in, and he did everything right.  He went into the service just after high school, and that's when I started really realizing the impact of what service people do."
In February, Christensen was a part of a USO group arranged by Admiral James Winnefeld, the ninth vice chairman of the Joint Chiefs of Staff.  The entourage visited Italy, Germany, the United Arab Emirates, Spain, Germany and Afghanistan.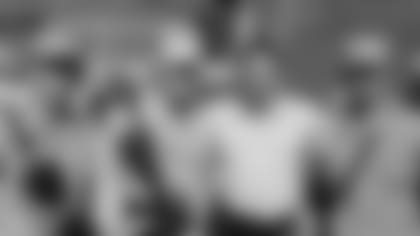 Flying about 27,000 miles, Christensen mixed with numerous soldiers deployed far from home providing freedoms to millions of Americans. 
His first-hand experiences will give Christensen greater pause on Memorial Day.
"I do look at it differently.  I always have viewed the holiday (seriously), but this time it will be special," said Christensen.  "You can't help but be impacted by the trip and understanding how the troops serve. 
"It's amazing how we get to live, and you don't want to take for granted what is going on 7,000 miles away.  That will not be the case with me anymore.  Every newscast and fatality, it just penetrates deeper with me."
Christensen plans to honor current and past service people at a special Indianapolis venue.
"I will be at the Indianapolis 500 today.  I went to the track yesterday to be a part of the efforts of John Barnes and Panther Racing that honored the National Guard," said Christensen.  "His group helps bring to light the lives of veterans and tries to help with employment opportunities for people who have returned from active duty.  There were some Medal of Honor winners and Wounded Warriors there, and I've been involved with that for about four years. 
"It will be a meaningful Memorial Day and a special time at the track.  They've always done a great job of honoring our soldiers on this weekend.  I know zero about racing, but I love being a part of it because of the festivities – the anthem, our soldiers marching out there.  It will be more emotional for me."
Angerer had hoped to use race weekend, too, in spending time with a special buddy.
"One of my best friends, Sergeant John Davis, is just getting back from a second tour of duty," said Angerer.  "He was over in Afghanistan for nine months.  He was supposed to get home last week and we were supposed to go to the Indianapolis 500.  He's not getting back until Monday.  At least he'll be home on Memorial Day itself.  He's definitely paid his dues, and he has seen some very difficult things while serving. 
"It's a good thing we have soldiers like John to put their lives on the line and are willing sacrifice so many things for our country.  NFL players, we're the lucky ones.  We get to play a game for a living.  If soldiers lose at what they do, they don't come home to their families."
Angerer had specific plans to join the military himself.  His life took another direction, but his attention and regard never has diverted from those who serve.
"We have it pretty good in this country, and I really haven't done anything for it," said Angerer.  "I always respected the men and women who fought for our freedoms, especially for freedoms we take advantage of each day. 
"I can go to sleep at night without worries because there are men and women putting it on the line for my family and me.  These people are fighting selflessly for us. 
"People in all walks of life are so fortunate because of our military people.  We should honor them daily.  In particular, do so this weekend for all the liberties they allow us to have."