 ](http://careyindiana.com)
INDIANAPOLIS –Trusted veteran coaches Tom Moore and Bruce Arians both had hands-on work with Andrew Luck prior to and when he entered the NFL, and each said there never has been a stage too big for him to achieve.
Luck pieced together a solid rookie season that he has built upon in guiding the Colts to a second consecutive 11-5 record and playoff appearance.
Luck hopes to help Indianapolis move past the Wild Card round it reached last year when the Colts battle Kansas City Saturday.
Greg Manusky has counteracted Luck in practice for two years and sees a talent already budded but that continues to flourish.
"Every year you're in the game, you never stop learning," said Manusky.  "Even as a coach, if you think you got him, you're in trouble.  (For) Andrew to keep on excelling at his craft, that's what the great ones do.  They excel, keep getting better at their craft.  That's what he does."
Pep Hamilton replaced Arians this year, bringing with him the entire Stanford playbook.  It helped Luck prosper in a second season, and Hamilton sees a player in command of the process.
"To pinpoint one of the things he's improved on is when a play breaks down, it's important that the quarterback position doesn't compound the problem," said Hamilton. "I think he better understands and can trust his check-down is going to be at a certain spot, or after two hitches it's time to pull the ball down, run and get what you can. 
"That's one of the many things he's gotten better at.  That's one of the things that has made a difference for us this season, not exposing the football."
Indianapolis had the league's fewest turnovers (14), and Luck shaved his miscues from 23 to 11 in the process.  Luck's nine interceptions were one-half of last year's total, while his completion percentage jumped by five points.
Part of the growth was a critical analysis of last season that included quarterbacks coach Clyde Christensen.  Christensen has functioned in key offensive circles with Indianapolis since 2002.
"Between myself and Clyde, we sat down and watched every snap of last season, and it's important you do that," said Hamilton.  "That's part of helping the quarterback evolve, making sure you identify specifically some of the things he can improve on and building on the things he did well."
Coaching is an intuitive process even with a player as gifted as Luck.  Plusses are stressed as much as areas for growth.
"You have to do both," said Hamilton.  "A lot of times you start with the things you need to improve upon.  Once you identify what you need to correct, it's a lot more pleasant to identify some of the things that he did well."
Luck has thrown for 8,196 yards, the most in two career-opening seasons by any player.  His 22 starting victories tie for the second-most by a quarterback since the 1970 merger. 
By starting Saturday, Luck will be one of nine quarterbacks in the Super Bowl era to open playoff games in consecutive seasons to begin a career.  It will be his second straight season, with Joe Flacco (five) holding the longest streak in the Super Bowl era. 
The last quarterback to achieve the feat prior to the Super Bowl era was Cleveland's Otto Graham in 1950-51.
Luck credits his handlers for helping him succeed with the ball.
"It's an approach from every angle.  Clyde and Pep do a great job in the meeting room making sure we're on the same page on what the defense is doing," said Luck.  "Clyde does a great job of creating drills that encourage perfect throws, creating not ideal situations to throw the ball. 
"Our defensive guys do a great job of running the scheme and not necessarily intercepting the ball, but come up and tell me, 'Hey, that probably would have been an interception in the game.' Also, (Matt) Hasselbeck's done a great job of, 'You know that ball's not going to get in the receivers' hands in a game.  That was practice speed.'  Having everyone help has been very helpful."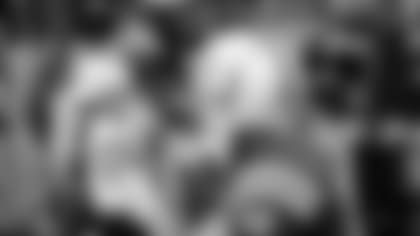 Indianapolis has a league-best 13 playoff berths since 1999.  Triggermen under center are a thread, one Hamilton acknowledges.
"That's where it all starts," said Hamilton.  "The quarterback is the one guy touching the ball every single play.  We have the good fortune of having a quote-unquote franchise-caliber quarterback.
"Having won 22 regular season games in his first two years is just a testament to his talent and his commitment to excellence.  It's important to him.  He works hard at it, and we've all reaped the benefits of Andrew's many talents."