Emotions were still raw as the Indianapolis Colts players filed into the team meeting room Monday morning.
Just 36 hours prior, Andrew Luck, the Colts' franchise quarterback, announced to his teammates following their third preseason game against the Chicago Bears that he had decided to retire from the National Football League.
At just 29 years old and in the prime of his career, Luck had lost his passion for the game after experiencing what he described as a four-year cycle of injury, pain and rehab.
With just two weeks remaining until they opened up the 2019 regular season on the road against the Los Angeles Chargers, the Colts were dealt one of the more stunning blows in recent NFL memory.
Leave it to Frank Reich to give the situation its proper perspective.
"We use the word 'paradox' to try to make sense of what's happening," Reich told his team that morning. "On one side we can embrace and celebrate the player and the teammate that Andrew was. But on the other side we can also share a genuine excitement and enthusiasm about where we're going and excitement of the challenges ahead."
Football, after all, is the greatest team sport there is. And the Colts players left that meeting ready to take on the day — and the season — in the same fashion: as a team.
"First and foremost you're sad about losing a great teammate and a great player. So I think the players feel that, especially the guys that have been there the longest with Andrew," Reich said. "But then I think that the next thing is just the natural instinct in the player (to see) something rise up inside you and say, 'Alright, let's go. I respect Andrew, love Andrew for what all he's done and accomplished, but let's go. Let's see how good we are as a team right now.' We feel good about where we're going."
So how'd we get here, and how will the Colts move forward?
---
---
On Sept. 27, 2015, the Colts were desperate for a victory. After opening the season with two losses — the year after advancing all the way to the AFC Championship Game, no less — Indy traveled to Nashville to take on its AFC South Division rival Tennessee Titans facing an early "must-win" scenario.
After three quarters, however, things were looking bleak. The Colts were trailing 27-14 and staring an 0-3 start right in the face.
So Luck, as he was known to do, started to reach in his bag of tricks. In a span of 56 seconds — and sandwiched by a key interception from the defense — Luck tossed two touchdown passes to suddenly catapult Indy to a 28-27 lead. The Colts would hold off a furious Titans rally from there to fly home with a 35-33 victory, their first of the season.
The win came at a cost, however. Luck takes a big hit in the game and injures his right throwing shoulder. He misses the next two games — Luck hadn't sat out a single game in his career up to that point — and has mixed results upon returning three weeks later.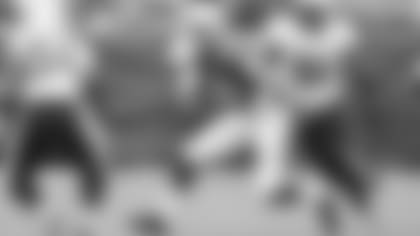 But Luck once again finds some of that magic in Week 9 against Peyton Manning and the eventual Super Bowl champion Denver Broncos, rallying the Colts to two tie-breaking drives in the fourth quarter and leading Indy to a 27-24 victory in front of a frenzied home crowd at Lucas Oil Stadium.
Once again, however, Luck is in pain. On the very first play of the fourth quarter, Luck takes off with the football inside the Denver 10-yard line and is rocked in his midsection by Broncos linebacker Danny Travathan, just before defensive tackle Vance Walker emerges from behind and crunches the quarterback to the ground. Luck pops right back up and finishes the game, handing Denver its first loss of the season.
But the quarterback is soon diagnosed with a lacerated kidney and a partial tear of an abdominal muscle, and he misses the rest of the 2015 season.
The following offseason, with pain in his right shoulder still an issue, Luck elects against surgery and decides to take on an intense rehab regimen to be ready to go for the 2016 season. Despite barely throwing in practice, Luck is able to play in 15-of-16 games, only sitting out the team's Week 12 matchup against the Pittsburgh Steelers due to a concussion. He throws for 4,240 yards and 31 touchdowns to just 13 interceptions, and his 65.9 ESPN quarterback rating is the best of his career.
Now entering 2017, however, Luck, still feeling pain in his shoulder, elects for surgery and a more permanent fix. Team owner Jim Irsay announces it's a torn labrum that had been lingering since that 2015 Week 3 game against the Tennessee Titans.
While there's optimism about Luck being able to return for the regular season, he suffers a setback in mid-October after returning to the practice field for the first time as he continues to feel pain in his surgically-repaired shoulder. On Nov. 2, Luck is placed on injured reserve, officially ending his 2017 season.
With the need for additional surgery ruled out, Luck takes on a refocused rehab regimen. This new "ground-up" approach, which focuses on the quarterback's base, takes strain off the throwing shoulder — and seems to work wonders.
By spring, Luck has worked miniature footballs into his workouts. By June, he meets up with Reich and throws a regulation football for the first time in months. Feeling no ill effects, Luck continues to check off boxes in his throwing program until eventually he's able to take on a full practice load at training camp.
Luck returns to action for the Colts' first preseason game against the Seattle Seahawks, and continues to knock off the rust from there. And by the end of the 2018 season, Luck is playing better than ever and is back in the league MVP conversation; he throws for 4,593 yards with 39 touchdowns and is not only selected to his fourth Pro Bowl, but is named the league's Comeback Player of the Year.
The Colts, who rally from a 1-5 start in Reich's first season to finish 10-6 and earn their first playoff berth in four seasons, look like they have all the pieces they need to make deep playoff runs for years to come.
Luck plays four series for the AFC offense in the Pro Bowl in late January and seemingly heads into his first fully-healthy offseason in years.
---
---
It started in March with a voicemail from Dave Hammer, the Colts' head athletic trainer, to Irsay.
"Minor leg thing we're looking at, but he should be OK."
"He," meaning Luck, who had spent part of his offseason traveling overseas — he married his longtime girlfriend, Nicole, in the Czech Republic in late-March — and was feeling pain in his left calf area.
An MRI showed a strained calf, and Luck and the team began treating the injury. A couple months later, still feeling pain in his lower leg, Luck sees a specialist who administers a numbing shot that should indicate whether the issue is still in his calf.
"Well, that wasn't the case," Ballard told reporters on Aug. 13. "There was maybe a little relief, but not a lot of relief."
Without the answers they were looking for, the team continued to work its way down Luck's lower left leg; the quarterback was held out of on-field offseason workouts as a precaution.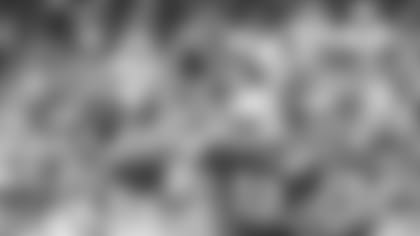 Fast forward to late July, and Luck is able to participate in two of the first three days of training camp practices in a limited role, mostly doing position drills and 7-on-7 work. But on July 28, after participating in what will be his final practice with the team, Luck reports feeling more pain in his lower left leg, and he's once again pulled off the practice field.
The focus is shifted to Luck's os trigonum, a small bone located behind the ankle, but that was eventually ruled out. After seeing another specialist, the pain was sourced to the front of Luck's left ankle; he continues throwing workouts to the side and leading the team's walkthrough sessions.
Meanwhile, the Colts begin preparations for their season opener against the Chargers.
On Aug. 19, Luck met with Irsay, Ballard and Reich and told them he had no other choice but to retire from the NFL.
The three Colts leaders didn't see it coming.
Only a week after they believed they finally isolated the source of the pain in Luck's lower leg, and three weeks before the start of the regular season, the team was losing its franchise quarterback.
"We have a very close relationship with Andrew … so these were real life, hard, difficult conversations, not only about football, but about life, and going forward, and where we're going to end up," Ballard said. "There were four or five days of difficult talks between all of us."
Luck said retiring was the "hardest decision of my life," and was something he had been mulling for about a week or two prior to having those conversations with Colts' leadership.
"For the last four years or so I've been in this cycle of injury, pain, rehab, injury, pain, rehab, and it's been unceasing and unrelenting both in-season and offseason," Luck said in his retirement press conference Saturday night. "I felt stuck in it and the only way I see out is to no longer play football. It's taken my joy of this game away. I've been stuck in this process. I haven't been able to live the life I want to live — (it's) taken the joy out of this game."
It came down to this: after playing through a torn labrum — and, therefore, immense pain — in his shoulder throughout the 2016 season, and then experiencing a roller coaster of emotions the next year as he underwent surgery and just couldn't work his way back for the regular season, Luck promised that he would never put himself through something like that again.
Luck's lingering lower leg/ankle issue was starting to evoke those same negative feelings, so he felt he owed it to himself to step away from the game of football.
"Over the past week, I've started to think, 'Am I going to have a bunch of resentment towards this game or spite towards coming to this building?'" Luck said Saturday. "I don't. All I feel is love for this game and love for my teammates and … I know my journey has had some ups and downs and physically it has taken its toll over the last four years. I mean that is why that I am here, and the mental and emotional toll that that takes as well."
Luck took ownership of the "suddenness" and the "surprise" surrounding his retirement announcement, but Ballard and the Colts were appreciative of his ability make a decision and move forward with it.
"I think that was a message getting a little lost in the sauce here: when you play this game you can't be half in," Ballard said Wednesday at the team's annual Kickoff Luncheon. "You've gotta be all the way in, and Andrew knew that — not only for himself, but for all his teammates. He knew the journey we were going on required his full commitment, and he wasn't able to give that commitment."
"Yeah, I would emphatically refute any notion that there was any sense of letting down or quitting on the team. In fact, it's the exact opposite," Reich said. "Andrew knows that the requirement, the emotional energy, and the heart commitment that one needs to have for the long journey of a season. And the fact of the matter is, is through a four-year continuous cycle of injury, pain and rehab over and over again, the reality, what Andrew shared, was that it had taken the life out of football (for him). It had taken the fun, the joy out of football.
"So not only did he not let us down, he actually did the right thing and the courageous thing to say, 'Guys, I love you and I love what you're doing. I'm going to be your biggest fan. But my heart is not completely in it,'" Reich continued. "And that's the right thing to do."
---
---
What softens the blow of Luck's sudden retirement for the Colts is the talented roster that's been built the past three years by Ballard and his personnel staff.
Even without Luck, Indianapolis returns 20-of-22 offensive and defensive starters from last year's team that went on the road to defeat the Houston Texans in the Wild Card Round of the playoffs before bowing out to the top-seeded Kansas City Chiefs in the Divisional Round.
On offense, a fully-healthy Marlon Mack returns to the backfield after collecting 874 rushing yards from Weeks 6-17 last year, which ranked fourth among all NFL running backs; he also tied for third with nine rushing touchdowns over that span.
Back to haul in passes for the Colts are Pro Bowl tight ends Jack Doyle and Eric Ebron; Ebron in 2018 led all NFL tight ends with 13 receiving touchdowns, which ranked tied for second among all players in the league. At receiver there's, of course, perennial Pro Bowler T.Y. Hilton, whose 951 receiving yards the second half of the season last year were tops in the NFL, as well as newcomers Devin Funchess and the speedy rookie Parris Campbell, among others.
And just as important: all five starting offensive linemen return from last year's unit that finished first in the NFL in fewest sacks allowed (18).
Meanwhile, on defense, all 11 starters return; the unit was also bolstered this offseason by the addition of free agent pass rusher Justin Houston as well as seven 2019 draft picks on that side of the ball, five of which are on track to possibly make immediate impacts starting Week 1 as starters or key role players.
"We've got a good football team," Ballard said. "We're young, good on both fronts with some good, young, skill players."
But quarterback is obviously the most important position in sports, and the Colts feel as if they have a more-than-capable replacement ready who will be able to step up, make plays and lead the team on and off the field.
Jacoby Brissett returns for his third year with the Colts in 2019, and has the benefit of not only having started 17 games over his first three NFL seasons — including 15 with the Colts back in 2017 — but he's also taken all the first-team reps in practice in Luck's place since the very beginning of the offseason workout program through the end of the preseason.
That's more than 1,200 first-team reps, for those keeping track at home.
"That's more than an entire season," Reich said. "Then that doesn't even count what he took last year in the offseason. So Jacoby's had the good fortune, I guess you could say, of getting a ton of work. And I think that that radically shows in his confidence and how he's developed as a quarterback."
That development, Reich said, has led to "great functional play strength."
"In the pocket he is hard to bring down," Reich continued. "He can extend plays and you have to do that a lot in this league. When somebody rushes by you and a big defensive lineman puts his hands on you, he is not phased by it. He can keep his eyes down the field. He's got this toughness about him."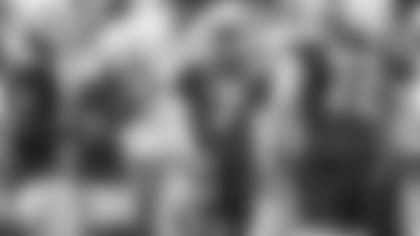 Reich hasn't concealed his feelings about Brissett in the past, calling him a "top-20 quarterback" earlier this year at the NFL owners meetings. Now the North Carolina State product gets his chance to prove it.
"This guy has gotten more work than probably any backup could get and I think that has all helped prepare him for this time," Reich said. "He's really improved in every way."
For his part, Brissett said he's not feeling the pressure to fill Luck's shoes within the Colts' offense — "It's not like I'm trying to be anybody that I'm not," he said on Monday. Instead he'll lean on his talents and on the experience he's gained to put the team in good positions, spread the ball around, score some points and, he hopes, win a lot of ballgames.
"I mean, it's not the first week of me being here, now," Brissett said. "I've been here for two years, same system with a lot of the same guys. I think that will help me out and help us out a lot. We've gained a relationship, we've had those tough conversations. It's an ongoing thing, so it's not like, 'He's all that.' It's still week after week, day after day that we have the opportunity to get better."
That attitude is exactly why the Colts are a confident bunch heading into the 2019 regular season. The sudden loss of their starting quarterback was a stunner, but was certainly no knockout punch.
And now the team has nine days until it gets a chance to see what it's really made of.
"I'm excited," Ballard said. "I mean, teams win. That's what makes this game great — teams win.
"Don't write the end of the story yet," he continued. "Don't write the end of the story yet. The story is just starting, man."