When you're an NFL player, "journeyman" isn't exactly the moniker you want to carry around with you.
But for Pierre Desir, that's simply who he was when he was claimed off waivers by the Indianapolis Colts just prior to the start of the 2017 regular season.
After a failed transition to safety, Desir would be let go by the Cleveland Browns — the same team that selected the lengthy cornerback in the fourth round of the 2014 NFL Draft — during final cuts in 2016.
He would be claimed off waivers by the San Diego Chargers the next day, waived the next month, signed back to the active roster three days later … only to be waived, once again, three days after that.
Desir was then signed by the Seattle Seahawks to start the 2017 offseason, but was let loose by the team during final cuts 8 1/2 months later.
Too talented for the practice squad, yet not getting legit chances on anybody's 53-man roster, Desir pondered what life without football would be like. After all, Desir had already defied the odds coming from a Division II school; he had achieved his dream of playing in the NFL.
Then the Colts came calling.
And this time, something felt different.
Fast forward to Thursday. Desir, sporting a sharp navy blazer and seated in a conference room at the Indiana Farm Bureau Football Center, found himself face-to-face with a document that would change his life forever. His name, position and photo on a TV screen behind him, Desir eventually got to the final page, scribbled his signature one last time, raised his head and flashed his trademark smile.
All of a sudden, Desir was a journeyman no more.
---
---
A native of Port-au-Prince, Haiti, Desir's family emigrated — that's the technical term; it was more like fled — to the United States when he was 4 years old. Overcoming those kinds of odds to make it to the NFL is amazing in itself, but that's not even the beginning of Desir's unlikely journey to becoming one of the league's top cornerbacks.
By the time Desir entered high school, his fall sport of choice was soccer. But that all changed after his freshman year.
Going against his parents' wishes — his dad was once a professional soccer player in Haiti — Desir said he "just took a chance, took a leap of faith and just wanted to play with my friends and try something new:" American football.
Except he had no idea what he was doing.
"I did everything wrong," Desir said. "Whatever you think. I had the pads wrong. Back in the day it was the hit pads. I didn't know how the hit pads worked. I wore soccer cleats for awhile before I transitioned. I thought it was the same cleats."
A natural athlete, it didn't take Desir long to catch on, however.
"I think once I actually got the hang of things and got the concepts of how to actually play football, I just ran with it," he said.
No kidding. Desir quickly became one of the top defensive back prospects in the state of Missouri, where the Francis Howell Central High School product was an all-state and first-team all-league selection during his junior and senior seasons.
But at that point, Desir already had plenty of motivation to find on-the-field success. At the age of 15, Desir and his then-girlfriend, Morgan, 16, found out they were expecting a child.
A few months later, their daughter, Keeli, was born.
"Honestly, I had mixed emotions," Desir told WTHR's Bob Kravitz about his initial feelings at that time. "Like, I was still a kid myself; now I've got to raise a kid? I was happy, nervous, not knowing what to do, not having friends who were having that same experience.''
Desir forged on, and hoped to earn a scholarship at a big-time school. A little late to the recruiting game — and not scoring high enough on on his standardized tests — Desir had to settle for Washburn University, a Division II program in Topeka, Kan.
Redshirted during his true freshman season in 2008 — and originally slated to be a wide receiver — Desir moved over to cornerback the following year, and by the end of the 2010 season, he had racked up 12 interceptions, which already ranked third in school history.
Maybe, just maybe, Desir could get a shot to play professional football.
Now married to Morgan — who gave birth to the couple's second daughter, Kamryn, in 2010 — the two wanted to move closer to their families in St. Charles, Mo., which sits just a half-hour northwest of St. Louis. There, Desir was presented with the opportunity to finish out the last two seasons of his college football career at nearby Lindenwood, an NAIA school.
But when Washburn wouldn't grant Desir his release from its program, he had to sit out for a year. He found himself in a crappy situation — quite literally.
Working odd jobs at a local temp agency during his year away from football, Desir one morning was sent to a flooded apartment complex, where he was told, "You have to get all this stuff from the basement out and you have to get all the water drained from the basement area."
There was much more than just water in that basement, however — and Desir was covered in it up to his knees.
He earned $40 for his troubles that day.
From that point on, Desir had all the motivation he needed to get back onto the football field as soon as possible.
---
---
Desir was even better after his year away from football. In two seasons at Lindenwood, he totaled 93 tackles (3.5 for a loss), 30 passes defensed, 13 interceptions (one returned for a touchdown), a sack and one forced fumble and fumble recovery apiece, earning the Cliff Harris Award — which goes to the top small-college defender in the nation — in the process.
He was undoubtedly attracting the attention of NFL scouts, who were intrigued to see how — or if — Desir's game would translate at the highest of levels.
"Exceptional-sized, Division II standout with the size, ball skills and anticipation to earn a job as a zone cover man," NFL.com's Nolan Nawrocki wrote of Desir's professional prospects.
Desir earned an invitation to take part in the prestigious Senior Bowl in Mobile, Ala., where he really got his first major exposure to NFL teams through practices and interviews.
But what Desir really wanted was a chance to participate in the NFL Scouting Combine — a rarity for non-Division I prospects. And on Tuesday, Feb. 25, 2014, Desir got his wish: he found himself running around on the Lucas Oil Stadium turf with the best college defensive back prospects in the nation.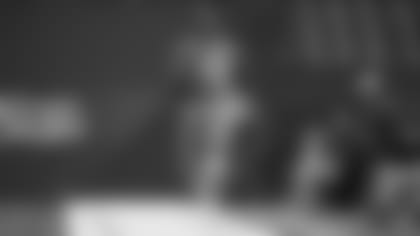 His 40-yard dash time, 4.59 seconds, didn't blow anybody away, but Desir was able to showcase his athleticism nonetheless. His 133-inch broad jump was the best among all cornerbacks and was just one inch short of being the best of all Combine participants; Desir's 11.6-second time in the 60-yard shuttle, meanwhile, ranked fifth among all corners.
And on May 10, 2014, Desir's hard work and determination paid off, as he became a fourth-round (127th-overall) draft pick of the Browns.
"I think that when you have a guy from a small school and the cards are stacked against him, one thing you do look for are those 'make it' intangibles or reasons why you would think that if we take a shot on this guy, this guy will succeed,' Browns scout Chisom Opara said at that time, via News-Herald.com. "This kid seems like he's wired the right way for success. If you're going to take a shot on a guy from a small school, it kind of gives you a little more confidence that something is going to pan out."
Desir showed he could stick at the NFL level his first two seasons in Cleveland, playing in 19 total games with seven starts and logging 46 tackles and seven passes defensed.
But in 2016, the Browns brought in a new head coach in Hue Jackson, and his new defensive coordinator, Ray Horton, wanted to see what Desir could do at free safety. The experiment lasted a few months before Desir was waived during final cuts.
Now a father of three — his son, Pierre Jr., or PJ, was born in 2015 — Desir's mini-NFL tour was about to begin.
San Diego. Five games played. Cut. San Diego. Waived. More than 11 weeks go by. Seattle. Offseason program, minicamp, training camp, preseason. Waived.
Then, on Sept. 3, 2017, Desir, wondering if he should give up on his NFL career, got a call from the Colts.
---
---
Desir felt rejuvenated. And it showed on the field.
With cornerbacks seemingly going down one by one in Indianapolis, general manager Chris Ballard, then in his first year on the job, took a flyer on the journeyman Desir just before the start of the 2017 regular season. That same day, the Colts claimed another gritty Division II prospect at the cornerback position: Kenny Moore II.
Inactive for Week 1 and a healthy scratch for Week 2, Desir earned his first start in Indy against his old team, the Browns, in Week 3 and impressed with six tackles and a pass defensed in the Colts' 31-28 victory at Lucas Oil Stadium.
Proving to be a solid role player during that 2017 season with the Colts, Desir would play in nine games total, with six starts, and finished with 32 tackles, seven passes defensed and nabbed his first-career interception — an acrobatic grab on a throw from future Hall of Fame Pittsburgh Steelers quarterback Ben Roethlisberger.
Although Desir's season ended prematurely in early-December due to a pectoral injury, he had done more than enough to earn another one-year contract to return to Indy.
And he turned in a career year.
Desir entered the 2018 season a certain part of the rotation at cornerback for the Colts and new defensive coordinator Matt Eberflus, but by midseason, he had taken over the top spot on the depth chart. He would post career-bests in tackles (79), tackles for loss (two), passes defensed (eight), forced fumbles (two) and fumble recoveries (one), while also adding his second-career interception.
But Desir saved his best work for the most critical of matchups. After starting the season with a 1-5 record, the Colts were storming back into the playoff race down the stretch. Desir was oftentimes tasked with shadowing some of the top receivers the league has to offer.
In Week 11, the Tennessee Titans' Corey Davis had two receptions for 30 yards; the Colts won 38-10. Three weeks later, the Houston Texans' DeAndre Hopkins was held to four receptions for 36 yards and a touchdown; the Colts won 24-21. The next week? Amari Cooper had just four receptions for 32 yards, and the Colts blanked the Cowboys, 23-0. And in Indy's Week 17 regular season finale, a win-or-go-home matchup against the Titans, Davis was held in check once again, this time finishing with five receptions for 48 yards; the Colts earned their first playoff berth in four seasons with their 33-17 road victory.
But perhaps Desir's best performance came the following Saturday, in the team's Wild Card Round matchup against the Texans. Hopkins, who had just turned in his second straight First-Team All-Pro performance after collecting a career-best 115 receptions for 1,572 yards with 11 touchdowns during the regular season, was once again held in check by Desir and the Indy defense, as he finished with five receptions for 37 yards. The Colts would advance to the Divisional Round with their 21-7 victory at NRG Stadium.
Desir will always project a team-first attitude, but even he had to admit that his performance down the stretch for the Colts, who won nine of their final 10 regular season games, "definitely built my confidence."
"I would be lying if I said it wasn't," Desir told Colts.com's Matt Taylor on Thursday. "Those are some great players — as you said, Pro Bowl players.
"But I think that all attributes to how hard that we work as a defense. We grind in April all the way out until June, and then come back for training camp. So it's just everything that I did leading up to that time — all the extra studying, all the extra reps in practice — just gave me the confidence to go out there and to that job," Desir continued. "And it helps when the coaches believe in you, when they allow you to play man coverage, or they allow you the freedom to do that. When you have two great guys on the back end like that, as a corner, when you don't have to worry that much, it's easy."
---
---
Now having officially made the transition from journeyman to being considered among the best at his position in the NFL, many wondered if Desir, entering his age-29 season in 2019, would take advantage of his newfound status and play the field for the best offer with free agency about to get underway.
But, to Desir, he only had one place he wanted to consider "home" — and directed his agent as such. On Thursday, he officially signed a new contract, reportedly a three-year deal, that will keep him in the Indianapolis secondary for the foreseeable future.
The two sides came to an agreement Wednesday afternoon, before Desir — who had reported interest from several other teams — ever was able to hit the open market.
"I think a lot of players – what we work for is to find a home, a place that we can be for multiple years and not have to keep traveling and moving our families," Desir said Thursday during a conference call with local reporters. "So being able to call Indy home is something that I always wanted ever since I came in in 2017. I am just glad that it finally got done and I am ready to work and ready to get back out there playing football."
Desir's new contract this week proves his story is far from over. But after defying the odds as a Division II athlete to even make it to the NFL, and then hopping from city to city over the next four years — and even considering retirement from time to time — the now-former journeyman and his family can officially call Indianapolis home — and for that, he says he'll be forever grateful.
"It's one of those things that I always try to (relay) when I talk to people is that never doubt yourself, or never doubt your dreams," Desir told Taylor. "It's gonna be a process; it might not be as quick as you want it to be. But it's going to happen when it's supposed to happen.
"And, lucky for me, I surrounded myself with so many great people — friends, my family's overly supportive, my wife, my kids, my mom, my mother-in-law — everyone's just so supportive of me and helped me get through certain points in my career where I was gonna hang it up. And they continued to push me. And I just always try to let everyone know (to) support yourself with the right group of people, always believe in yourself and your dreams will come true."