INDIANAPOLIS – The directive from Chuck Pagano this week will be witnessed at the start of Sunday's 4:25 p.m. EST kickoff with the Denver Broncos.
In a week where the Colts made changes this franchise hasn't had to deal with in this era, Pagano could no longer afford to see his offense go through another first quarter/half of football with a '0' on the scoreboard.
The Colts have reached the halfway point of their 2015 slate and Pagano's message is specific.
"Our mission, and my mission, and the rest of our mission, coaches and players, is to start like we finish," Pagano says.
"Our mission is to start like we finish."
This season, the Colts are averaging eight points in first halves, which ranks 30th in the NFL.
Any points that come on the home side of the scoreboard early Sunday against Denver will be rare.
The Broncos have yet to allow a first-quarter point in 2015.
Going along with faster starts, Pagano's mission this week also extends to the play of quarterback Andrew Luck.
"We got to play better at that position and I think we all know you can't turn the ball over at that position," Pagano said earlier this week.
"Our mission right now is to get Andrew going, playing at the level we all know. We all know what he can do and we'll get there, he'll be back."
When the NFL schedule came out in April, another Luck/Peyton Manning matchup was highlighted in early November.
Round Four of these former No. 1 overall picks comes Sunday at Lucas Oil Stadium, with their respective 2015 seasons off to unusual starts.
For Luck, he will listen Sunday to a new offensive coordinator in his ear for the first time since his rookie campaign.
Gone is Pep Hamilton, a man Luck has worked with for five professional and collegiate seasons.
When Pagano informed Luck of the move the head coach made earlier this week, turning to Rob Chudzinski as offensive coordinator, the quarterback was ready.
"Let's go to work," Pagano says, repeating Luck's message to him.
"(I) explained the situation, told him what I was going to do and why I was doing it. (Luck said), 'Let's go to work.'"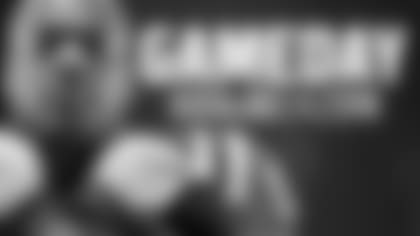 INTERESTING MATCHUPSColts quarterback Andrew Luck versus the Broncos defense:What a challenge for new offensive coordinator Rob Chudzinski this week. He will need Andrew Luck to protect the football against the top defense in the NFL. Luck has some familiarity in facing a Wade Phillips' 3-4 defense after Phillips was in Houston from 2012-2013.
Broncos wide receivers versus the Colts secondary: In his past three meetings against Peyton Manning, Vontae Davis has allowed an incredible nine completions in 24 targets his way (longest reception has been 10 yards). The Colts cornerbacks are going to have their chances to make plays Sunday and need to have the same effort they did in last season's playoff victory over Denver.Quick Facts
Sunday will be the Colts final "primetime" home game of the 2015 season.
In the last two weeks, Robert Mathis has three sacks. Mathis has had three sacks and a forced fumble in his past two games against Denver.
Denver is one of four undefeated teams left in the NFL (New England, Cincinnati, Carolina).
Peyton Manning enters Sunday needing one win and 284 passing yards to set NFL all-time records for each.
Denver leads the NFL in total defense (261.1 yards per game), scoring defense (16.0), pass defense (171.9), sacks (29) and forced fumbles (12).
The Broncos are just one of nine NFL teams since 1970 to have not allowed a first quarter point through the first seven games of the season.
NOTABLE QUOTESColts Head Coach Chuck Pagano(on the offensive philosophy of new coordinator Rob Chudzinski):
"Will we get to see that right away? I would be remiss if I said, 'Hey look, here's this, this and this, you guys are going to see a brand new,' because you don't have the time. You can make some subtle changes here and there. Chud is a really bright guy, he's a real innovative guy. We know he's called plays in this league for some time now and he's been very, very successful at the places that he's been. We know what he did at Carolina, the team we just played, and how he put an offense together surrounding that quarterback down there and he's a pretty fine quarterback obviously. Bright guy, he's innovative, he understands personnel, he understands how defenses are going to attack you, he puts guys in the right spots to make plays and plays to the strengths and tries to minimize the weaknesses. A great communicator with the staff and the players. He believes in running the football, fundamentals and techniques are very, very important."
Colts Head Coach Chuck Pagano(on the Broncos top-ranked run defense):
"When you put the tape on it's a scary movie. We've seen some really good defenses and this one is as good or better than any of the ones we've faced up to this point, front to back, they're unbelievable. Wade Phillips does a great job and they've got great talent and they've got a couple of edge rushers that are phenomenal. You look up and down the statistics and they're ranked it looks like number one up and down the sheet in a bunch of categories. Number one in total defense, leading the league in sacks with 29. They get after you and they bring it. I think we all saw, most recently, that defense against Green Bay. They're suffocating. Next to the '85 Bears and the 2000 Ravens I don't know if I've seen a defense quite like this. They're playing at a high level and they're going to challenge you. Run game, they're going to challenge your protections. They're going challenge you on the outside, they're going to get in your face, they're going to play tight man coverage down after down after down. They're just going to dare you to drop back and throw the football."
Colts Quarterback Andrew Luck(on dealing with a new offensive coordinator at midseason):
"It's obviously not ideal. Yeah it's tough, but no one feels sorry for you in this league. You find that out pretty quickly. It's on us as players to make sure we're all on the same page and make sure we understand the plan the coaches have laid out for us no matter who's in charge, in a sense, of the offense and go out and try to get a win. That falls on us."
Broncos Head Coach Gary Kubiak(on if he sees anything different from Andrew Luck):
"I don't. I see the big arm, being able to make plays moving around. When you go out there and you throw for 200 yards on the road in one quarter as he did this past weekend, that scares the heck out of you. He's a great player, he's a great young man. He's having a great career and part of this league is playing in tough football games and he's been through eight of them this year, we've been through seven and that's part of it. We all stay the course and we keep going and we know that he'll definitely do that."
Broncos Quarterback Peyton Manning(on if this game means a little something more to Manning):
"Obviously we have played there a couple years ago. There's been so much change here. Every week, we're trying to get more comfortable with all the changes here. We're, every week, concentrating on trying to get things on the same page here and adjusting to who we're playing each week. That's really kind of all the focus is on. There's plenty to focus on from those two standpoints."
Broncos Quarterback Peyton Manning(on the first time Manning met Andrew Luck at his passing academy):
"It would have been at the football camp. He came as a camper, but I can't say I recall that. When he was coming as a senior at Stanford, he came down to the camp like all those quarterbacks do. He was just extremely impressive as a player and of course like I said, my dad has known his dad for a long time. Just a great guy as well."