 ](http://careyindiana.com)
INDIANAPOLIS – The other 194 games in Reggie Wayne's career have allowed him to reach milestones most players never dreamed of let alone achieve.
With four 100-catch and six 1,200-yard seasons, Wayne has placed his name among the best to have played the game.
Colts fans have witnessed Wayne's greatness since 2001.  Chuck Pagano saw it at the University of Miami and knew Wayne was ticketed to be an elite performer.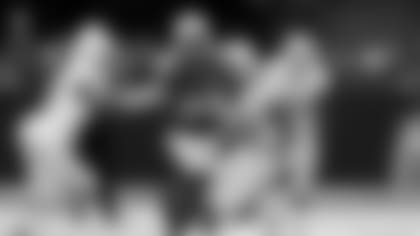 "He came in from day one you could see the talent was there, but his work ethic, his passion for the game, the way he studied and the time that he put in, things that he sacrificed, it was real evident early on that he was," said Pagano.  "Certainly you can't predict the type of numbers and years, but we knew early on that he was going to be a great player."
Pagano says Wayne's driven approach is shared by others who achieved greatness.
"He takes a beginner's mentality every year that he shows up to training camp.  All the great ones do that," said Pagano.  "Phil Jackson, he won six championships.  You read his book, all he ever talked about with his players every year, Michael Jordan, Scottie Pippen, whoever, take a beginner's mentality, 'This is your rookie season.'
"That's what he's done.  Every year he comes in, it's like starting over.  He's got his iPad out, he's got his notepad and he treats it like his rookie year.  He takes no days for granted and he takes no practices for granted."
* *
Most Regular-Season Wins in Colts History
Wayne is one win shy of matching John Unitas and Jeff Saturday with 132 regular-season victories, second-most in Colts history.  He is four receptions from becoming the ninth player with 1,000 for a career. 
He will adopt no other mentality than Pagano described.
"Every year, especially when you get in the latter part of your years, let's be honest, they're trying to replace you," said Wayne.  "I feel it's my job to make that a hard decision.  When they're all sitting in their staff meetings and they're going down the list and they get to 'W,' and they get to, 'Wayne,' I want them to say, 'You know what, it's not time yet.  We can't replace him yet.  He's bringing this much to the table.'  That's the kind of attitude I bring to it.  I just go in and tell my receiver coach, all of them to treat me like a rookie. 
"I think guys, when they have played a long time, boredom is what kills it.  You keep doing the same thing over and over.  I tell them to treat me like a rookie.  I go and play like (I'm) a rookie.  I do everything like a rookie."
Pep Hamilton coaches Wayne maybe a bit differently than others, but he coaches him.  Wayne wants it no other way.
"He says all kinds of stuff," said Wayne.  "One time he said, 'Reggie Wayne dropped a pass.  I thought I'd never see that.'  That right there is a good thing but at the same time, it drives you. 
"I have to make sure that I see that I don't continue to drop passes.  At the same time, you're like, 'That means I caught a few of them in a row.'  That's cool.  If I do something wrong, I want them to correct me.  That way, it keeps me on my toes."
Wayne has possession of his touchdown footballs.  With 80 and with marriage and children changing his personal life, displaying them has morphed from painting and putting them on a shelf to keeping them in a bin.  His kids even have access to that bin. 
He will treat the 1,000th-catch ball like the first ones.  He will give it a place of honor.  After that, it is back to the "beginner's mentality" to push as far as he can.
"He's the guy with the sword and shield running up the hill," said Pagano, "one of those guys that (lead) the charge."
Wayne is not ready for complacency in that charge.  There are too many things to slay.
"I've beaten some odds," said Wayne.  "That's what fuels me to keep playing.  (Let's) see how far I can take it."