 ](http://careyindiana.com)
INDIANAPOLIS – Monday's game at San Diego falls four days shy of the one-month anniversary of Trent Richardson becoming a Colt.
It will be his fourth game in a new locale, and the primetime stage on which it will be played is new for Richardson as well.
"Oh, man, very excited, (my) first time playing under the lights on a Monday Night," said Richardson Friday.  "It's a big game for us.  They're number five in offense.  It's big for the offense to capitalize too on our end and big for our defense to capitalize on what they deal with.  It's big."
Richardson's only other primetime effort was with Cleveland last year when he had 18 touches (14 rushes) for 104 yards.  His time with the Colts has been productive, too, just not as much as the second-year back expects it to be.
"When you know what you're doing, you can always move faster," said Richardson as he still is learning components of a new offense.  "When you know what everybody else is doing, you can always move faster.  I'm starting to get more comfortable every day."
Last week was another example of what Richardson provides and how Indianapolis is committed to a power ground game.
After 15 minutes of an eventual 34-28 win over Seattle, the Richardson had four of the Colts' eight rushing yards.  By halftime, he had two of the club's 29 total ground yards.
"Coach (Pagano) came in at halftime and asked us, 'Can we run the ball better?'  Everybody in that room said, 'Yeah.'  We went out there and had it in our heads that we were going to run the ball.  No matter what they put (against) us, our strength in the second half was going to be, 'Run the ball.'   We're going to be a balanced offense.  We had our mind made up."
Indianapolis ended up with 109 yards, and five of Richardson's 56 total came on a game-deciding play.  Clinging to a 31-28 lead with 4:30 to go at the Seattle 45, he bulled for 10 yards on third-and-five.
"He had some big runs for us late in that game.  Third-and-five, that was a huge play," said Pep Hamilton.  "For him to really put his head down and find a way to grind out the five yards we needed (was important). 
"Trent is on schedule.  He's very much confident in his ability to go out and execute our offense."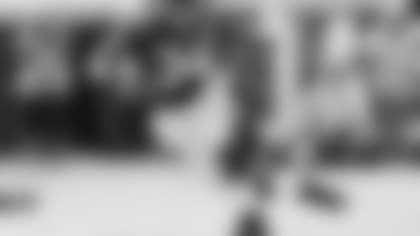 Richardson backed up Ahmad Bradshaw in his first game with the Colts, an outing at San Francisco where Bradshaw suffered a neck injury that eventually landed him on injured reserve.
Richardson shouldered a bigger load at Jacksonville with 20 carries before nearly matching that total last Sunday.  Richardson still is waiting for the break-out moment.
"We've been grinding and working on timing," said Richardson.  "We need to know how we're going to play this run or block up this scheme.  We've been working hard on that. 
"People have been on us about the running game, and it's going to come.  When it does come, it's going to come hard, and it's going to come fast, too.  We're going to have a lot of bandwagoners."
The Colts have opened with five 100-yard rushing games for only the third time (1984, 1988) in their 30-year Indianapolis era.  Not yet has the team failed to run at least 26 times in a game. 
That approach will remain, as will Richardson's ability to hit a home run.
"He's the kind of runner you can keep pounding and keep pounding," said Josh Chapman, Richardson's Alabama teammate.  "Just keep feeding him the rock.  That's just him.  That's how he goes.  As a defense, you hate tackling backs like that. 
"He's one of those backs who pops one yard, then two yards, then 30 yards on you.  He's tough to bring down.  I've seen him do it.  I was around a bunch of good backs at Alabama, and he's one of the best."
PRACTICE REPORT – Did not participate:  S-LaRon Landry (ankle), LB-Bjoern Werner (foot); Limited Participation:  LB-Erik Walden (elbow); Full Participation:  Stanley Havili (ankle), DT-Ricky Jean Francois (groin).