 ](http://careyindiana.com)
INDIANAPOLIS –Coaches often preach about the need to run the ball when a team must do so.
Last week with a 22-point lead heading into the fourth quarter, Indianapolis needed to finish smartly and efficiently to close out a win against Houston. 
Trent Richardson was a key factor by gaining 51 yards on seven rushes in the final period.
"I think he had a great game and really carried the load of the whole offense, especially when you're up and guys are going to load the box and it's tough to run," said Andrew Luck, who also connected with Richardson four times in the passing game.  "He broke out some good ones and great catches, which is great." 
Richardson was split wide in some offensive sets and even worked as a blocking back on the club's first drive with the club depleted of fullbacks, and he went into overdrive when starter Donald Brown left with a stinger.  Richardson's 102 scrimmage yards set a best since joining the Colts.
"He definitely feels like he's in the rhythm now and that comfort zone," said Luck.  "I think it's just going to continue to improve and 'wow' people, but I don't think it surprises us. 
"We know he's a phenomenal football player.  He does it in practice.  We're glad he's getting sort of the kudos now."
Joining the Colts three games into the season meant Richardson had to study to catch pace with his teammates. 
The playbook includes more than 200 route concepts the versatile back needed to learn.  He was pressed into more accelerated service when Ahmad Bradshaw left after the San Francisco game – the only outing in which they were paired as the 1-2 punch – with a season-ending neck injury.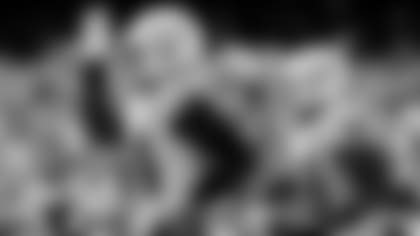 Richardson has hit double-digits in carries in six Colts outings, with 19 rushes and 64 yards last week ranking among top performances.  Additionally, he has receptions in six of the last seven games, totaling nine for 106 yards and a touchdown in the last two games.  
"It felt good to get in there and get back into the groove," said Richardson.  "I know all the plays now.  I was able to play fast and not be thinking. 
"It's kind of a tough transition from one team to another.  I'm very coachable."
Luck calls Richardson a dynamic play-maker, one who is good while stationed anywhere on the field and has a true ability to run.
Chuck Pagano feels Richardson is more comfortable with the offense and thinks last week's outing "can't do anything but help his confidence.  You're going to see him do nothing but take off."
"He had a great week of practice," said Pep Hamilton.  "I think he is a lot more comfortable not just in the offense, but physically.  He seems to be healthy, as healthy as he has been since he's been here.  He picked the right time to get hot."
2013 Rushing Bests in a Quarter
COLTS SEE SMITH AGAIN –Alex Smith will be facing the Colts for a third career time.  Smith, the top overall pick in 2005 by San Francisco, faced the Colts his first year and then in 2009.
In two setbacks to Indianapolis, Smith has one touchdown and five interceptions, but is enjoying a solid first year with Kansas City.  Smith was 17-for-20 passing last week for 287 yards and five scores to become the second franchise QB with a perfect rating.
The union of Smith and Andy Reid is a good fit.
"He's very smart, very driven, wants to be the best," said Reid.  "At the same time, he makes everybody around him better.  He loves playing the game.  Those are all things as a coach that he can handle."
Smith suffered four interceptions in his first meeting with the Colts but has the fewest (26) of any NFL QB with 1,400 attempts since 2010.
Smith exited San Francisco seeing Kansas City as opportunity and identifies factors for his resurgence.
"There's a lot of things," said Smith.  "It starts with Coach Reid and the staff, along with the personnel side, that's the first thing.  Then a few new faces, but mainly the core group of players was here.
"The second deal is just a matter of having a little success.  I think confidence and momentum are big factors in this league, especially for a team coming off a two-win season.  Those are two big things I'd point to."
Smith has helped spark the nine-game jump in the standings by completing 60.8 percent of his passes (292-of-480) with a 23-to-six touchdown-to-interception bulge.
PRACTICE REPORT – Did not participate:  DT-Ricky Jean Francois (foot), OT-Jeff Linkenbach (quad), S-Sergio Brown (groin), LB-Daniel Adongo (hamstring), OG-Joe Reitz (concussion), DT-Montori Hughes (knee), OG-Hugh Thornton (neck), DT-Aubrayo Franklin (rest), CB-Greg Toler (groin), WR-T.Y. Hilton (shoulder); Full Participation:  LB-Robert Mathis (rest), C-Samson Satele (elbow), RB-Donald Brown (neck), FB-Stanley Havili (knee), WR-LaVon Brazill (foot).