INDIANAPOLIS – For a second straight week, fans will want to stay in their seats at Lucas Oil Stadium during halftime.
The 2006 Colts' flavor will be on display again.
At halftime on Thursday night, Tony Dungy and Marvin Harrison will be receiving their Pro Football Hall of Fame rings. HOF President David Baker will be on hand for the presentation.
As you would expect, Dungy can't wait to be back with Harrison on Thursday.
"I said it this summer," the head coach says, 'Going into the Hall with one of your players, going in with Marvin, is such an unbelievable, special way to do it.'
"For both of us to be there (Thursday), I'm looking at that as the last act of the (Super Bowl XLI) reunion. It's going to be special. I saw (fellow 2016 HOF inductee) Kevin Greene when he got his ring in Pittsburgh and just the emotion and energy, I'm really looking forward to it."
Dungy and Harrison were inducted into the Pro Football Hall of Fame back in August.
After being a finalist in his first two years of eligibility, Harrison earned induction in 2016.
Harrison ranks No. 3 in NFL history with 1,102 receptions, No. 7 with 14,580 yards and No. 5 with 128 touchdowns.
He's the lone player in league annals to record eight straight seasons of at least 1,000 yards and 10 touchdowns.
His 143 receptions in 2002 still stands today as the most for a single season in NFL history.
Dungy's membership into the Pro Football Hall of Fame Class came in his third year of Hall eligibility. Dungy was an NFL head coach for 13 seasons, with his team playing in the postseason 11 times.
Among coaches with at least five years in the NFL, Dungy averaged 10.7 wins per season, the best mark in NFL history.
In winning Super Bowl XLI, Dungy became the first African-American coach to hoist the Lombardi Trophy.
A .688 winning percentage for Dungy is ninth in league history (minimum 100 games coached). Dungy has a higher winning percentage than Bill Belichick, Bill Cowher, and Bill Walsh.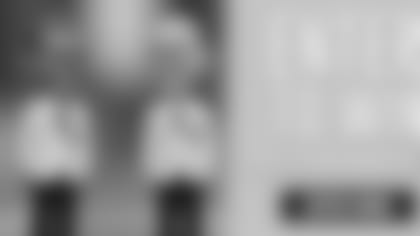 ](https://colts.formstack.com/forms/bobbleheads)