INDIANAPOLIS – This wasn't your typical press release for releasing a player.
D'Qwell Jackson had given eight years of service to the Cleveland Browns, where he won more than five games in a season just once.
The Browns were releasing the then 30-year-old Jackson with the team undergoing yet another regime change.
Despite all the turnover and vacations always starting after Week 17, the Browns were grateful for what Jackson gave them.
…D'Qwell is the epitome of class, leadership and professionalism. Every day of his NFL career, D'Qwell has been a solid representative of the Browns and the City of Cleveland, both between the lines on Sundays and off the field in our area community. We want to thank him for his eight years of service and wish him nothing but the best in his future endeavors," GM Ray Farmer said in the team release.
Quotes from personnel people are rare when a team releases a player.
It was clear that Jackson was a rare person, even though the Browns were moving on from him.
Still searching for the taste of the postseason, Jackson wasn't about to call it quits entering his 30s.
"Heck no. Heck no," Jackson says when asked if the thought of retirement crept into his mind back in February of 2014.
"I knew I had a lot of good years left. I felt like (Cleveland) did me a favor because they let me go when I was healthy. That thought never crossed my mind and it still hasn't crossed my mind."
On the verge of a possible second Pro Bowl honor, there's a reason retirement is far (far) away for the NFL's leading tackler.
The now 32-year-old Jackson has come to Indianapolis and been the player who was drafted in the second-round of the 2006 NFL Draft.
Phil Savage, the former Cleveland Browns GM who drafted Jackson, repeated the word "productive" when describing the player the Colts were acquiring in early 2014.
Savage believed Jackson was on the verge of a Pro Bowl-type season with the Colts.
Jackson's had two, in two seasons, with Indianapolis.
This type of success, at the age of 32, is something Jackson attributes to the environment he walked into with the Colts and also how his personal life has changed.
Last month, Jackson got engaged and starting a family is a major priority for him as he plays the best football of his life.
"Football is always going to be important for me," Jackson says. "Now, football is important during the season and I'm at an age now where I can balance both. That's what's important.
"I think it's helped my game because it's not just about football anymore. It's about my soon to be wife. We are having some kids soon. We are starting to grow up a little bit."
In this 10th NFL season for Jackson, his 129 tackles are more than any player in the NFL.
His pick six down in Atlanta in late November will go down as one of the plays of 2015 for the Colts if they can find their way into postseason play.
Count Robert Mathis as the campaign manager for sending Jackson back to the Pro Bowl.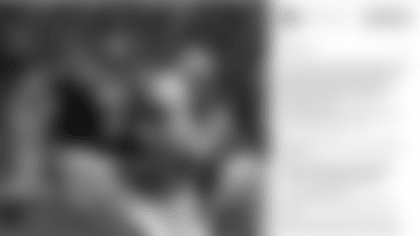 When the Browns parted ways with Jackson last February, the sound inside linebacker was in search of experiencing playoff football for the first time in NFL career.
He's found it in Indianapolis and he's a major reason why the Colts are on the verge of tasting it again.
"I didn't know where I was going to end up when I got released from Cleveland," Jackson says of facing free agency for the first time in his career.
"All I knew was I could still play and whatever opportunity I was going to get, I was going to make sure that I was going to put everything I put into Cleveland plus some."
D'Qwell Jackson in action during the 2014 season.