INDIANAPOLIS --- Running back is the buzz position at the 2015 NFL Combine, partially because one hasn't been selected in the first round for the past two drafts and partially because the 2015 RB class is deep and talented.

This three part article will explore the draft prospects hoping to break the trend of running backs not going in the first round, what makes a running back good or great historically, and a new statistic to measure the efficiency of running backs, similar to passer rating for quarterbacks.

Part I: The 2015 RB Class

If the 2014 NFL Combine was all about the wide receivers on offense, then the 2015 Combine is all about the running backs. It's the most talented group in a few years. The 2013 and 2014 drafts gave us Giovani Bernard, Le'Veon Bell, Eddie Lacy, Jeremy Hill, Tre Mason, and others, but none were selected with the first 32 picks.

In 2012, three teams selected running backs in the first round, after the Colts took Andrew Luck first overall: Browns (Trent Richardson, 3rd overall), Buccaneers (Doug Martin, 31st overall), and Giants (David Wilson, 32nd overall).

Some have said there hasn't been a RB drafted in the first round since because of the increased emphasis on passing in the NFL. It probably didn't help that the last three first round running backs have not produced consistent results (Wilson has since retired, sadly, with a neck injury).

Many believe the 2015 class of backs will change that. NFL.com's Mike Mayock ranks the top-5 RBs in the draft like this:

Melvin Gordon (Wisconsin)
Ameer Abdullah (Nebraska)
Duke Johnson (Miami, Fla.)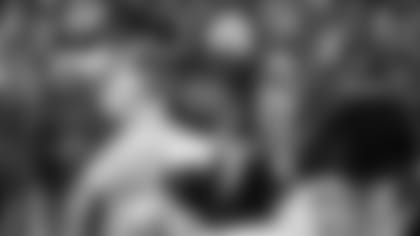 Another national analyst believes this is the year at least one running back gets back in the first round.

"I'd be shocked," Fox Sports 1's Joel Klatt told Colts.com Wednesday, when asked if he'd be surprised if a running back doesn't get picked in the first round again. "I think the trend in recent years of not taking a running back is more about the running backs that have come out, rather than a trend overall in the game."

Klatt made the point that the two teams in the Super Bowl relied a lot on their running backs, with Marshawn Lynch for Seattle and LeGarrette Blount for New England. He also pointed out the resurgence of Dallas, led by running back DeMarco Murray.

"The fact that Melvin Gordon and Todd Gurley, if healthy (Gurley is recovering from a torn ACL), are both first round talents," said Klatt, "they're going to get selected there."

As far as the mock drafts go, many agree with Klatt. Three out of four on NFL.com have two RBs taken in round one. Other media outlets show at least one running back going in the first 32 picks in the vast majority of mock drafts.

"You have 12 running backs that could go in the top three rounds, you have various sizes, various kinds of running backs." said long-time ESPN NFL Insider John Clayton. "It's going to be interesting to see how this affects free agency."

"I'd never be shocked, because what you have are two guys with first round possibilities, but one's coming off an ACL," said Clayton, when asked if he'd be surprised to not see a RB go in the first round this year. "Certainly when you're talking about a great running back from Wisconsin like Melvin Gordon, you have to think that somebody, at least in the lower part of the first round is going to take him."

Will the recent trend be broken? We'll see. But what exactly makes a running back good or great?

Part II: The Historic RB Seasons

To answer that question, let's look at some of the more historic seasons in NFL history for running backs:

1934, Beattie Feathers - 119 carries, 1004 yards, 8 TD, 0 Fumbles
1962, Jim Taylor - 272 carries, 1474 yards, 19 TD, 5 Fumbles
1963, Jim Brown - 291 carries, 1863 yards, 12 TD, 7 Fumbles
1965, Gale Sayers - 166 carries, 867 yards, 14 TD, 9 Fumbles
1984, Eric Dickerson - 379 carries, 2105 yards, 14 TD, 14 Fumbles
1997, Barry Sanders - 335 carries, 2053 yards, 11 TD, 3 Fumbles
1998, Terrell Davis - 392 carries, 2008 yards, 21 TD, 2 Fumbles
2000, Marshall Faulk - 253 carries, 1359 yards, 18 TD, 0 Fumbles
2006, LaDainian Tomlinson - 348 carries, 1815 yards, 28 TD, 2 Fumbles
2012, Adrian Peterson - 348 carries, 2097 yards, 12 TD, 3 Fumbles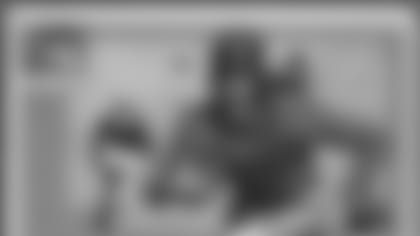 (Beattie Feathers 1955 Topps football card)

Which of the above running backs had the best season? Who was most efficient? Right now, there isn't a statistic that helps measure that in the NFL, the way passer rating does for quarterbacks or OPS does for hitters in baseball. Even basketball has /- to help measure a player's efficiency. There is no such stat currently to help measure that for running backs (unless you keep reading…).

The historic seasons above share many of the same qualities:

an ability to put his team in scoring situations
Which of those qualities is most important though? Ask 10 experts which of those 10 historic seasons listed above was the best, and you may get 10 different answers. Some experts value scoring touchdowns more than protecting the ball. Others value yards per carry more than the ability to score.

There is no statistic that ties them all together to help answer which running back had the best season. Until now...

Part III: Introducing "Running Back Rating" (RBR)

Running Back Rating is a statistic adapted from the formula used to calculate passer rating for quarterbacks. Passer rating takes four key statistics (completion percentage, yards per attempt, touchdown percentage, interception percentage) and assigns varying weights to them to help calculate an overall rating for quarterbacks.

Similarly, RBR does the same for backs. It measures how efficient a player is running the football. Instead of completion percentage and yards per attempt for passer rating, RBR uses yards per carry. Instead of interception percentage, RBR uses fumble percentage. However, it does also use touchdown percentage.

Traditionally, a passer rating above 100 is considered excellent. That threshold will be lower for running backs, because they don't score as frequently as quarterbacks and yards per carry for RBs is generally lower than yards per attempt for QBs.

These were the top 10 rushers in terms of yardage in 2014:


DeMarco Murray may have won the rushing title but much of that was based on volume, a large number of attempts more than the rest of the competition. Did he really have the best season? RBR says no.

Here's how RBR would have ranked the top-10 most efficient RBs from 2014: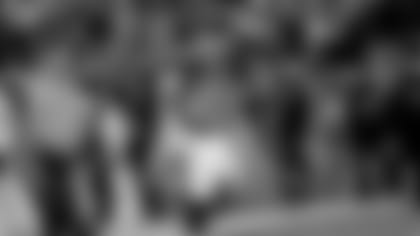 Yards per carry has the highest weight in RBR, followed by fumble percentage, then touchdown percentage. It's how LeSean McCoy can finish 3rd in rushing this past season but 21st in RBR (62.1).

Which Colts running back would you say had the most efficient season running the ball? Most would guess Daniel "Boom" Herron, and RBR would agree: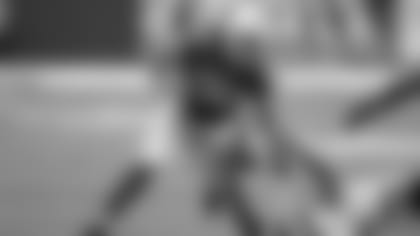 (Daniel "Boom" Herron, Colts.com)
As for those 10 historic running back seasons from Part II of the article, RBR helps determine which had the best season: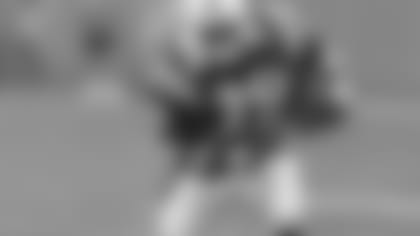 Yes, Dickerson's record 2105 rushing yards in the 1984 season is at the bottom of the list, mostly because of his 14 fumbles. That's not to say it still wasn't a very good season. It was (obviously). It just wasn't as efficient as some of the other historic seasons.

To help better understand RBR, here's how the rating scale turned out after calculating countless rating for running backs across eras:

The top 20 running backs in 2014 had an RBR at least in the 60s. The top 10 were in the 70s. Running Back Rating is not a statistic that will simply crown the "best" running back. "Best" is a subjective term and isn't measurable, but you can measure efficiency, and that's what RBR does.

It's a rating based and adapted from a long-existing stat (passer rating), to help apply a single number to running backs to help rate their running ability for the first time across eras and current offensive systems.

And in case you were wondering how Mike Mayock's top-5 RB prospects in this year's draft ranked in terms of RBR last season, here you go:
Will that translate to at least one first round pick for a RB in the 2015 draft? The numbers, along with the experts, suggest yes.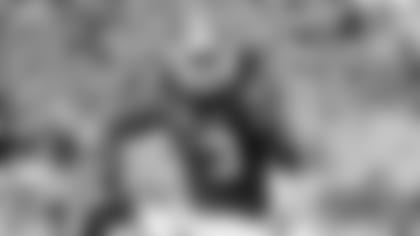 *I'd like to thank Colts Vice Chair/Owner Carlie Irsay-Gordon for helping me produce this article and her efforts in looking up the best seasons by RBs in NFL history.