INDIANAPOLIS --- American Pharoah captivated the nation Saturday, becoming the first to win horse racing's Triple Crown in 37 years, but how hard has it been in football to reach a Triple Crown? Only one Colts player has ever done it.

There is no official Triple Crown in football, but it's easy to pick the three key statistics required to lead the NFL in for quarterbacks, running backs, and receivers to accomplish the feat.

Quarterbacks: Completion Percentage, Passing Yards, Passing TDs
Running Backs: Rushing Attempts, Rushing Yards, Rushing TDs
Receivers: Receptions, Receiving Yards, Receiving TDs

The only Colt to ever produce Triple Crown numbers in a season was running back Alan Ameche in 1955. It was his rookie season out of Wisconsin, and he led the NFL with 213 carries, 961 yards, and 9 touchdowns.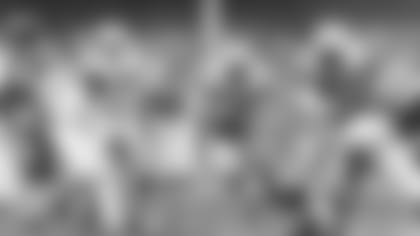 Ameche was the third pick in the draft that season. Some thought he would be better suited as a linebacker, including the Green Bay Packers, who weren't far from where he played college football in Madison.

Ameche crushed those opinions immediately, taking his first carry in the NFL for a 79-yard touchdown. He finished with 194 yards on 15 carries in his professional debut, in what is still considered by some the best game ever by a Colts running back, considering he rushed for 13 yards per carry.

Nicknamed "The Horse", Ameche's record for the most rushing yards for a rookie's first three games stood for 50 years, until Cadillac Williams broke it in 2005. Three seasons after winning rookie of the year with his Triple Crown effort, Ameche scored the game-winning touchdown against the New York Giants at Yankee Stadium to win the NFL Championship 23-17, in what is better known today as "The Greatest Game Ever Played".

In the Super Bowl era, a Triple Crown is still rare. Only three quarterbacks and three wide receivers have done it; although, 10 running backs have accomplished it since the first Super Bowl in 1997.

Quarterback Triple Crowns (Super Bowl Era)

2001 Kurt Warner, STL (68.7%, 4830 yds, 36 TD)
2007 Tom Brady, NE (68.9%, 4806 yds, 50 TD)
2011 Drew Brees, NO (71.2%, 5476 yds, 46 TD)

Running Back Triple Crowns (Super Bowl Era)

1967 Leroy Kelly, CLE (235 att, 1205 yds, 11 TD)
1968 Leroy Kelly, CLE (248 att, 1239 yds, 16 TD)
1973 O.J. Simpson, BUF (332 att, 2003 yds, 12 TD)
1975 O.J. Simpson, BUF (329 att, 1817 yds, 16 TD)
1977 Walter Payton, CHI (339 att, 1852 yds, 14 TD)
1980 Earl Campbell, HOU (373 att, 1934 yds, 13 TD)
1987 Charles White, LA Rams (324 att, 1374 yds, 11 TD)
1995 Emmitt Smith, DAL (377 att, 1773 yards, 25 TD)
2005 Shaun Alexander, SEA (370 att, 1880 yds, 27 TD)
2014 DeMarco Murray, DAL (392 att, 1845 yds, 13 TD)

Wide Receiver Triple Crowns (Super Bowl Era)

1990 Jerry Rice, SF (100 rec, 1502 yds, 13 TD)
1992 Sterling Sharpe, GB (108 rec, 1461 yds, 13 TD)
2005 Steve Smith, CAR (103 rec, 1563 yds, 12 TD)

Murray snapped a 9-year Triple Crown drought for running backs last year. With more teams utilizing multiple backs in recent years, it makes his accomplishment all the more impressive. One wonders if it will happen again for a running back anytime soon.

It's not surprising that the three Triple Crown quarterbacks have all come this century, with the NFL becoming more and more a pass-friendly league, but that hasn't translated to a recent receiving Triple Crown, with the last coming 10 years ago.

Steelers WR Antonio Brown came close last year, leading the league with 129 receptions and 1698 yards, but his 13 touchdowns fell three shy of Cowboys WR Dez Bryant.

Which player in the NFL has the best chance at accomplishing this in 2015? Tell me on Twitter (@ColtsReporter). Here are my candidates:

But no Colt has accomplished what Alan Ameche did in 1955, in completely dominating his position in a single season.
(Stats courtesy of: Pro Football Reference)