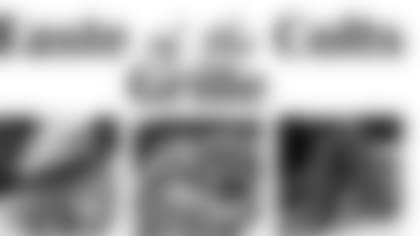 On behalf of Jim Irsay and the Colts
organization, we cordially invite you and a
guest to a complimentary tasting of the
wonderful food options the Indianapolis Colts
Grille has to offer!

From our house made Ultimate Mac & Cheese to our BBQ Beef
Sushi and Chipotle Lime Quesadilla, you'll see first hand that this
is not your usual sports bar, but a GREAT casual restaurant with
GREAT food, GREAT beverage, GREAT service and GREAT
entertainment!
Tuesday, October 25th from 5 to 8pm
110 West Washington Street
SPACE IS LIMITED! RSVP BY OCTOBER 21ST TO
INDIANAPOLISCOLTSGRILLE@GMAIL.COM
66 HD flat screen TVs
Over 80 delicious menu items

32 beers on draft, 32 bottled selections, 32 wines, and 32 unique specialty drinks & martinis
COME FOR THE FOOD...STAY FOR THE SPORTS!