INDIANAPOLIS —You want to see Chris Ballard in his element?
Go inside the Indianapolis Colts' spacious draft room at the Indiana Farm Bureau Football Center, throw on some film, put the controller in his left hand and watch him go to work.
For 364 days a year, the Colts' draft room is a sacred space — after all, for months at a time it's where one could find the team's entire draft board. But for one day a year, Ballard opens the room up to members of the media, sharing his vision of the future of the franchise.
That's what happened on Tuesday, as Ballard spent nearly two hours inside the draft room with local reporters, pouring over all sorts of film on the Colts' 2019 NFL Draft class and answering whatever questions came up along the way. The only caveat? No cameras — just a good old-fashioned chat.
Here's how this week's session went, word-for-word; first with notes and quotes from film sessions on the Colts' top six picks, and then more general questions.
---
---
Rock Ya-Sin / Cornerback / Temple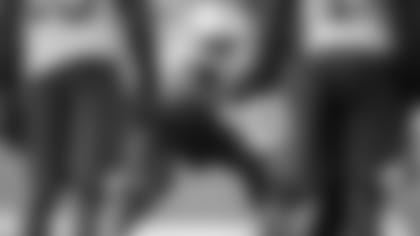 » "You know, Mike (Derice) did a great job — Mike and Rex (Hogan) both went in there and did a great job on Rock. I mean, he was a transfer kid, so he was on the radar, but he really wasn't on the radar as a high prospect. But you started hearing buzz about him as the year went on. And, I mean, the kid played his butt off this year. And then to earn the single-digit number that he did, that was a huge accomplishment in such a short amount of time."
» "So (Ya-Sin) did everything significantly better at his pro day. And you don't know why, but he did. And he had a good workout at the Combine — I didn't think he was exceptional — but I thought this was pretty exceptional. He hit all our numbers. The wear of the week can get to these kids. But he tested — like his 40, he kept his 40, but in terms of three-cone, short shuttle, which tests athletic movement, which are important numbers for us, he significantly improved."
» "If you look athletically, there's a little tightness with Ya-Sin, but he's a powerful athlete. He's not a stiff — I mean, I've heard people call him (a stiff); he's not a stiff. He's got good movement. He's got good feet. He's explosive. His speed is good — not special — but it's good. His instincts are special. And he is downright … I mean, he's a pitbull."
» (On the approach once the Colts went on the clock at 34th overall): "So when we got to 34 — remember I told you there was about eight players I thought could be there. When we were at 26, we had five guys left. And just looking at the board and needs, we thought for sure we'd be looking at one of those guys at 34. So when we got to 34, we were still looking at three of those guys, and we had another chance to trade back. And we had a blue card on Rock, a guy we definitely thought about at 26 if we would've got stuck, and I just thought he fit the scheme too well, plus he's got high character and stands for everything that we want to stand for — his work ethic, his toughness — and needing to add some more depth at cornerback, we just thought it was the right thing to do to stay put and make the pick."
» (On if Ya-Sin was one of the five players the team would've picked in the first round): "He would've been in consideration at 26, yes."
» (Showing Temple pro day workout): "This was the workout that I thought was exceptional. I mean, I really did. I thought it was exceptional from a movement standpoint, the way he competed, the way he caught the ball. He's very coachable. Like, a lot of times — and I'll show you (Marvell) Tell's workout here in a minute — a lot of times when coaches go to workouts, I mean, you're getting the movement — you're trying to see the movement, without question — but you're also seeing, 'What can I fix? What are some technique things that I've seen that he's been doing differently — can he do what we're asking him to do? Can he do the things and the movement and the technique stuff we want him to do?' And I think that's always an important thing when you're going to these workouts. It's not just watching his movement; what can we fix and make him more efficient in his movement, and then play in our scheme?"
» (Turns on Senior Bowl practice tape) "So, from a matchup standpoint, the one thing he'll have to learn to do is play off — he just hadn't had to do a lot of it. But he played enough bail coverage, which we do … So I thought the workout at the Senior Bowl was really good. So, as you can see, how many guys did we take from the Senior Bowl? You get to see apples on apples. I mean, you're getting to see good players against good players. You get to get down on the field, watch them compete, watch their movement. I mean, I've always thought … when I was in Kansas City we took a bunch of guys that played in the Senior Bowl. We just think it's a great place to watch and see guys really against what they're going to play against at our level."
» (Shows Ya-Sin rep knocking pass away from wide receiver Deebo Samuel): "I mean, where was Deebo taken? 36th? 37th? San Francisco? Right in that area? We liked him too — he's a good player. But it was fun to watch Rock compete this week."
» "He's really coachable. The wrestling background was really intriguing, because, man, when you got a kid that can wrestle, now, that's a competitive, disciplined sport, man. He's got a tremendous will to compete and win. And, like with any rookie — you know what? Any rookie: he's gonna have his moments where he's not great, but you just gotta let him play and let him grown and let him live through mistakes. I always kind of giggle at we want these guys to be stars right away, but they've gotta develop; they all develop at their own pace and rate. When they're strong-minded and got really good work ethic, it usually happens quicker, and that's why the big emphasis is on character for us. But we think his skillset fits us. (More Senior Bowl tape) And this is some of the off stuff I was talking about with a bail, which we'll do."
» (On Temple head coach Geoff Collins believing Ya-Sin would translate well to the Colts because they do a lot of the same stuff schematically): "Yeah. Yep. I mean, look, it's not rocket science. The field's only got so many areas to cover."
---
---
Ben Banogu / Linebacker / TCU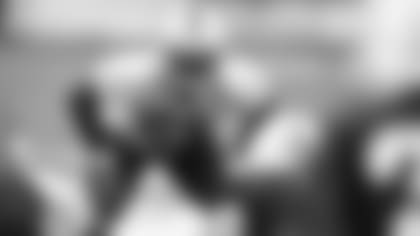 » (Watching Senior Bowl tape:) "Banogu was an interesting study for all of us. We liked him all the way through the process. … So at TCU, this is how they played; and understand at college they're playing 90, 95 snaps. I thought he was exceptional at the Senior Bowl this week. And I thought you saw this on tape at TCU, but with the pace of the offense and the amount of snaps they're playing, you've gotta really look hard to find it, 'cause, I mean, they get tired. But, man, he has got all the explosive first step and movement that you want as either a rusher or linebacker."
» (On if it's a stretch to say Banogu and Kemoko Turay, who was also a stand-up linebacker at Rutgers, were similar coming out:) "Very similar. Very similar. No, (Banogu) can bend … (Does he use his hands well?) That's an area that needs to get better, but I think it will. I thought when you watched the Senior Bowl, I thought as the week went on, it got better."
» (Banogu, lined up in the interior of the defensive line, powers by Oklahoma offensive lineman Ben Powers:) "I mean, they'll kick him inside. If you see this at the Senior Bowl, they did this two or three times, man. He was freaking good at it on rush downs. They'd stick him inside on rush downs during the Senior Bowl — they couldn't block him at practice."
» "So when we took him, and talking through it with our coaches, we said, 'Alright, we're gonna make him a SAM (linebacker) — 'cause that's kind of what he's played — and then find him a role on third down, rushing the passer.' So right now he's actually played SAM during rookie minicamp, yesterday he went through linebackers, today he went through all the rush stuff. I think it just depends on how the depth plays out and the competition plays out, but the one area that I really think he can impact our football team is on third down once he develops."
» (So he'll play some defensive end on third down?) "He'll play some defensive end." (How uncommon is that?) "Just go get the (quarterback). Just go. You sic 'em. … The guy they hike the ball to. Just go get him. We'll probably make it pretty simple. (Is he a three- and a five-technique?) I think it depends on … we'll probably play him outside right now at end when we rush him; we'll see how he develops and see if he can handle going in on third down. But you remember last year, we kicked (Jabaal) Sheard in some. It would be nice … in a perfect world you get four defensive ends on the field, especially on rush downs. You want speed, they can get off the ball and go get the quarterback."
» (On if Matt Eberflus has ever previous had the rush capability out of a SAM linebacker like the Colts could have with Ben Banogu:) "They didn't have it. So they had longer guys, but not to the extent of what we're doing with this guy. This is more Pete Carroll, Bruce Irvin, this is the role he had; Jamie Collins, when they took Jamie, I think New England kind of had a similar (plan) — they ended up not rushing him as much. So we'll see how it plays out with him. But look: I know we have a very talented athlete that is a great kid and he's got all the movement we want; we think he can affect the pass, and that's what we want him for."
» "I think you saw last year with Darius (Leonard), I'll show you some snaps here — we had Darius doing a lot of it, where they hawk the quarterback on third down … so when you look at this league now, so think about the quarterbacks we'll face: (Deshaun) Watson, (Patrick) Mahomes, (Marcus) Mariota — just go down the (list) — Baker Mayfield — go down the list of runners. When they get out of the pocket, we've gotta track them down. There was a couple plays versus Houston last year when — and this is the kind of stuff I'm talking about — when Watson broke the pocket, freaking Darius just hawked him. I mean, and that's when those guys become dangerous. So when you have a few guys — (Kemoko) Turay, Darius, Banogu, (Bobby) Okereke, (Anthony) Walker — that all have that kind of speed on the field, when they break the pocket and you can run and get him, that creates an element to your defense that's very important. Look, you can talk about keeping him in the pocket all you want, that's a lot easier said than done; that's hard to do, man."
» "So, athletically, there's a lot to like about this kid. And we think he's really gonna help us."
---
---
Parris Campbell / Wide Receiver / Ohio State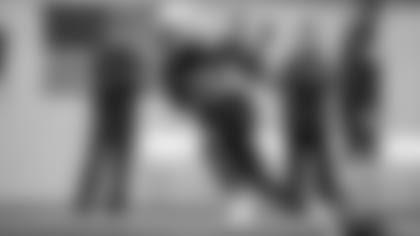 » "I wish I could tell 'ya — did we like Parris? Absolutely we did. Did we think he would be there with the 59th pick? No. Nah. Our first objective was, with the addition of (Devin) Funchess, we thought we needed a bigger target on offense. Did we want to add a speed, explosive element? Yes, but it wasn't priority one coming out of the gate in the draft. Priority one was to continue to add on defense."
» (On Campbell looking thicker than one would've imagined, watching his Combine workout:) "Yeah. He's big. So this is the Combine workout. This was one of the better workouts I had seen in a long time. And we're sitting up in the box watching it, and Frank (Reich) kept looking, 'Parris Campbell?' 'Yeah, he's pretty good.' And and he got right back in the office and started studying him."
» "The question will be is how long, with Parris, how long is it going to take him to really learn how to play outside? He just hadn't done it; I mean, that's going to be an adjustment period for him. We do think he can do it, unequivocally. No question do we think he can do it. But it's just, how long does it take? How long did it take Reggie Wayne to be a great player? And I'm not calling him Reggie Wayne; I just think it took Reggie to, what, Year 3, wasn't it? So I just think it's going to take some time to see how long it takes him. Maybe it happens Day 1, maybe it's Year 3. I don't know. I do know we will have a role for him where he can produce. Frank's brilliant — Frank and Nick (Sirianni) do a great job of playing to what the strengths are of his players. So whatever they can do, they put 'em in that role. So I think you'll see Parris used in a way that makes him have success early."
» (But at the same time you want to build his game?) "That's right." (So how do you balance maximizing what he can do now versus the role you hope he can play in the future?) "That's why practice is so important. I mean, you have to think during practice during the week, let's say you're getting 50 reps outside a week, well do that times 10; that's 500 reps. Well, I think you practice your role, but then you're also getting better at your entire craft."
» (On if Campbell is seen as a kick or punt returner:) "We'll see. We think he's gonna be a really good kick returner. We'll work with him as a punt returner and see if he can handle the fielding and be consistent with it. He's definitely got the explosive element that you want."
» (On if Campbell reminds Ballard of Tyreek Hill in terms of his athleticism:) "No — Tyreek's different. Tyreek's different. Because of their body types. Same type of role early — I'd say that. Similar role, 'cause we used, that first year with Tyreek, (Kansas City) used him in the slot, fly sweeps, man-beater routes out of the slot to get him some one-on-ones 'cause the inside slot gets a lot of man coverage where he's getting a lot of room on the field to work by himself. Tyreek was so dynamic as a punt returner, I don't know if Parris can do that or not yet. As a kick returner I think he can; I don't know the punt return yet. He did it at Ohio State — didn't do it this year, but early." (Is one more valuable than the other between kick and punt return?) "Punt return. … Teams are still punting the ball to you. Kickoff return has almost become, because of the rules, not many are getting taken out."
» (On the importance of Campbell's run-after-the-catch ability:) "I think it was important with every wideout. I mean, that was an area we wanted to get better, so a couple of the guys we had identified in the draft were all after-the-catch guys, so they can catch the short and be able to create. Especially if you just look at the offense, the crossing route stuff that we do, that guy would be able to catch it and run; I think it all fits Parris very well."
» "His body's a little like Jeremy Maclin. When I was watching the tape, that's who I first said, was Jeremy, 'cause they used him similar ways at Missouri at one point." (Seemed to be a lot of Percy Harvin comparisons to Campbell) "They're just talking the role, you know what I mean? It's no different than Gregg (Doyel) when he said Tyreek: it's the role. I wouldn't say it's the player; the role."
» (If you felt lucky to get Campbell at No. 59, how high to do you think he could've gone?:) "Oh, I think he could've gone anywhere from late-first…" (Why did he fall?) "I don't want to say the way they used him, but, look, I mean, he really had one great year in college — junior year was decent — so he kind of exploded on the scene this year; he has a big year. He's not a refined route runner. I think all that stuff kind of played into it. Usually these wideouts that go in the first round and high in the second … usually they've got multiple years of production. I think all of that stuff probably played into it. Good for us. He's a really talented kid, and y'all have visited with him — he's a great kid."
» "Here's where the kick return stuff is. With Parris, it's all gonna come down to, because the punters are so good in our league, being able to handle it. He's got the skillset to do it. He's got run skills, he's got rare speed. He is a smooth, smooth dude."
» (Shows clip of Campbell blowing by several Michigan defenders for 78-yard touchdown play): "Watch this. This just adds an element, man, that's going to be really good to have, especially with our RPO game, as much as we use it and these fly sweeps — and Michigan is good on defense, now. He just — look at that. That's what I'm talkin' about."
---
---
Bobby Okereke / Linebacker / Stanford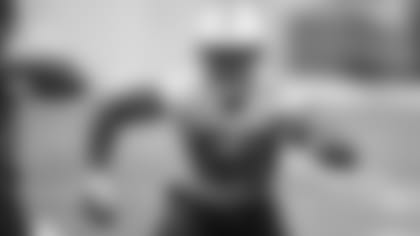 » "I wanna show you Okereke, 'cause I'm really excited about him. If you think back — I started thinking this last year when we played the Giants — remember when everybody was hurt, dinged up? So we actually had (Ahmad) Thomas come in, playing the dime, but we were down … (Anthony) Walker was hurt, he had the pec, and (Darius) Leonard was dealing with the ankle all year, so we were down to having to play our practice squad guy, and I was (thinking), 'We've got to build some depth at inside linebacker. It's too important to us.' So we went into it creating great competition; it'll be a heck of a battle. But Walker's a heck of a football player. And we'll play Okereke at MIKE and SAM, and he'll play some WILL, but he will definitely get in there and compete because he's got — remember when I talked about hawkin' the quarterback? So this is another one; I'm not gonna lie to y'all: I think he's really good, man. I think he's gonna be a heck of a player. Long, he's smart, he can run."
» (Showing film of Stanford taking on San Diego State and quarterback Christian Chapman:) "Remember I talked about hawking the quarterback when they break the pocket. So every time we play one of these mobile quarterbacks, this is the kind of stuff that happens … (Chapman rolls out of the pocket to his right in his own end zone and scans the field, and Okereke quickly closes the gap and forces the quarterback to get rid of the ball) … And then when you put him on our turf, inside, where he can really run? … He can really run. He'll play bigger because he's got more lean mass than Darius (Leonard), so he'll play probably at 232, 235, right in that range."
» "But I was surprised … I mean, we just thought abut this guy right away — Matt Terpening went in there and did a hell of a job. I remember him coming back and going, 'Man, there's a backer at Stanford that's really good.'"
» (On what Okereke has to do to earn a starting job early on:) "He's gotta win the job. (laughs)" (Put it this way: what does he have to improve? Because Anthony Walker obviously has experience there) "Let me tell you this: Anthony is brilliant-smart, too. I mean, Northwestern versus Stanford here, so you're getting two highly intelligent kids there. I mean, look: to be the starting MIKE right off the bat, I mean, being able to make the calls, see everything that's going on, all the checks and everything you have to do, that's what he would have to be able to handle. And then you have to be a freakin' football player, like Anthony Walker. Anthony's a good player and played real good football for us last year. It's a really good problem to have. It's nice when you have a MIKE, a WILL and a SAM, and then depending how we use Banogu, also, in the mix, it just gives you a lot of flexibility and depth. And then it helps your special teams, man. Let's don't ever underestimate that; I mean, that's an important element of winning games."
» "I mean, he's not Darius (Leonard). I mean, every tape you put on Darius in college he was making a million tackles. But he's good. I mean, this kid's going to be a good player for us."
» (Showing film of Okereke taking on Arizona State and punching at the football) "This is probably the thing I'd watch for during the year, because you're going to see … so he does have this knack. Watch this: he does this a bunch during the season, 'cause his arms are almost 34 and a half, 34 and three-quarters (inches), so he's got that long reach to be able to get the ball out." (Is that why arm length matters?) It matters from a leverage standpoint, so to keep people off of you; and then, when you're making tackles, you can make a little bit more of (punch) because of the length and the range you have. That's why it matters. Short-armed guys have a hard time getting off of people; when they have to take on a blocker … it's easier for them to grab a hold when they don't have those long levers to use as leverage points to get off. … Probably no different than basketball, when they're looking for those longer-armed players. … And it shows; it does. It shows up."
---
---
Khari Willis / Safety / Michigan State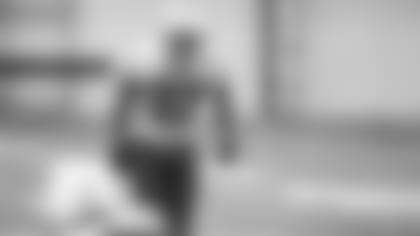 » "So we went through the process with him, our scouts kept bringing him up, and every step of the way, 'What about Khari Willis? What about Khari Willis?' And at the end of the day, with his character and his tape, it's really good. And is he exceptional anywhere? I'd say he's good everywhere. He's good. And his instincts are exceptional. I thought he was about as good of a tackling safety as there was in this year's draft. And then when we got into the fourth round, I thought there was a big dropoff after Khari Willis (at safety), so we wanted to go get Khari Willis."
» (On if the pick of Willis has anything to do with Clayton Geathers' past health issues) "Don't make this about Geathers. Don't go spinning that story on my son. (laughs) … Look at the bigger picture: we move back in the second and we pick up an extra five. So now we've got two fours, so now you've got two fours and two fives. So we use those two fours to go get (Willis), because we thought he was the last safety that had top-three talent at safety on the board at the time. … And we liked the player. And we were driven to get Khari. Like, when we looked at the board going into the fourth round, we said, 'We've gotta go get Khari Willis.' It's like watching the stock market; all you gotta do is look up here, and there's one name? Well, are you gonna wait for him? Are you gonna let somebody else pick him?"
» (But don't you have to consider the health at the safety position when picking Willis?) "Depth-wise. I mean, look, I think you've got to consider it with both Malik (Hooker), who had been a little dinged up, too, and Clayton (Geathers), who's been dinged up; (Matthias) Farley, who's dinged up. So adding depth … look, we really like George Odum a lot; we think he's a really good player. But we had to add another guy to the mix. And then adding (Derrick) Kindred, being able to claim him off waivers from Cleveland, we think we've added pretty good depth to the position." (And then you can avoid having to sign a guy like Mike Mitchell around Week 6 of the regular season) "I think you play it out and see where you're at when you get into camp, and then when you get into the season. And then if we have to have that happen — and I think at any position — we'll make that call."
» "This kid's a really good football player, man. He's smart, he's tough, he's got good movement, good speed — I thought he was gonna run a 4.51, 4.52; I think he ended up running 4.46. I think he can play different spots; I think he can play free, strong, nickel — he can do a lot of different things for you. He's not (former Chicago Bears great safety) Mike Brown, who I was with in Chicago, but he's got a little Mike Brown to him. But he is a really good football player, man. And wait 'til you get to know the kid: I mean, it's exemplary."
» (On if it's unfair to label Willis as a box safety) "I think he can play in the box, I think he can play free, I think he can play some nickel, I think he can do a bunch of different things for you. … Here's some slot work that (he's) playing in the nickel. So I think just to call this guy a traditional box safety is off the mark, because I think he can cover tight ends, I think he can play more zone coverage and give you some nickel work."
» "There was about three of four safeties we really liked in the draft, but we had them all kind of … I didn't see much difference between Willis and even the higher safeties — (Johnathan) Abram; I mean, Abram is a really good player and he's going to be an enforcer type in the league, but I think Willis is gonna be a really good player, too."
---
---
Marvell Tell III / Cornerback / USC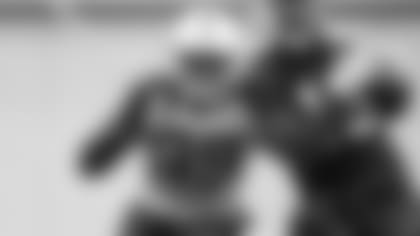 » "I'm really excited about Tell. So we sent (cornerbacks coach Jonathan) Gannon out to work him out, and we sent him (to work) out as a corner … so we were all in here watching, and somebody in the room said, so (Tell's) a safety, he said, 'Man, we need to make this guy a corner. He moves just like a corner.' He's long, he's a good athlete. And so we sent Gannon out to work him out, and we think he can make the transition. I thought for his first weekend doing it at the rookie minicamp, I thought he was pretty good." (Would he be considered slot or outside?) "Outside. We'll play him outside."
» (What are the signs you look for when exploring the possibility of moving a safety to cornerback?) "Athletic talent — what kind of athlete is he? How's his instincts and his ball skills? We thought he had all of that. At safety his strength, I would describe it as average. At corner, I'd say it's good. He's just not the banger type at safety, and … one of the things he needs to do is get stronger."
» (Watching film of his workout with Gannon) "You wanna talk about a dialed in kid, now. He is a serious, dialed in, competitive guy. And I think he's got a little bit of a chip on himself for being a fifth-round pick and kind of getting overlooked. It'll be fun to watch this kid to see how he develops here over the spring and training camp."
» (Shows Tell III working on a drill in which he's pressing a receiver at the line of scrimmage) "This was the stuff that Gannon wanted to see; does he got the press ability that we want? So the ability to play press and then roll and play two, also. And then he's good tackler. So he can do everything we want. And look, Seattle's been doing it for years, taking these tall, long guys and making them corners and being successful within their scheme. Our schemes, they're not that much different."
---
---
On who Ballard hears buzz from about certain prospects: "Just you start hearing agents. So when agents are talking about players, they are usually getting it from scouts. You usually know when I'm talking to agents and they'll ask me a question about a kid, 'Hey have you seen this guy? What do you think of him?' I never talk round, I'll just say, 'Yeah, I think he's got talent. He should have a chance to excel in all-star games if he gets in 'em.' I'll be pretty vague with it."
On pro day and individual workouts for prospects, some of whom decide not to run multiple 40-yard dashes: "Understand this about the workouts, because they are important. Does everything matter? No, it doesn't garner all, but it's a piece of the puzzle that's important. I mean, there's certain numbers that players have hit for the last 30 years of their career — height, weight, speed, arm length, hand size; I mean, you have all this data from how many years of the Combine, and are there exceptions to the rule? Absolutely there are. But we're going to try to decide on the side of not being an exception. We have bottom lines; and so there's certain bottom lines athletically and speed-wise that once they (fail to) hit that parameter, they've got to move down. And I know Bill Polian was huge on that; that was a big Bill Polian thing. And everywhere I've been — Chicago and Kansas City — we've followed the same guidelines athletically for each position. But one of the hard things today is … like, when I first started scouting, man, I could get a guy to work out, it'd be two or three times, to get the number I wanted. Like Nathan Vasher; Nathan ran, what, 4.75 at the Combine? He ran 4.71 at his pro day, and I went back to Texas to clock him again, and I got him, I think, at 4.58, 4.59. I mean, I wanted to get the number right to make sure because I believed in the player. Well, nowadays, guys will run one time, and even if the time's not good they won't run again. And I've never understood — I mean, we're gonna take your best effort. It's like going to a track meet; we're gonna take your best time."
On how Ballard perceives a prospect who doesn't run multiple 40-yard dashes: "I think it depends on how good the player is. So, if he's a great player and he goes out and you know he's fast and he rips off a 4.35, well, he rips off a 4.35. We know he can run. I will tell you this: I do get concerned when guys don't run. Quenton (Nelson) didn't run last year — different case; he's a guard. If a defensive end, if an inside backer, if a corner, all of a sudden they don't wanna run, there's a flag that goes up in my head, 'Why not? Why don't you wanna run? Is there an injury concern that we're missing here? Are we hiding something?' It does; it becomes a concern if they don't wanna run."
On how Ballard views a prospect resting on his 40-yard dash time at the Combine: "Look: I would love to watch 'em work out as many times as they can. But if they get good numbers at the Combine and they don't (do certain drills at their pro day), I understand."
On how Ballard knew on Nathan Vasher to re-test him in the 40-yard dash: "'Cause he fit us schematically so well. His short shuttle was 3.98, his three-cone was in the 6.8s, I think he broke the University of Texas interception record. So everything was lining up for this kid to be a good player, except for one number: the 40 time. That's why he fell to the fourth round. Going back, he'd had been a second-round pick if he had ran if he had ran a 4.5 at the Combine. And he ended up being a really good player for us in Chicago. But he fit schematically what we were looking for; he had instincts, ball skills and he would tackle. He was a perfect fit for what we wanted. I'll never forget on draft day, we had like nine guys lined up, and he was ninth. And all of them stripped off (the board) and he was like the last name, and we just took him. Sometimes it just works out the way it's supposed to work out."
So if a guy doesn't meet your measurables, he's not necessarily undraftable, he just moves down your pecking order: "That's right. The measurables kind of helps where you place (them) if they make the board. And then that tape will determine on how high they continue to go. So they've gotta get past these bottom lines to get up on that board. We don't have many on our first through seventh round who lack the measurables that we want. Especially … I'll give away for some height if they are exceptional athletically and speed-wise. They've gotta have a dominant trait if they're small; so dominant athletic trait, dominant speed trait if they're undersized. If they have all three, it's great."
On if there's anybody Ballard has drafted with the Colts that didn't meet the bottom line, and if a waiver pickup like cornerback Kenny Moore II would be one of those guys: "Kenny didn't meet the height standard. No. I mean, we've told that story numerous times. It'd be two o'clock in the morning in here, and when you're watching those (waivers) guys, now, that's not like watching draft tape. You're digging for a needle in the haystack on that claim day to try to claim players. So here I'm looking at the numbers, and I'm just looking at 5'9", 185 pounds, and you've seen a good player on tape, but you're saying, '5'9", a dime a dozen.' And I think it was Ed (Dodds) who said, 'Look Chris, he's got 32 1/2-inch arms; it equals out to be taller than what he is.' And Kevin (Rogers) had been beating me up all night on him. Finally I just relented; I was like, 'Just take him. … He's better than what we got.' And he ended up being a really good player. I mean, think about it: (Moore II) and Desir, both claim guys. When I was in Kansas City, Marcus Cooper … Jaye Howard … we claimed a safety too there that ended up playing for a long time for us in Kansas City; his name is slipping my mind right now … but they all played for us. So that can be a really good area if the pro scouts are really on it. And then what we do is we gather a group and then we watch them together. And then last year it was (Al-Quadin) Muhammad and our safety, Corey Moore, that we claimed."
On if there was any thought as the first round of the draft moved along that the Colts should keep the 26th-overall pick instead of trading back: "Unless somebody really fell … Last year, we did it right, now. That high-end talent at the top (of the draft); I mean you're getting (Leighton) Vander Esch and (Tremaine) Edmunds in the 15 to 20 range last year. I mean, those guys both would've been top-10 picks, easily, in this draft. But I just thought the depth for high-end talent dropped off pretty quickly in the first round."
On if the high-end talent dropped off this year around pick 15 or so: "Yeah, and it really could've been more about (No.) 8 or 9. I tried to compare it to last year; I said, 'OK, who would've been in the mix? Who would've been the guys in the mix?'"
On if the Colts were close to trading back again at No. 34: "Yeah, we had a couple offers. Good — it wasn't blow-you-away, like, first-round pick next year. It wasn't a blow-you-away offer, you know what I mean? Like, Washington (in the first round), I thought it was a good deal for us to be able to get a two for next year and continue to accumulate (draft stock). I mean, every year, I don't care how good your team is, you've got to continue to fuel talent in. Well, the only way you're gonna do that is with the number of picks you have, and unless you just know you're getting a superstar, it's rare for me to say we're ever gonna move up — not saying we won't do it — but in the first round, to really move up and get a guy, unless I just know we're about to slap a grand slam out of the park, most of the time moving back and collecting picks, the talent level you can still get by moving back is not much different. And then you get to add multiple players, which I think we've got a chance to get two-for-one or three-for-one; that's always a pretty good deal."
On if Ballard believes a roster can be too young: "No. That's a good point. I think we've got a good mix of vet players on the team. I think on defense our back end's young, but (Clayton) Geathers is a vet — been here a long time; he's played a lot of football. You look up front: Justin (Houston), (Jabaal) Sheard, (Margus) Hunt, (Denico) Autry are all vet players, and they all do things the right way. So the rest of the defense is really young — (Pierre) Desir's played a lot of football. And then offensively with Andrew (Luck) and (Anthony) Castonzo and T.Y. (Hilton) and Jack Doyle and (Eric) Ebron — I mean, we've got enough vets on the team (that) I think helps balance it out. One of the great luck moves we made last year was signing Mike Mitchell. That stabilized us. His ability to come in and really teach the group the little details about being a pro — and he just did it with his actions and they just started following him, I mean, from the first day in there. It was really fun to watch. And then that group from last year was rare, you guys. I mean, the way they prepared — I mean, they were vets by mid-season; all of them, from Quenton (Nelson) to (Darius) Leonard to (Braden) Smith, I mean, you just go down the (list), (Nyheim) Hines, (Jordan) Wilkins, I mean that is a really good group, and they got a taste of what it takes to prepare, fail and then not quit on it and just keep working and getting better. So even though we've added this new lump of players, the majority of the roster has been through the run and has the experience of failing in this league, but also bouncing back and doing something really good. They understand the preparation and work ethic and practice and how to take care of yourself."
On where Quincy Wilson would be today had the team not signed Mike Mitchell last year: "I don't know if you could say he would fail, but Mike had a big influence on Quincy, in terms of … don't worry about the noise. Just control what I can control. When you take a young player — Quincy was a prime example; we drafted him when he was 20 years old — who is coming out of that college as a big-time recruit, had success, they read social media, second-round pick, expectations are high, and then it doesn't go the way you want it to go. And now you're reading everything on social media, everybody's killin' ya — 'Why aren't you starting? Why aren't you leading the league in picks? You should be First-Team All-Pro.' I mean, sometimes the expectations that these kids put on themselves, and then they read that crap and listen to it. Mitchell helped calm his mind down. When y'all see him, look at his body, man. He's changed his body. I mean, I think he came in at 214 pounds; he was 192, 193 the other day. He was 14 or 15 percent body fat; now he's like 7. And Mitch had a great impact on him, just learning how to control what you can control."
On the selection of Rock Ya-Sin pushing Quincy Wilson: "But isn't that what makes players great? When they know they've gotta compete and earn and play. That's when you know you've got a chance to be really good, 'cause now the days at practice, if you take a day off? Somebody else is gonna play. I think when you really create really good competition on the roster, that's when you've got a chance to be really (good); now you can't step off your game. You've gotta be on it at all times."
On if Ya-Sin and Wilson can complement each other, or if they're too much alike: "You could probably say Desir is right in that mix, too. I mean, he's a tall, long guy. I think they're all tall, longer corners that they'll all tackle, in our scheme of what we're trying to ask our corners to do, they all fit it. And the thing that's so strong with Quincy — and I even underestimated him coming out — I mean, really, he's really football smart. Right now he's playing five different spots back there. He'll go corner, dime, nickel, a little bit of safety — he can do a lot of roles for you. He's gonna compete to play corner, but on gameday he becomes very valuable, 'cause he can go in and play man-to-man on tight ends — that's why having all these longer corners really help you from a matchup standpoint."
On how much a guy can move up on the board with a strong Senior Bowl performance: "What I've always told our guys is it enhances more than it hurts. So if a guy stinks it up, if his tape's good, I'm not gonna kill him on it. But if he all of a sudden ascends and plays great, then we're gonna go back — if we have a low grade on him — we're gonna go back and rewatch the tape again, and we're gonna see if we see what we see and saw in here. If we don't find it, then he's usually gonna stay at the level we have him at. If we find it, then he'll move up."
On where a guy like Tyquan Lewis fits in: "We're gonna play him at the three (technique); that's where we're gonna play him, and we're going to try to let him develop. If depth purposes happen we can always kick him back out to end, but we want to develop him as a three technique. That's what we (the Chicago Bears) did with Henry (Melton). Henry, it really wasn't until Year 3, Henry Melton, that we made him a full-time three. We're going to take Tyquan and (Denico) Autry and let them battle it out. I think Jihad (Ward), too, will get some snaps in there, too. It'll be a fun group to watch compete it out this spring and during camp."
On feeling good about the defensive tackle position: "You've got (Denico) Autry and (Margus) Hunt, you've got Tyquan (Lewis), (Jihard) Ward, (Grover) Stewart. All that have played football and played good football last year — I mean really good football. I mean, Autry had nine sacks, for a D-tackle. … We think out of the combination of that group, and Lewis has got flexibility to play end, Hunt's got flexibility to play end, Autry has flexibility to play end, so you've got enough flexibility to move some of those guys, and then if 'Flus (Matt Eberflus) ever wants to get — let's say we want to play bigger football, I mean, he can do it. All of a sudden he can look up and see a bigger front out there and play. You don't just have to get locked into one way. Like, they're all athletes, they all got good speed."
If there's a worry with just one 300-pounder along the defensive line: "No. I would tell you last year, when defensively everyone was worried, we played the six best running backs in the league and held them all down. And against really good teams that could really run the football, and (Denico) Autry was our three-technique, (Margus) Hunt was our nose, some games (Tyquan) Lewis was an end, (Jabaal) Sheard … so, no. I think we'll be OK there. The way we play, 'cause we're so into those gaps so fast, and then our backers just fit off of it, if people get to where they're just so heavy on us, then they're just gonna let these guys run free. What happens is in this zone scheme, man, they usually work off — that's why you want those athletes to be able to stay in the gaps and be athletic to do it. (Grover) Stewart's the biggest body, but it is nice to have one and know, if you ever get the nose … last year the only extra guy we had was (Al) Woods."
On if that means there's a lot of defensive tackle types that just aren't a scheme fit for the Colts in the draft? "Yeah. Yeah."
On why defense was priority No. 1 in this year's draft: "I mean, look, really there was one player to build around two years ago (on defense) and it was (Clayton) Geathers. And that's it. There was not another player defensively here. It was an older defense that needed a complete rehaul. I mean, it it just did. And first year, our starting linebackers were (Antonio) Morrison and (Jon) Bostic, Jeremiah George. The front was (Jonathan) Hankins, it was (Henry) Anderson — good players; just not a great fit for what we wanted to do — and (Al) Woods. But, thinking that, really the only ones that — remember, we had to go onto free agency and on the street to start just hammering in — and then the secondary, that was the claim; we claimed Kenny Moore and (Pierre) Desir. So it was a complete redo on defense."
On how long it took Ballard to realize how much work he had to do on the defense when he took the Colts' GM job: "Oh, I knew Day 1. … You just have to patient to get it built up. And 'Flus (Matt Eberflus), 'Flus and the defensive staff did a freaking incredible job of coaching and buying into young players and playing them. In this scheme, with the effort that you have to play with in this scheme, I mean, it's hard to bring free agents in and buy into it. And there's an accountability to it in that room where if you're loafing or you're not running to the football, he's just not gonna play you. I mean, if you don't buy in to the scheme and to the effort that it takes to play this scheme, then you're just not gonna be here at the end of the day."
On Matt Eberflus' "loafs" statistic and how seriously he takes it: "You know, and the great thing about the way Matt does it is they're all in a room together and they're watching the tape and they grade each play: 'Loaf 56 … Loaf (57)….' Oh no, it's a humbling experience for all of 'em. I mean, they get stung a little bit. They get do it in practice, now: 'That's a loaf, dude. That's two loafs on one play.' But it was funny to watch that first Cincinnati game, and then go and flip to the Washington game how they played freaking hard. That's why the numbers … that's why the athletic ability and the speed and the character and the effort, it's hard for a dog to walk in the building and play here. I mean, you're not changing — I don't give a crap how talented they are — they will not play, they can't withstand the damn pressure that's day-to-day of what it takes to play in this (scheme); they can't withstand it. And it's great when you have a bunch of great players on defense, but when you don't the one thing that you can (control): effort can help you survice."
On where else Ballard sees the kind of effort the Colts play with defensively: "Dallas. Dallas you see it. They play hard; they play really hard. Sound."
On how Ballard's view of selecting prospects with good character has evolved: "With the character aspect of it, you asked me the question of what's changed, maturity, yes, but also probably a little wisdom along the way, when you get a team that has a team of really good guys that work, love football, are smart, they solve problems better. They just do; they solve problems, they figure things out when things aren't going well. I'd like to sit here and tell y'all I've been perfect through my (evaluations); I know that's not reality. We'll take some swings every once in a while."
On if the 2018 season re-affirmed that character approach for Ballard: "Yeah. Yeah."
On how there's more to character than legal issues: "So it's football character — we separate it — football character, which is how is he going to be in the building, what's his love for the game, how's he gonna work, what's his football intelligence, what's his passion, how does he deal with injuries? All of the things we go through of how we're going to handle him in the building, alright? Then you've got to put in the personal character of, alright, how's this guy gonna represent our organization and our city? That's where that big 'ol apple will sit out there, and you've gotta be careful (with) the ones you bite. We've gotta be damn right when we take a shot. You can't be wrong when you take a shot on a guy that's got some issues, and, I mean, look: y'all have followed my career. I've definitely been a part of taking some shots. I think I can save everybody. … And we try; I mean, we want to do everything we can to help these guys become better men. I think that's part of our job, too; not only winning games, but making them better men and (giving them) help when they're here. And I wish they were all perfect, but we have to weigh the circumstances of what happened, why did it happen? The things that's really interesting nowadays is when you dig into the family backgrounds — where kids are coming from, the issues they've had to deal with — and then how does that travel with them and can we get them help with that? There's just a lot of tangled webs, man, that you've got to dig through on the personal side. What do they have? Time and money. They have a lot time on their hands and they've got money now. And they've got a ton of freaking people grabbing at 'em. All that stuff's gotta be managed. I just think back to when I was 21, 22 years old."
On the role that versatility and intelligence plays in prospects on the Colts' board: "The one thing I've really grown over the years is guys with versatility; that can play multiple roles, especially when you get into gameday. 'Cause bad things happen on gameday and you've got to be able to react to them, and then the smart guys, the intelligent guys can do a lot of different things for you on gameday. They give you a lot of comfort knowing that if something happens, they're not gonna panic, and they're smart enough to handle the role that you put him in. And it might be one that they're not ready for, but they've paid enough attention, and in an emergency situation they've been asked to play it and get through."
On how that versatility helps defensive coordinator Matt Eberflus disguise various schemes: "Yeah. It helps. I mean, a lot of our defense, because it is simple, is in the disguise. That's an important element of it. So when you have versatile pieces on defense, it allows you disguise even more. I'll give 'Flus a lot of credit, man."
On how the Colts measure intelligence in prospects: "We've got things to test to measure (intelligence), just to see what they can process. So, like, when we're at the Combine, we don't ask any questions in terms of who they are — no. We go directly to the board and we put on their tape and we start asking, 'Alright, 15 minutes, I want to see how fast you can think.' And we'll have 20 clips: 'Give me this play. What are you looking at? What are you thinking? What's the call? What's the adjustment?' And it's interesting to see guys that can freaking recall it like that. And some of them will just walk in the room and see (the film up), they'll start saying, 'Oh, we were in stack three,' they'll start ripping it off; and then there's others, they'll stare at the tape. You just wonder how fast their mind works. So when that happens … like, I always tell our guys, 'Alright, let's don't completely put the dagger in him after a bad 15-minute session. Let's go dig into his mind again.' And then if we have more questions about it, we'll send a coach to go see him and spend time with their staff to ask exactly what he's doing, and then what we can put on his plate. And then we'll test him; we'll send him stuff and test him and say, 'Memorize this. Here's some plays; you memorize this. What can you recall for us?' You can get a good feel for it. But there's some testing with (Brian) Decker we're doing — Brian's really good digging into the intelligence aspect of it. Everybody just says, 'It's football.' Man, I just think smart guys will play; they can play for a long time."
On if Ballard can get a pretty good feeling on a player's intelligence: "Yeah. I get a pretty good feeling at the Combine. … Like Anthony Walker, when we met him, it was unbelievable. I mean, he ripped off every call, adjustment, what people were doing, if this circumstances happened. I said, 'Holy crap, this guy could run a defense quick.' And he did. I mean, it took him a year, but once he got settled in. The smart guys get it. Then when they've got talent, too … ."