 ](http://careyindiana.com)
INDIANAPOLIS – When the prime-time lights were turned out on October 20, the Colts had a 39-33 win over unbeaten Denver.
Houston played well that day, but lost at undefeated Kansas City, 17-16.  The 5-2 Colts and 2-5 Texans have a key game on Sunday.
Houston is trying to bounce back into AFC South contention.  Indianapolis hopes to extend its lead and earn a third road win in the season's first half.
Something has to give, and here are SEVEN VICTORY KEYS:
JOHNSON, SHOTGUN/PISTOL – Case Keenum hit six passes of at least 25 yards in his rookie starting debut at Kansas City, and Andre Johnson is a potent weapon Houston has used against the Colts religiously.  Johnson (11 receptions, 150 yards) was big at Reliant Stadium last year, and his 105 career receptions (2nd) and 1,275 yards (3rd) are some of the best-ever totals by an opposing receiver.  Chuck Pagano says Keenum knows where to go with the ball.  He did so in college with an NCAA-best 19,217 yards.  Compared to other QBs, there is only a pamphlet available rather than a book.  He hit six receivers last week, with four having receptions exceeding 27 yards.  Don't be surprised if a young QB frequents a battled-tested target.  Don't be surprised if the versatile Keenum uses the shotgun/pistol attack, too.
LOW WATTAGE – J.J. Watt is the type of player every team wants.  With 20.5 sacks and 16 passes defensed, he earned 2012 AP Defensive Player-of-the-Year honors.  At Houston against the Colts, Watt had three sacks, six loss-tackles, four QB hits and a forced fumble.  He had 95 plays resulting in zero or negative yardage last year – 56 on passing plays, 39 on running plays, 26 inside FG range, 47 on first down, six in OT.  Get it, he's everywhere.  Keep Sunday's prime-time lights on low wattage.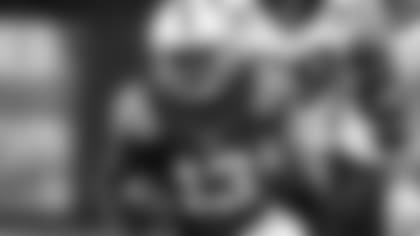 STRONG COMMITTEE – How the Colts function without Reggie Wayne is the key question.  Between 29 and 31 percent of Andrew Luck's career completions, attempts and yards were directed to or were a result of Wayne, who hasn't missed a game since 2001.  Production will have to be by committee in three-WR sets and all formations.  Luck clicked on 65 percent of passes to Wayne this year.  His marks with DHB and T.Y. Hilton were less.  There are other targets beyond WRs.  The Denver game had TD receptions by a TE and FB, a first for the Colts since 2007.  Now is the time for Luck's committee men to emerge.
REBOUND ON ROAD – The Colts were ineffective at San Diego two games ago after having a 27-7 blowout win in all phases at San Francisco and with an efficient output in a 37-3 win at Jacksonville.  A team that was 4-4 on the road in 2012 needs to up its 2-1 road record this Sunday.  Reliant Stadium has been a rough venue of late.  Lopsided defeats in 2010 and 2011 were followed with a less-than-sharp game last year.  Houston is in a "win-now" mode at 2-5.  Another loss on this Battle Red Day could damage their hopes severely, while keeping Indianapolis firm as division leaders and conference near-leaders.
PERFORM MANTRA –** We've heard, "Run the ball, stop the run" many times this year.  There would be no better time than Sunday to do so.  Colts RBs had a 2.4 average against Denver and face a Houston defense allowing 122.1 yards a game.  Playing without Reggie Wayne could constrict the field, so getting untracked with Trent Richardson and Donald Brown is huge.  The state of the Houston ground attack is in some question.  Arian Foster popped for 165 yards last year in the first battle as Houston won the division.  He had 96 yards in the rematch when the Colts won, bumping Houston into the Wild Card round.  Ouch.  Foster has topped 100 yards four times in five tries against the Colts, going off also for 231 and 158 yards.  Ben Tate has a 4.8 average on 66 tries in 2013.  Denver had 64 rushing yards in the last game, but threw it 49 times.  Seattle and San Diego rushed 71 times for a 5.1 average prior to the Broncos game.  More of that on Sunday could tighten the division.
BRING HEAT – Robert Mathis had two sacks on Peyton Manning.  Erik Walden forced two takeaways in the last seven minutes against Denver, one by hitting Manning's arm.  Playing so well against one of history's best largely tipped the scales to the Colts' favor.  Meeting a QB, a mobile one in a bootleg/stretch run offense, with 54 snaps on his resume is not a situation to underestimate.  Succeeding with timely/constant pressure could open up game-wrecking opportunities.
EXECUTE –** Slow starts have nagged the Colts at times this year and for the past three years at Houston.  The Colts ended last season with a 9:46 possession against Houston, running on 14-of-15 plays, converting three third downs and draining all the time off the clock despite two Houston timeouts and the two-minute warning.  It was a crusade.  A couple drives of similar nature Sunday would be nice.  Converting third downs on the NFL's top defense is huge.  Upping a plus-three road turnover ratio is a goal.  Converting and ball security have paved two road wins already.  Maintaining the division lead and keeping pace with other top clubs (8-0, Kansas City; 7-1, Denver; 6-2, New England; 6-3, Cincinnati) is important at the midway point.
QUOTE TO NOTE(Chuck Pagano on what makes Houston defense so good)
"They've got game-wreckers all over the place.  They got a front seven that is as good as anybody in football.  They've got probably the best defensive player in football in J.J. Watt, two edge guys that are tough and rugged.  The inside backers are outstanding.  (Johnathan) Joseph and (Kareem) Jackson (are) on the corners, Eddie Reed, a future Hall-of-Famer, at safety.  They got a tremendous front.  (It's) very hard to run the football on them.  When you drop back to pass, (it's) very hard to protect the quarterback."