 INDIANAPOLIS – Lucas Oil Stadium could be a festive venue on Sunday as the Colts host a season opener for the first time since 2009.
Nineteen new faces, including 10 via veteran free agency, could be in the mix as Indianapolis opens year two under Chuck Pagano.
Oakland is coming off a 4-12 season and has infused nine new starters on defense and a few more on offense.  Indianapolis knows how Oakland feels when outsiders dismiss competitive chances.
Indianapolis felt that sting last year and used it as a rallying tool to springboard to 11-5 and a return to the playoffs.
The last thing Indianapolis wants is what it knows is possible – that anything can happen on an NFL Sunday.  The Raiders are flying in to complete a mission.
To thwart that mission, here are SEVEN THINGS NEEDED TO WIN: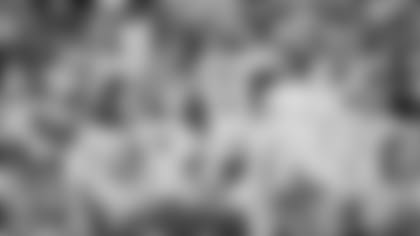 SET EARLY TONE – The large bulk of NFL games are competitive through 60 minutes – just ask last year's Colts who kept coming from behind.  Some can be swayed early with a good punch.  This is not to say Oakland is susceptible for an early knockout punch.  That would denigrate a worthy opponent.  Still, a strong start can go a long way.  An 88th straight sellout crowd has seen it happen numerous times in recent years.  They would not be opposed to that again.  Start strongly.
PRYOR KNOWLEDGE – It is not like the Colts will have to read a Sunday newspaper or check their IPads to know who is under center and what type of attack they will face against Oakland.  Terrelle Pryor widely is believed to be the choice Sunday, and the read-option offense is a featured item on the menu.  If you're assigned to him, stick to him.  If you have the dive, take the dive.  If the assignment is to contain, contain.  Trust your teammate and do your job.  Be disciplined.  This will be the first taste of this, and coaches say they are ready for the offense, or mutations of it.  Players say they are ready.  This bunch has a track record of proper preparation.  Let's see that on display this Sunday.  There will be other such tests down the line.
CONTROL PACE – So much off-season effort has gone into fortifying the lines and bulking up the rushing attack, plus insuring the club with a backup quarterback.  Estimates of $61 million spent offensively and $78 million defensively have been bandied about.  Regardless of the accuracy of those figures, running and stopping the run, plus putting down the hammer is the quest.  There's no time like Sunday to accomplish it.
MOTIVATE THE CROWD – Again, the 88th straight sellout and the 112th in the past 113 games.  Create more than a buzz.  The fans are willing.  Fans are engaged quite easily in Lucas Oil Stadium.
TURNOVER EFFICIENT – Chuck Pagano wants the team to have a plus-two turnover margin each game and by doing that, he says teams over the past decade or so have won about 83 percent of the time.  A team that created only 15 takeaways a year ago and ranked 26th with a minus-12 ratio must do better.  MUST.  Indianapolis was minus-14 in its five losses and won three times with a negative ratio (once in overtime and once with a final-play TD).  That's pushing luck or Luck, and asking for trouble.
THE HEAT IS ON –Pressure from someone other than Robert Mathis is necessary.  All internal parties with the Colts believe it is possible.  It's time to show where it will come from.  Observers, neutral or otherwise, are watching.
"FEAST OR PHANTOM" – A former Colts assistant coach long ago (he will go unnamed, though some could pull him out of a crowd) once had that malaprop for "feast or famine," and Indianapolis had such days last season against the run.  Matte Forte, 80 yards.  Adrian Peterson, 60 yards (his lowest and possibly cost him the NFL seasonal record).  Maurice Jones-Drew, 177.  Shonn Greene, 161.  Trent Richardson, 8.  Jacksonville (team), 37, in rematch.  Jamaal Charles, 226.  You get it – Feast/Famine.  Beyond Terrelle Pryor and a non-standard attack is Darren McFadden, and the Raiders are 10-2 when the 6-1, 218-pound back rumbles past 100 yards.  He averages 6.0 per attempt in those games and the Raiders have a scoring average of 29.7 on those days.  In McFadden's 68 other games, his average is 3.4 yards, while the Raiders score an average of 17.1 points and the team's record is 20-48.  Feast/Phantom?  Oops, Famine.  We want this type of famine to be commonplace in 2013.  While you're watching the curve ball (Pryor, read-option and other wrinkles), don't miss the fastball.  Stopping him?  "First and foremost," says Chuck Pagano.
QUOTE TO NOTE(Robert Mathis on the regular-season vibe and now playing for keeps)
"It's game week.  It's time to put it on the field.  All the preseason stuff is done.  It's time to do what brought you here."