 INDIANAPOLIS – A young Colts team made a trip to MetLife Stadium a year ago and incurred a tough setback to the New York Jets.
Indianapolis then won four of its last six road dates and travels now with a much more experienced team that includes 11 veteran free agent signings during the off-season.
The Colts suffered a 44-20 home loss last Sunday to Buffalo and want to have a more successful outing as they prepare for the regular season.
Here are SEVEN THINGS TO LOOK FOR OR THAT THE COLTS HOPE TO ACCOMPLISH ON SUNDAY:
WIN SITUATIONS – Chuck Pagano said Buffalo was better in "situational" moments last week than was his club.  The Bills converted 41 percent of third downs to the Colts' 23 percent.  Buffalo had 92- and 80-yard drives to end the first half and start the second (both aided by Colts defensive penalties), changing a tie game to a 14-point deficit.  Though there were red zone stops, winning key moments show on the scoreboard.  With those two drives, a game still in hand with 32:00 left on the clock was flipped with 25:00 left to play.
ELI'S COMING AND MAYBE CURTIS – Last week the Colts faced two rookie quarterbacks and yielded an 80 percent completion rate and three TDs as EJ Manuel and Jeff Tuel combined for a 119.6 rating.  The Giants have a two-time Super Bowl winner, Eli Manning, plus long-time veteran David Carr and former Colt Curtis Painter.  While Colts defensive starters were only present for two-to-three possessions last week, disrupting the play of the opposing signal-caller would be a goal as the Giants shake out a pecking order behind Manning that includes rookie Ryan Nassib.   
BE SPECIAL – The kickoff return unit allowed two long returns last week.  A main culprit was an injury bug that kept a large number of players off the field (specialty regulars like Joe Lefeged and Sergio Brown).  The team is a bit healthier this week, and it should show in this regard.  Returns exceeding 50 and 100 yards are tough matters to overcome most of the time.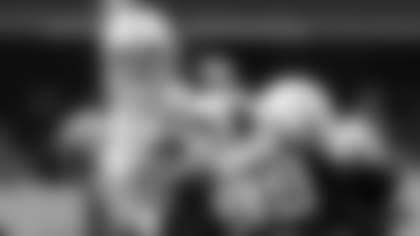 OFFENSIVE COHESION – Pagano said Andrew Luck needs more action this week.  He hopes for extended drives that could keep Luck on the field for maybe 25 plays with the starting unit.  Last week Luck had 10 snaps.  Having a two-minute drive ending successfully would be good work for Luck and the offense.  Vick Ballard had a 6.0 rushing average with the first unit last week, and getting more work with the rushing game with the front-liners present would be pleasing for all parties.
SET THE EDGE –Buffalo gained 32 yards on two game-opening rushes.  Those moved the ball from the three-yard line and gave Buffalo breathing room before punting.  Starters will play longer Sunday and limiting big runs is a chief goal this year.  Admittedly, it's a bit unfair to highlight just two plays like this, but such instances are things the club has targeted to address.  Having them occur in that part of the field is a disappointing thing to allow. 
STAY HEALTHY – Perhaps the secondary goal behind winning.  Front-liners will play a bit more, probably well into the second quarter.  About 17-to-18 Colts did not play last week, and a number of players saw extended duty.  A few hurt players returned to work this week and could see time.  A number of units are thinned right now and cannot afford any additional casualties.   
FOCUS IN BIG CITY –About 40 players were making their Colts debut last Sunday.  Roughly that same number will be on their first business trip with the team and though some of those are seasoned veterans, establishing a road game routine with a new organization is important.  It comes in a big city and under a bright television glare.  The stage is not too big, but getting a feel for a process that has at least nine ventures is starting.
Chuck Pagano (on what kind of opportunity does Sunday afford)
"Any time you get to play on national TV at seven o'clock in New York City against the New York Football Giants, it's a great opportunity.  Number one, I fully expect this team to bounce back from Sunday's performance.  There were a lot of good things (last week against Buffalo), but it's a great opportunity – national television, under the lights, everybody's watching.  We all expect –every man in that locker room, all the coaches – to go play and play well."