 INDIANAPOLIS – The Colts conducted nine weeks of work during the spring to prepare for training camp and the upcoming season.
The first couple of weeks preceded the draft, then rookies were introduced to the mix and were indoctrinated with their own camp from May 10-12. 
That five-practice session served as a primer for additional OTAs, and the OTAs pointed toward a full-squad mini-camp in mid-June that ended all spring preparations.
Now, rookies are back in Indianapolis prepping for a three-day camp that is a prelude to the training camp that starts Saturday at Anderson University.
Among the 90 players on roster are 20 rookies.  A rookie from last year's draft class, defensive tackle Josh Chapman, remembers the importance of this lead-in to training camp.
"What I remember from it last year is it helps you get a step ahead right before training camp starts," said Chapman.  "It can refresh your memory a little bit from the things you learned during the spring. 
"A lot of guys can forget a lot of things with a day off.  We've had a month off, so some guys can forget the playbook.  It helps you get your step back and gets you ready for the real camp."
The Wednesday-through-Friday session replicates what was done during the spring.  There will be classroom instruction, a walk-through followed by a practice and then some conditioning work.
Many teams already are in training camp.  The Colts and Buffalo both report July 27, the last two teams to start the process.
Among the rookies are seven draft picks – linebacker Bjoern Werner (D1), guard Hugh Thornton (D3), center/guard Khaled Holmes (D4), defensive tackle Montori Hughes (D5), safety John Boyett (D6-NFI), running back Kerwynn Williams (D7) and tight end Justice Cunningham (D7). 
All but Werner are signed, and Werner only can participate when contract work is completed.  He currently is one of 14 first-round picks unsigned.
Boyett currently is on the non-football injury list as he rehabilitates from knee surgeries that altered his final season at Oregon.  He counts on the 90-man roster and can be activated when cleared.
Chuck Pagano is a player-friendly type of coach who emphasized to the rookies in May that NFL careers start in all manners. 
Pagano pointed to defensive coordinator Greg Manusky as a prime example.  When Manusky went undrafted in 1988 in the 12-round process (compared to seven rounds these days), he fashioned a 12-year career as a free agent.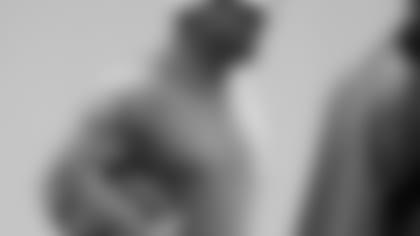 Attention to detail, a nose for opportunity, the ability to retain and process instruction and a never-quit approach is a must to survive. 
Manusky has followed that playing career with 13 more years as a coach.
It started somewhere for Manusky, and it continues Wednesday for rookies looking to make a mark.
"The practices give you more reps with the playbook.  The more reps you get the better you perform both mentally and physically," said Chapman.  "With the rookie mini-camp you get the reps yourself, so you need to take advantage of it.  When training camp comes and the pads go on with the veterans, you never know how many reps you will get. 
"With this rookie camp, every rep counts.  You had better take advantage of it.  Kind of like spring training in baseball, the more at-bats you get, the better off you are."
2013 COLTS ROOKIES (BY POSITION)
Running Back (2) – Dan Moore, Kerwynn Williams
Wide Receiver (3)– Jeremy Kelley, Rodrick Rumble, Lanear Sampson
Tight End (1) – Justice Cunningham
Offensive Line (4) – Emmett Cleary (T), Khaled Holmes (C/G), Rick Schmeig (C), Hugh Thornton (G)
Defensive Line (1) – Montori Hughes (T)
Linebacker (4) – Josh McNary, C.O. Prime, Caesar Rayford, Bjoern Werner
Cornerback (3) – Allen Chapman, Sheldon Price, Daxton Swanson
Safety (1) – John Boyett (NFI)
Placekicker/Punter (1) – Brandon McManus
CURRENT ACTIVE ROSTER COMPOSITION:  Rookies – 20; First-Year (NFL) – 5; Players finishing 2012 season on active roster – 38; Players finishing 2012 season on injured reserve/practice squad – 16; Players on current active roster not ending 2012 with Colts – 37.
BRADSHAW ON PUP – Running back Ahmad Bradshaw has been placed on the physically unable to perform list as he rehabilitates from January surgery on his right foot.  Like Boyett, Bradshaw counts on the active roster and can be activated when ready to work. 
"For all y'all believers, just know tht I will b ready to rock.  Come regular season," tweeted Bradshaw.