(Fast-forward to 8:35 mark to watch Coach Pagano's comments on Robert Mathis)
INDIANAPOLIS --- Indianapolis Colts outside linebacker and sack master Robert Mathis begins to serve his 4-game suspension four o'clock Saturday. Head Coach Chuck Pagano made it clear at his press conference Tuesday what the league rules are for that suspension and the plan Mathis and his coaches have formulated to make sure he's ready to play week 5 against the Baltimore Ravens.

"Ever since the suspension came down we've been talking about and planning what he was going to do in that four week period," Pagano said Tuesday. "It's different when a guy can be in the facility for a suspension...his case is a heck of a lot different."

Pagano said Mathis cannot be at the Colts complex starting 4PM Saturday, the deadline for NFL teams to cut rosters down to 53 players.

"He's going to have a routine. He's going to have a regiment as far as working out - weight room wise, conditioning wise, football...there's people out there that will work with Robert," Pagano explained. "He can go out and hire whoever he has to hire. He's got a regiment from his position coach, from a drills standpoint."

And Pagano fully expects Mathis to jump back into the starting lineup when he becomes eligible week 5 at home against Baltimore.

"He's got a great plan. I know and everybody else in this building knows Robert will stick to that plan," Pagano replied before answering if Mathis will play immediately. "He's been doing this a long, long time...That'll be the first huddle call against the Ravens. You can go tell him that. It's going to be 'sic 'em'."

As in go sic the quarterback...
Pagano joked Mathis doesn't have a choice but to play week 5. "We don't have to even tell him that. I kid around, but he's the one that's going to make that decision," Pagano said. "He's going to have something to prove, something to give back to (his teammates). I'm not worried at all about how he'll be once he returns."

While Mathis is away, however, the NFL is very strict about how much contact he can have with his team. Pagano held up a notepad with the number zero on it to drive that point home.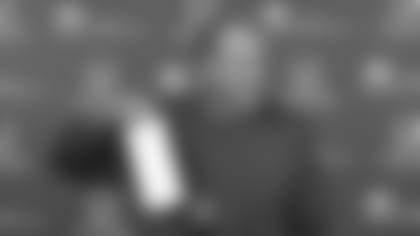 "Zero. Zero. Zero. Players, coaches, nobody," Pagano said. "I got a memo with a laundry list of dos and don'ts on it. There's more don'ts than dos."

Pagano said the league will also not allow Mathis to go to a Colts game at Lucas Oil Stadium during the suspension. "(He) can't go to the game, can't buy a ticket, can't park cars," Pagano joked. "can't sell hot dogs, popcorn, cotton candy, nothing." Pagano joked if Mathis is in the deli section of the grocery store, he has to be in produce. That's how strict the rules are of the 4-game suspension.

BUT the contingency plan is in place for Mathis and his 111 career sacks to be unleashed October 5th at Lucas Oil Stadium against the Ravens.