 ](http://careyindiana.com)
INDIANAPOLIS – After a rough game to start the season's final quarter, Indianapolis bounced back from a decisive loss at Cincinnati to sweep its last three opponents.
After falling 42-28 at the Bengals in a game not featuring wish-for play in any phase, the Colts beat Houston (25-3), Kansas City (23-7) and Jacksonville (30-10) by double-digits to replicate last year's 11-5 record.
Chuck Pagano wants his team to be playing its best heading into the playoffs, and he got it with a December performance that included a victory over Tennessee to have a 4-1 record.
PROTECTION CONCERNS SUBSIDE –** Leading into the last four games, Indianapolis had allowed five sacks and seven hits of Andrew Luck by Tennessee, bringing the quarterly total to 10 and 26 in those areas.  With a line that did not open the same unit in consecutive games twice in the final quarter (though game 16 had a repeat from game 12), the Colts shaved sacks to three and hits to 17.  The Colts ran for 287 combined yards against Houston and Kansas City at the same time to aid the passing game.  The "first and foremost" charge of protecting Luck came through as three players started each at right and left guards, while there were two starting centers.  The line play is emerging right now, with health being a plus.  This was a solid, gutty late-season response by the line. 
EARLIER SUCCESS – In a six-game span during mid-season, Indianapolis had but one first-half lead and was out-scored by 90 points.  That trend was reversed dramatically in the first halves of the last three games when the Colts owned a 24-10 first-quarter advantage that swelled to 53-13 at halftime.  Indianapolis went up-tempo on occasions and for greater durations, and it helped correlate to two 17-point halftime leads.  Asserting itself early and with balance has been a boost for the offense, something that is needed in January.
WINNING MONEY DOWN –** Indianapolis converted 20-of-49 third downs in the last three games, a 40.8-percent clip that dwarfed the 30.8-percent of the third quarter and bettered that of the season's 37.6 mark.  Opponents were churning a third-down conversion mark of 47 percent in the third quarter, but the Colts' defense bunkered down to 24.3 percent in the final three games.  That's winning football in any book.  Twelve sacks in that three-game span also personified winning football.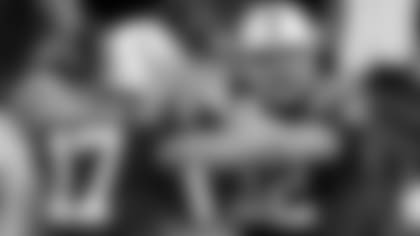 TURNOVER EXCELLENCE – With a mindset that turnovers rate only behind points in equating to victory, the Colts were plus-seven in the final four games after being minus-one in the third quarter.  It was the most potent quarter of the season (one giveaway, eight takeaways).  It eclipsed the plus-six margin in the first quarter of the season and was a large reason Indianapolis went 3-1.  Thirty of the Colts' 78 points in the last three games came after takeaways (38 percent).  The Colts have not had a multiple-turnover game in the last seven outings and has an 80-33 bulge in points off turnovers.  With a franchise record 14 for the year (including only four lost fumbles), this is a strength that needs to continue.  Note:  three of the club's four games in the last quarter were turnover-free.  You have to love playing Scrooge at season's end.
KEEP AWAY – Holding the ball for 33:11, 38:20 and 33:40 of the last three games helped result in nearly a 20-point margin of victory.  If opponents don't have the ball, they must maximize possessions, particularly when facing an opponent that led the league in the fewest miscues (14 turnovers; 66 penalties).  Indianapolis was tough to beat in 2013 with 30-plus minutes of possession time – 7-1.  Small things win in the playoffs and games are determined often by line play.  If the Colts can run, protect the ball and use up-tempo shrewdly, this three-game pattern can continue.