 INDIANAPOLIS –Andrew Luck led the Colts on three touchdown drives to open and close a 21-17 win over Oakland Sunday, but four possessions between those ended with three punts and a turnover on downs.
With an emphasis on protecting Luck following 41 rookie sacks and an estimated 148 hits, the four sacks and eight hits he endured sounded a reminder bell as the Colts host Miami this Sunday.
"We gotta protect #12 better..and that includes more than just OL…it's backs, TE's, coaches on blitz pick ups..I DEMAND better," tweeted Jim Irsay today.  "The Fish CAN and WILL bring the HEAT..We gotta MAN-UP and confront HEAT with a NASA-like Heat-Shield."
Irsay was not referring to LeBron James, he was pointing toward a Miami defense that tallied six sacks, three interceptions, 16 QB hits, 10 passes defensed, one forced fumble and held Cleveland to one-of-14 third-down conversions in a 23-10 road triumph.
Indianapolis imported tackle Gosder Cherilus and guard Donald Thomas in free agency to bolster protection and the running game.  Indianapolis had a 4.9 average on the ground last week, but the protection remains the usual top priority.
"It's every week," said Chuck Pagano.  "That's (on) all of our office (doors), every single office up and down the hallways, (a) big circle with 'Protect 12 (Andrew Luck).'  As long as 12 is upright and on his feet, we've got a much better chance of winning than losing.
"We're fully aware of that and we will do everything, exhaust everything, to make sure we take care of him and keep him clean."
No team leveled the quarterback more last Sunday than did Miami.  Helping is a scheme coordinator Kevin Coyle installed named, 'speed.'
It gets ends Cameron Wake (2.5 sacks), Olivier Vernon and Dion Jordan playing together, and the Miami line totaled 13 tackles (three for losses), all six sacks, one pass defensed and the forced fumble.
"We can do a lot of things with those guys.  We had a lot of fast guys on the field with that particular group," said Coyle.  "We just scratched the surface."
Jared Odrick, Paul Soliai and Randy Starks rotate in the middle, and Dannell Ellerbe and Philip Wheeler, UFA additions, provide speed at linebacker.
"We hit the quarterback a bunch of times Sunday," said cornerback Brent Grimes.  "Any time you can do that, it will put the halt on a lot of offensive attacks."
According to one stat service, Indianapolis saw Oakland use five or more pass-rushers on 15-of-31 drop backs, the third-highest rate Luck ever has seen.  He handled those moments by hitting 11-of-12 passes.
"Scheme-wise, it's the same coordinator," said Luck, who last year hit 30-of-48 passes for a league rookie record 433 yards against Miami, including a stunning 13-of-17 for 204 yards on third downs.  "You definitely pay attention to certain things they did.  Obviously, we're running a different scheme.  You expect little differences here and there.  We know we have our work cut out for us.  They're playing good football."
Said center Samson Satele, "They're going to (blitz).  It's a copy-cat league, and we didn't do the best job of blocking it.  Whatever Oakland did, they're going to try to do to get us the same way the Raiders did.  We'll correct our mistakes and handle it this week.
"The whole defense is (a challenge).  They're playing good, sound defense.  It's similar (to 2012), but it seems like all 11 are playing with a big chip on their shoulder.  We have a tough challenge, and we know what they're going to bring."
Like Satele (2007-08), Thomas (2008-09) played with Miami, and he played against them the least two years with New England.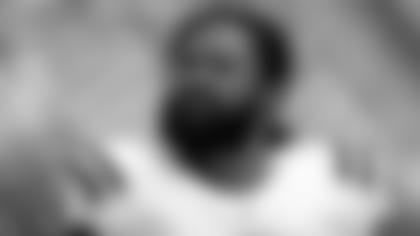 "The whole front seven is good.  You can't take them lightly," said Thomas.  "They've gotten better since last year.  The front's still the same.  They've got better linebackers now.  I'm not knocking anyone who was there before, they're just really active.
"From last year to this year I can't compare them yet until I play them, but I know what they put on film is really impressive.  Honestly, they're going to be one of the tougher defenses we'll play all season."
As for protecting Luck, the mandate is clear.  It always has been clear.
"He (Pagano) made it a point to let us know it's a very good defense, and we need to be ready for them," said Thomas.  "We know the numbers.  We know what they can do.
"Why wouldn't you pressure the quarterback?  That's what every team is going to do, no matter who it is.  The Raiders were probably a little more aggressive than any other team over week one.  You're going to pressure the quarterback.  It's going to happen.  You just have to pick it up.  This is going to be a huge game for us.  It's going to take everyone being dialed in."
PRACTICE REPORT – Did not participate:  TE-Dwayne Allen (hip), LB-Kavell Conner (ankle), WR-David Reed (quadriceps).  Limited participation:  LB-Jerrell Freeman (quadriceps); Full participation:  LB-Pat Angerer (concussion).