 ](http://careyindiana.com)
INDIANAPOLIS –Trailing 14-0 to St. Louis in the second quarter on November 10, the Colts' hopes for a comeback were dashed when Tavon Austin returned a punt 98 yards for a touchdown.
It was the kind of moment that can pivot the course of a game, and Indianapolis faces a Kansas City team Saturday that excels like no other on specialty units.
The Chiefs have four kick returns for scores (89t, 74t punt returns; 108t, 95t kickoff returns), and they set the NFL seasonal record with a 29.4 kickoff return average, a mark that stood for 41 years.
"Back in the day, there was a notion that there were one or two good returners in the league. Now, every team puts their best athlete back there," said Pat McAfee.  "Kansas City sees it as an advantage.  We have to nullify that advantage." 
While the Chiefs have been a model of excellence, Indianapolis has fought through a season of personnel upheaval.
The Colts have used a league-high 73 players to get through the season and while 36 have played offensively, special teams coach Tom McMahon could not count the number of players who have passed through his units.
McMahon pointed out only four performers – McAfee, long-snapper Matt Overton, and coverage men Sergio Brown and Stanley Havili – remained from his training camp-opening units.  The rest have gutted it up and contributed.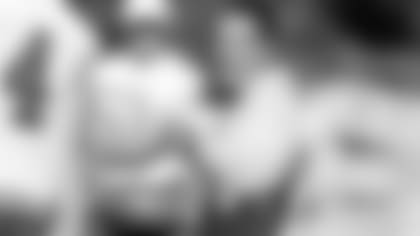 McMahon spent 2012 with Kansas City, and he now needs to halt the units he coached last year if the Colts are to advance in 2013.
"It's a big test," said McMahon.  "Dexter (McCluster), he's special.  What (Quintin) Demps and (Knile) Davis are doing right now is incredible.  We have to focus on our task and not worry about their tasks.  We have to let our performance control theirs."
Kansas City may be the most adept team at making hidden yards visible by special teams play. 
The Chiefs have started 197 offensive possessions at an average 33.4-yard line location, while limiting opponents to their 23.2-yard line on 204 drives. 
Both averages top the NFL, and they can be traced in part to outstanding returns.
"They're number one in drive starts," said McMahon.  "It's a great deal for them.  You look at the drive starts.  It's a big, big factor. 
"Football is played on a rectangle.  We have to control that rectangle.  Half-court offense and full-court defense is what we're going to try to get."
McAfee says every game is a field position battle that can go unnoticed.  He is pleased with the return of Brown, and he lauds Darrius Heyward-Bey as a "heck of an addition" at gunner.
With a franchise seasonal-record 27 kicks inside the 20, including four games with at least three, McAfee says directional punting is a year-long aim, not just one for Kansas City.
That said, he has a healthy respect for McCluster, whose 58 punt returns and two touchdowns led, if not dwarfed, AFC returners.
"A lot of guys see a ball hit high and they're going to fair catch it automatically.  They're not going to check who's around them," said McAfee.  "McCluster's not scared to run.  He rarely fair catches, and that's what makes him the most dangerous.
"Usually you get a guy who gets one good shot and he gets some stage fight and the next one's a fair catch.  He's not that.  He's tough, athletic, electrifying, a Pro Bowler for a reason.  He's unbelievable."
GAME SOLDOUT – Meijer, a Colts corporate partner, has purchased 1,200 tickets for Saturday's game, making the Wild Card contest a sellout. 
PAGANO IN TALL COMPANY – From 2012-13, Chuck Pagano is the only NFL coach to direct his team with experiencing consecutive losses.  His back-to-back 11-5 seasons make him one of eight coaches who have started careers with consecutive 11-plus win seasons.  Pagano joins Jim Harbaugh (SF, 2011-12), Dave Wannstedt (Miami, 2000-01), Steve Mariucci (SF, 1997-98), Barry Switzer (Dallas, 1994-95), George Seifert (SF, 1989-90), Roy Andrews (NY Giants, 1929-30) and Guy Chamberlain (Frankfort, 1925-26) to accomplish the feat, according to the Elias Sports Bureau.
MATHIS HONORED – Robert Mathis has been named to the AP First-Team NFL All-Pro team, a day after being named the winner of the Deacon Jones Award for leading the league in sacks.  Mathis also was named AFC Defensive Player of the Month for December, his second such monthly award this year.
PRACTICE REPORT – Did not participate:  DT-Fili Moala (knee); Full:  NT-Aubrayo Franklin (knee), WR-Darrius Heyward-Bey (hamstring), OG-Mike McGlynn (elbow), S-Sergio Brown (groin), DE-Cory Redding (shoulder), LB-Bjoern Werner (ankle), DT-Ricky Jean Francois (foot), DB-Darius Butler (quad), CB-Greg Toler (groin), CB-Vontae Davis (groin), LB-Robert Mathis (rest).
INJURY REPORT –Questionable:  Franklin, Moala; Probable:  Werner, Heyward-Bey, Butler, Toler, Jean Francois, McGlynn, Brown, Redding, Mathis, Davis.