 ](http://www.careyindiana.com)
INDIANAPOLIS – Chuck Pagano finds the club's annual rookie camp a time of indoctrination and instruction, and he will keep a trained eye on some young players taking their first NFL steps.
"You find out exactly where a kid is and what you have to do," said Pagano.  "For us as coaches, it gives you an idea of their learning ability." 
The second-year head coach will conduct three full practices and two walk-through sessions from today through Sunday, and it, like always, will reveal ways to go about feeding information to newbies.
"Not everybody learns the same way," said Pagano.  "Some people can see it on the grease board or video and can come out and just pick it up and don't need a walk-through. 
"Some guys need to see it in the classroom.  Some guys need the walk-through and take it to the practice field.  Everybody learns differently, but we'll get a good barometer on it."
Seven draft picks will be joined by a slew of free agents as about one-third of the 90-man roster will work.
Veteran players are not a part of the process, a teaching method that has taken root across the league in the past decade or so.
Teams not always split up veterans and rookies in camps after the drafts, but the value of specific orientation for younger players is important.
They are learning new concepts in a new environment, and the learning curve very much is present.
"I remember rookie camp well.  It was utterly confusing, but not intimidating," said Pat Angerer.  "What you had learned in college no longer really applied that much.  You were in a new system, environment – everything.  You learned as fast as you could while knowing you were trying to make it at the next level."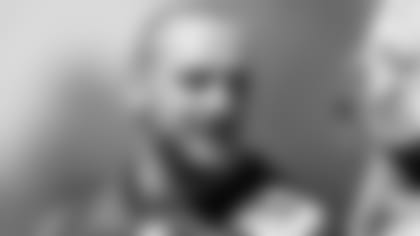 Vick Ballard made major strides as a rookie in 2012, but the initial baby steps were not easy.
"I thought I learned a lot.  I learned a couple of things, but I didn't learn nearly as many things as I needed to in order to play," said Ballard of last year's rookie camp.  "I think the enormity of this is big.  You're coming to a new state, new system, new people, new faces, everything. 
"Naturally, you're going to be nervous.  It's your first reaction.  I was nervous, and I think it kind of affected my learning a little bit.  Once I got my nerves under control and relaxed a little bit, I was good."
Andrew Luck and Dwayne Allen, rookies in 2012, were two of only six Colts who started every game last year.  They were expected to do so, and each offers an approach to scale the mountain.
"Be a sponge, soak it all in," said Allen.  "The only thing that matters is how you see your job.  You have to be ready and willing to do anything."
Said Luck, "I think finding your routine and finding the best, most efficient way to go about things is important. 
"Having your coaches help you with that, watching the older players, just finding a routine that works for you to get you best prepared is important."
A fifth-round 2012 draft pick, Ballard possesses a calm confidence that was forged through his first season.  He says it is natural to be nervous as a rookie in camp.
"Yes, especially when you hear about the NFL, you almost feel the pressure to learn," said Ballard.  "You don't want to get cut.  You hear about the NFL and no job security, especially if you're a late-round draft pick or undrafted.  That and being around a new environment, it's tough."