 ](http://careyindiana.com)
INDIANAPOLIS – There is never a time Chuck Pagano prepares for a game where his object is not to win. 
That said, his Colts are 3-1 in the first quarter of the 2013 season, and it is a position with which he is pleased.
"Love the record.  Love to be 4-0, but we'll take 3-1 every time out," said Pagano Monday, a day after his team won at Jacksonville, 37-3.  "(It's a) great start to the first quarter of the season.  I think we've gotten better every week. 
"That's our main goal, to come out of every game and say we've gotten better on both sides of the ball and special teams.  It's never going to be perfect, but we're chasing perfection." 
The Colts have rebounded from a 1-1 start and a disappointing home loss to Miami by outscoring two road opponents – San Francisco and the Jaguars – by a combined 64-10 count.  Indianapolis won a game at the 49ers many figured they could not, then trounced Jacksonville in a game where some thought the club could have a letdown.
After the offense struggled Sunday for 15 minutes, it founds its gear, the one the Indianapolis defense had from the outset in producing a second straight dominant performance.
The Colts have not surrendered a touchdown in the last seven quarters.  The last 23 opponent drives have resulted in 13 punts, five takeaways (four interceptions), one touchdown, one field goal, one ended by downs and two ended by the half or game.
Twelve of those drives consisted of three plays or less, while five had as many as seven plays and four had nine or more. 
On 12 possessions, Indianapolis did not yield a first down (11 three-and-outs), while on six drives it limited opponents to one first down and only four possessions had four or more first downs.
It is the second year of Pagano's 3-4 scheme, and the fruits of growth among players is obvious to his trained eye.
"Just listen to the players talking.  The trust level, confidence, attitude, discipline, guys doing their job down after down," said Pagano.  "You can see it front to back that guys (are thinking), 'You don't have to do it (all), just do your job and trust the other guy is going to be where he's supposed to be.  Take care of what you need to take care of and then run to the ball, fly around and play with an aggressive mindset and attitude.' 
"Now they're getting to the point where they expect to play really good and go out and have great performances."
Players bought into the process in 2012, but there were labor pains.  More repetition and the addition of more personnel for the mold have helped the Colts make significant strides in the last two weeks.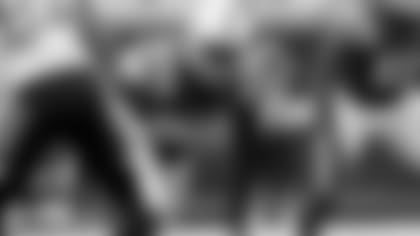 "I think when you change schemes and you've been in one scheme for so long, it takes a while (from) a terminology standpoint, knowing your position, knowing the other guy knows what's going on," said Pagano of why trust among players takes time.  "You can point your fingers at a lot of things.  It's not easy.  They're just starting to hit their stride.  I think we'll keep getting better.
"I like where this team is at mentally.  Physically, we've lost some guys, but guys prepare around here as starters.  Guys have been able to step in and fill the shoes of the guys we've lost and perform at the level we've needed them to perform.  I feel good where we're at."
INJURY/PERSONNEL UPDATE – Bjoern Werner has a torn plantar fascia in his right foot and will be out four-to-six weeks.  "He was trending in the right direction.  You could see the confidence level rising," said Pagano.  "It's a shame.  Scheme-wise, he wasn't thinking, he was playing faster."
Stanley Havili has a mild ankle sprain and may miss a week.  The club re-signed Robert Hughes and released Griff Whalen.  Hughes (5-11, 235) played in five games with the club in 2012.  Ahmad Bradshaw (neck) still is being evaluated and Pagano said there is no "definitive answer" on his situation.  Samson Satele (elbow) is expected to return minus a setback.  LaRon Landry's (ankle) return is up in the air.
LaVon Brazill is back at practice after a four-game league suspension for a substance issue, and the team has a one-week period to work him before having to do anything.  "He's been here the whole time.  The only thing he couldn't do was practice," said Pagano.  "He could meet, lift and run on his own.  He's stayed in it mentally.  We have the luxury of bringing him back out and letting him practice."    
STATISTICAL NOTE – The Colts allowed 10 points to be scored in consecutive road games.  The only lower two-game road total allowed by the club in its Indianapolis era was on December 6-13, 1992, when it gave up six points in back-to-back wins at New England (6-0) and the New York Jets (10-6).