 ](http://careyindiana.com)
INDIANAPOLIS – In seasonal quarter-speak, the Colts have gone from 3-1 to 6-2 to 8-4.  It is an arithmetic progression that places them among the NFL's most victorious teams. 
Only Denver (10), New England (9) and Kansas City (9) have more wins in the AFC, and the club's mark has it currently lodged in the third playoff seed (though no playoff spot is earned yet).
The last four games had two lopsided NFC losses and two victories over Tennessee done in gutty fashion by a total of 11 points.
Home division games remain with Houston and Jacksonville, while trips to Kansas City and Cincinnati (8-4, first place in AFC North) will be stern tests. 
The aim is to be playing the season's best ball going forward.  Here are observations at the remaining quarter pole.
PROTECTION CONCERNS – The club is coming off its highest number of sacks allowed last Sunday, and Andrew Luck found himself under duress frequently.  In the last four games, the Colts allowed 10 sacks, and Luck was hit 26 times.  Chuck Pagano said Monday protection of Luck is the "first and foremost" among his concerns, but that has been the case since both arrived.  The next three games pose difficult defensive challenges.  The health of Jeff Linkenbach bears watching.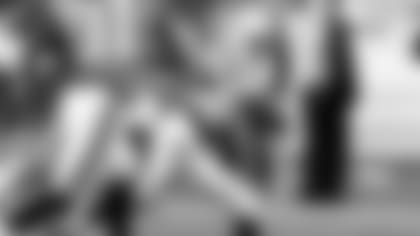 RUSHING CONSISTENCY – The Colts gained 18 yards on 14 rushes against St. Louis in a game where the score got out of hand early.  Indianapolis ran for 80 yards at Arizona, with Luck having 31 and Boom Herron getting 33 when the outcome was decided.  Otherwise, Colts backs were not a factor.  In the wins against the Titans, Indianapolis had varied success but showed signs.  Two fourth-quarter TD drives secured the victories, and they were done almost exclusively on the ground.  The line functioned well in the clutch both times.  Donald Brown has provided a season-long boost and in those two games in particular.  Leading early and keeping the running game in play is essential in first getting a berth and then staying in at least a third seed.  Trent Richardson's contributions could play a huge factor.
RED ZONE SUCCESS – Entering the third quarter, Indianapolis was the only team with a perfect red zone scoring percentage (25-for-25).  A one-for-five red zone effort against the Rams that included three interceptions and a turnover on downs was disappointing.  Prior to that game, the club was 11th in red zone TD percentage (60 percent).  Through 12 games, Indianapolis is 13th at 55.3 percent.  The overall scoring percentage of 89.5 is tied for 10th.  Cashing in deep is imperative.  Getting there consistently (especially in the first half) has been a problem since late in the Denver game.
HEAT AND TAKEAWAYS – The club's lone game without multiple sacks in the third quarter came versus Tennessee Sunday, and it was the only one of the quarter with multiple takeaways.  What was more commonplace in the first half of the season – games with multiple sacks and takeaways – needs to be prevalent in the final quarter.  Indianapolis went 147 passes without picking off an opposing QB from the fourth quarter of the Denver game to halftime of the second Tennessee game, while yielding eight TD passes in that span.  Getting a return from Greg Toler can help.  Having unselfish play like Cassius Vaughn is a boost.  Opposing QBs in the third quarter upped their completion percentage by two points (58.7% to 60.8%), while yards per attempt jumped to 7.81.  Three interceptions last week brought the seasonal rating down from 92.4 to 88.1, after starting the quarter at 84.0.  Robert Mathis has been bringing heat all season.  Erik Walden was a huge force against Denver with game-swinging plays.  Getting that again only helps.
KEEP KICKERS WARM –** Pat McAfee had a 45.4 average against Tennessee last week and a 49.7 mark against St. Louis.  McAfee has punted well all season and has two potentially tough outdoor games.  Adam Vinatieri has been outstanding all season, hitting 34 of his last 35, including four from the 40-yard range last week.  Vinatieri is 14-of-16 on the road, with a blocked 42-yarder at Houston and a wide left boot into the wind from 51 yards at San Francisco being his only misses.  Their consistency is a big reason for 8-4.  Their production in the next four games could mean the difference in reaching a double-digit victory total.
FINAL OBSERVATION –** The team has been in playoff mode for a couple of weeks.  It has faced three consecutive opponents with that mindset – Arizona and Tennessee twice.  Sunday at Cincinnati has the makings of a very pivotal contest with both squads at 8-4 and with the head-to-head tiebreaker counting prominently.  Should both reach the post-season, the victor could point back to December 8 as a key date.  With no post-season berth clinched yet, Chuck Pagano wants no scoreboard watching.  He prefers focus to be spent on things that can be controlled through accomplishments.  Expect his coachable squad to fall in line.