The NFL oftentimes has been called a fraternity by past and present players. However, there is another alliance developing within its confines.
"Even if you've never met or talked before, it kind of feels like you already know them," defensive end Dayo Odeyingbo said. "You kind of automatically go talk to the other African guys on other teams just because like, I may not know you, but we kind of know each other. So, it's kind of like a family you know, just across the league. It's a little brotherhood."
In the league today, there are over 125 players of African descent (born in Africa or children born to African immigrants), per the NFL.
The Colts currently have six on their 53-man roster: defensive tackle Adetomiwa Adebawore (child of Nigeria immigrants), tight end Mo Alie-Cox (child of Sierra Leone immigrants), linebacker Segun Olubi (child of Nigerian immigrants) and defensive ends Samson Ebukam (Nigerian), Odeyingbo (child of Nigerian immigrants) and Kwity Paye (Liberian). Defensive tackle McTelvin Agim, who is of Nigerian descent, is on their practice squad.
That's the most of any team in the league, creating an environment where players are able to share different experiences that many of their other teammates can't relate to.
"For me, I think it's really cool to be in the same kind of environment with people who are similar to me," Adebawore said. "Obviously, coming from an African household and just kind of growing up, maybe not necessarily around people who are similar to you. Then just having that similar background, we're able to connect a lot easier because we kind of know how it was growing up. Obviously, we're all talented athletes, so this is kind of cool seeing someone else kind of have the same type of story as me."
While the players are able to enjoy their shared experience, there is also an inherent pride that comes with representing Africa.
"You're definitely an ambassador in everything you do," Olubi said. "I'm an ambassador with my last name. Everybody knows where my last name comes from. My first name, my family, gotta make them proud and make the people around them proud."
In Weeks 7 and 8, Olubi and several other players of international descent around the NFL will have a chance to further show their pride in their homelands after the league announced its International Helmet Decal initiative. This allows players to salute their family's international roots and support the growth of football globally.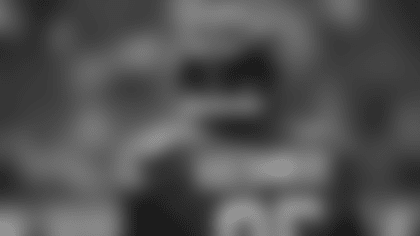 This is not the first time that the NFL has worked to bring the game overseas. In addition to annual games hosted in foreign countries like the United Kingdom, Germany and Mexico, they have also created programs like NFL Africa.
"I think just the amount of talent that is missed out on across the world, it could really change the game," Odeyingbo said. "Obviously, it's the biggest sport in America, but the type of talent you could find overseas, just not only in Africa, but across the entire globe. I mean, it could be game-changing for the entire NFL and who knows in the future with other leagues. So yeah, I mean, it's just cool to see the game grow."
In 2022, the NFL hosted its first official events in Africa. Beginning on June 21, Paye joined other NFL players of African descent in Ghana for a week of activities that included a talent identification camp, a fan event and a flag football clinic.
Of the experience, Paye said that what he took away most was the impact the camp had on its participants.
"That was my first time being in West Africa," Paye said. "Just being there and experiencing the culture, being able to help those kids - seeing some of the kids that were at the camp in the NFL now, that's really dope to see. Just seeing what they're trying to become, giving those kids opportunities to better themselves, better their lives and being able to change their family's lives. It's great, it's amazing."
Paye has no intention of that being his last trip to Africa either. He's long wanted to start hosting football camps of his own there, with hopes that others can reap the benefits of the sport the way he did.
"I think for me it's important because I just seen what the game has done for me," Paye said. "I've been able to travel the world. I've been able to take care of my family. I've been able to do all the wonderful things that the game has allowed me to do. And I'm trying to be able to do that for other people, give them the opportunity to do those things, but it's kind of hard to really do some of the stuff because the government in Africa, in different African countries, it's very corrupt and it's hard. If you send money over there, it's hard to make sure the money goes to that certain place that you're sending it to. So, for me, that's definitely a trip I'm going to take this offseason. I'm going to go back over there, me and my mom, definitely hit the ground running and get some camps going for sure."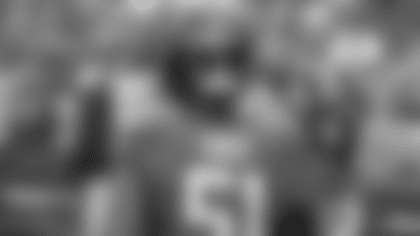 He is not the only player in the Colts' locker room who has philanthropic aspirations for Africa.
In 2020, Ebukam started the T&S Foundation, with a mission to fulfill basic humanitarian needs for the people of Africa. Prior to moving to the United States when he was nine, he'd seen firsthand the daily injustices Nigerians encountered and decided that he wanted to do something about it.
"Because I got a foundation, the T&S foundation that's trying to help the people out in Nigeria and just to make their life easier," Ebukam said. "Just to make sure that their life is a little bit easier than it was for me. And if this game will help to bring recognition to that then I'm doing something well."
So, whether they are playing for their heritage or to inspire the next generation of African football players, whenever they take the field they are playing for something much bigger than themselves.
"You kind of feel like you're playing for your culture and your family at the end of the day," Odeyingbo said. "Everybody has their why and everyone kind of figures out a way to play with that chip on their shoulder, but it kind of gives you that extra will to play at the end of the day because, it kind of feels like it means a little bit more just wearing the name on your back. Obviously, your last name, but you can tell, from your name like' Okay, this is an African player,' and we just want to show them what we can do."