 ](http://careyindiana.com)
INDIANAPOLIS – Peyton Manning was asked this week if facing the Colts were kind of like facing the New York Giants, and he added, 'I know Robert Mathis hits harder than Eli, I guarantee you that.'
Deflecting the topic was a deft move by Manning but in reality, he was only assuming. 
"If you come within two yards of him, you might get cut (smiles).  That's just the truth," said Mathis today when asked how close he came to Manning in practice while they were teammates. 
"They're the engine to the team.  You can't hit him.  I came pretty close my rookie year, and I got an earful from more than just the coaches.  (I learned) real fast."
Mathis has feasted on opposing quarterbacks, nailing 51 different ones on the way to 101 career sacks.  Saying he aims to sack Manning because "he's a quarterback, that's my job," he also knows doing it is difficult.
"It's a little bit of everything.  He's a complete quarterback," said Mathis of why Manning is hard to touch.  "He has that mental clock in his head to get rid of the ball and have awareness.  You just have to try to get him rattled as much as you can."
In Manning's 13 playing seasons with the Colts, the team topped or led the NFL in fewest sacks allowed seven times, the AFC nine times.  With 7,210 attempts as a Colt, Manning was sacked on 231 occasions.
It has been more of the same in Denver with the Broncos ranking second in the NFL last year (21) and leading the protection category in 2013 (five).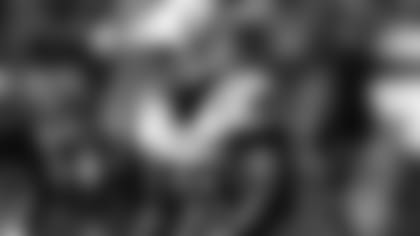 "You try to make him uncomfortable.  However you do that, you have to do it," said Mathis.  "Whatever the game plan is, you have to carry it out."
Before sacks are possible come the flurry of audibles Mathis has heard as well.  Yet he does not know how perplexing it will be facing a quarterback so attuned to defenses.
"I wouldn't know, I've been a teammate for all these years.  This is going to be my first chance to play against him," said Mathis.  "In past experience, he's frustrated a lot of guys because he's in control of the game.  You just have to do your job."
Greg Manusky has faced Manning three times while with San Diego and San Francisco, going 1-2 in the process as linebackers coach and coordinator.
"You're going to try to disguise, everybody tries to," said Manusky.  "Eventually, he'll hard count you and get you.  Does it frustrate you?  Yeah.
"He does a good job of studying the opponent and knows exactly what you're in, and he's going to try to exploit the tendencies that you have.  We got to make sure that we hold our water just like everybody does and try to confuse him a little."
Mathis respects Manning's process as a leader.  His approach on everything is "A-1, he's a pro.  He's not a trash-talker.  He's just a guy who goes out and gets the job done."
Mathis cited Denver leading the league in numerous offensive categories, including a 44.2 scoring average.  He knows, and teammates have been instructed, to stick to assignments and pay attention to every detail.
"It will be a huge task.  We just have to do our job.  Don't do anything (extra)," said Mathis.  "You don't have to be a world-beater, just do your job.
"The little things count.  You have to be on top of every aspect of your game to complete the mission.  It (his practice time against Manning previously) teaches you to major in the minors."
Mathis has risen through his career on the same upward path as Manning – taking pride in preparation and never having a motor that slows.  Sunday's are business.
"We're approaching it like another game.  We have to approach it as pros," said Mathis.  "You prepare all week.  Just go out and do what you're prepared to do.  We're worried about what we do.
"It's (the atmosphere) going to be different.  It's going to be whatever (people) want to call it, but it's going to be a game to us.  We just come out to play."
PRACTICE REPORT – Did not participate:  LB-Kelvin Sheppard (hamstring), LB-Bjoern Werner (foot); Limited Participation:  CB-Darius Butler (groin); Full Participation:  LB-Jerrell Freeman (concussion), S-Delano Howell (neck), S-LaRon Landry (ankle).
On Landry, Manusky said, "It was good to get him back into the mix.  It's been a month now that we haven't had him.  It'll be good to get him back on the (practice) field and see how he does. He looked pretty good (Wednesday) moving around.  He's got fresh legs after a month."