 ](http://careyindiana.com)
INDIANAPOLIS – He came to Indianapolis as a quiet Syracuse receiver taken with the 19th overall pick in the 1996 draft, but Marvin Harrison exited the NFL as one of the game's most prolific players with 1,102 receptions for 14,580 yards and 128 touchdowns.
"Marvin was the best receiver in his era.  He was the focus of every defense that we played against," said Tony Dungy.  "We didn't move him around or put him in motion very often.  He lined up in one spot, on the right side of the field, and put up the best numbers in the game from 1998-2006.  
"Because people game-planned to stop him, that allowed us to utilize other weaponry, especially in big games when he was the focus of the defense."
Harrison starred on center stage, sculpting a career long on achievement but little on description. 
His exploits were numerous, but words to depict them usually came from others.  
"Marvin Harrison is one of the 10 greatest receivers in NFL history," said Bill Polian.  "In an era when more publicly-heralded receivers drew attention to themselves at every opportunity, Marvin went about his business with quiet dedication and meticulous attention to detail. 
"His mental and physical preparation was second to none.  He translated that work ethic to the field and coupled it with an insatiable desire to win and great physical toughness.  His preparation and play speak for him.  He was the epitome of a Hall of Fame player.  It was an honor to be associated with him.  I look forward very much to the day when I can applaud him upon his induction."
Harrison played in 190 career games, breaking club records held by Hall-of-Fame wide receiver Raymond Berry.
"He's one of the most consistent receivers I've watched in a long time," said Berry.  "One of the real keys to getting open is the defense's inability to really know what you're doing. 
"That was a huge philosophy of my route-running, to disguise what you're going to do until you did it.  It's a military principle.  If they don't know where you're going to attack, they can't get the troops there to stop you.  Marvin was a master at being able to accomplish that on his route-running."
Harrison and Berry were both perfectionists, and one Hall-of-Famer sees traits that hopefully place another Colt in Canton. 
"To a great extent, you're born with the ability to catch.  Obviously, he was," said Berry.   "With the numbers he had, he just had that ingredient. 
"You either have unbelievable natural ability, or you've got to have natural ability plus a work ethic.  Marvin had both of those.  You're born with an inner drive to do this.  It's a gift to have a great drive and work ethic combined with great natural and physical ability.  When you have that combination, you're looking at Marvin Harrison – a rare talent and a rare combination."
Harrison's receptions were second in league history upon retirement, his 59 100-yard games ranked third.  He set the NFL seasonal record with 143 receptions in 2002.  From 1999-2002, Harrison became the first NFL player with 100-plus receptions in four consecutive seasons.
From 1999-2006, Harrison had eight consecutive 1,000-yard seasons, and he is the only player ever with eight straight seasons with 1,000-plus reception yards and 10-plus scoring receptions.
Marvin Harrison Among NFL Career Leaders (Total, Rank)
When the 46 voters get behind closed doors on February 1, there are no guarantees.  Twenty-two receivers from the modern era are in the hall.  Some like Cris Carter wait for years for inclusion.  Others like Tim Brown and Andre Reed still wait.
Reception Totals of Leading Hall-of-Famers, First 150 games vs. Marvin Harrison
Rick Gosselin, a veteran voter, says Harrison has put up numbers that merit a first-time positive vote.
"Quantity plus quality, he has the individual statistics and team success," said Gosselin.  "That's what we look for in a Hall of Fame candidate – his impact on the field and on his team.
"Harrison was a key component in one of the best passing offenses of his era and the winningest team of the 2000 decade, a team that won a Super Bowl.  His catches, yards and touchdowns all meant something in a team concept."
Harrison is one of 14 Colts to participate in 100-plus regular-season wins with the franchise, and his 118 rank sixth-most.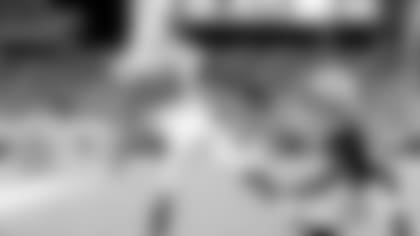 He played on six division champions.  The Colts won 62 percent of the time with Harrison in the lineup and in 72.9 percent of the games when he topped 100 reception yards.
Harrison and Peyton Manning were paired in 158 games, with the duo hitting for a league-record 953 completions for 12,766 yards and 112 touchdowns.
In 2011, Manning said, "There are so many great things about Marvin Harrison.  I always used to talk to defensive backs (of other teams) in the off-season and asked them, 'Who is the hardest receiver to cover?'  All of them in the past decade would say, 'Marvin Harrison.' 
"The main reason they would say that was the first 10 yards of his routes all looked the same.  They couldn't tell if he was going 10 yards and out, 10 yards and in, deep down to the field to the post or the corner, back to the quarterback.  They had to respect the fact that he was going to go deep and they would back off then all of the sudden they would think, 'He's not going deep.'  They would squat down and he'd go right by them. 
"Marvin took a lot of pride in his craft.  He was such a reliable player on Sunday, but he always was there Monday through Friday, which I think is a great quality.  He took a lot of pride in the amount of (practice) balls he caught.  He kept up with the routes we threw in practice and how many catches he had in a row.  If we had an incompletion, he'd (say), 'That's the first incompletion in 70 throws.'  That was a special guy who took the time and pride in his profession."
RECEIVERS WITH 13,000 CAREER YARDS /100 TDS
Art Monk, who played from 1980-95 for Washington, the New York Jets and Philadelphia had 940 receptions and had 50-plus catches in nine seasons in an era when the game was trending to the current passing style.
Inducted in 2008, Harrison's final season, Monk played when 60 receptions meant something, but a changing scale now means those voting take a different view.
"It used to be that catching 60 balls was a big deal.  Sixty balls now is, 'You didn't do anything.'  It's nothing," said Monk.  "Eighty balls is nothing in today's game.  Unless you're putting up some dramatic numbers – 100-plus – no one really pays attention anymore."
Monk says Harrison's smooth stride was "almost effortless" and reminds him of Carter and former teammate Gary Clark.
Monk is so closely identified with Washington and its success that he feels Harrison being associated with a winning Colts program should help, though it has not helped in Reed's case.
"I think there's a (receivers) waiting list," said Monk.  "It's almost like runners before were a dime a dozen, now receivers are a dime a dozen.  It's (voting) based on numbers, team success, even though I thought Andre should have gotten in before Cris (Carter).  Not only did Andre have good numbers, he went to four Super Bowls.  He was part of a great team and added to its great success. 
"I think it's a combination of a lot of things.  It's hard to tell what makes the writers vote for someone."
Purely off talent, production and winning, Monk thinks that could tip things in Harrison's favor.
"He's proven himself as a go-to receiver," said Monk.  "He's got the numbers, the team that was successful around him.  I don't know what else you want.  That would be it.  What else would there be? 
"Marvin was a likeable guy.  He wasn't cocky.  He wasn't boastful, he didn't run his mouth.  You make a list of a guy you say is going to make it to the Hall of Fame, he's on that list."