 ](http://careyindiana.com)
INDIANAPOLIS – Down by 18 points at halftime against an opponent desperate for a victory, the Colts called on inner calm to mount a 10th comeback win under Chuck Pagano.
The Colts rallied in the final 30 minutes to beat Houston, 27-24.  It took a 24-3 second-half surge to wipe out a 21-3 deficit.
"We came in at halftime...said, 'We've been here before.  (It's) 21-3, we're down 18.'  Everyone remembers the (Green Bay) game last year when we came back," said Pagano.  "We just chipped away.  These guys do a great job of sticking with the process. 
"It's, 'One play at a time, all you got, don't judge, don't look at the scoreboard.  Let's start playing Colts football.' " 
Last year's Green Bay comeback came with Pagano in a hospital battling leukemia.  This one came without the services Reggie Wayne for the first time in a decade, and the Indianapolis offense took time to adjust.
The Colts failed on all six third-down chances in the first half, with Andrew Luck hitting three-of-12 passes, while Houston's Andre Johnson had 190 reception yards and three touchdowns (61, 42 and five yards).
In addition to Houston rolling to 96 first-half rushing yards, Luck absorbed three sacks and was battered the majority of the 11 times he was hit over the full contest, yet Indianapolis righted itself to earn a road division win against the two-time defending AFC South champions.
"Nothing we did in the first half resembled anything like Colts football, the blocked kicks, the sacks, the pressure, defense giving up big plays to Andre (Johnson)," said Pagano.  We found a way to get it done again."
Indianapolis started converting opportunities, beginning with a 10-play field goal drive to open the third quarter.  Late in the period, Luck (18-of-40 for 271 yards, three TDs) found T.Y. Hilton (seven receptions, 121 yards) on a 10-yard scoring strike to cut the Houston lead to 12 points.
After a missed Houston field goal moments later, Luck gunned a 58-yard strike to Hilton, and the Colts trailed by five points.  The comeback was made complete with 4:00 left in the game when the pair connected from nine yards out, with a two-point conversion pushing Indianapolis ahead by three points.
"I don't think any(thing changed), we just stayed the course," said Anthony Castonzo.  "We started to execute better in the second half.  Nobody really freaked out.  I think that's the key.  Everyone kept an even head, and people made plays."
The Indianapolis defense forced a Houston punt with two minutes to go.  A final Texans charge reached the Colts' 37, but Randy Bullock was wide left at the gun as the Colts moved to 6-2.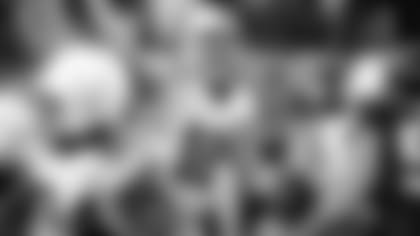 Luck threw for 215 yards in the second half, when the Colts gained 212 of their 314 net yards.  The defense tightened up, allowing Houston 189 yards after the Texans had amassed 294 in the opening half. 
The Colts held Houston to two second-half third-down conversions.  Johnson had two receptions for 29 yards in the final half.
"I'd say it's confidence in each other," said Castonzo.  "Everyone has confidence in each other that we're going to make plays and get the job done. 
"When the plays don't happen like they didn't in the first half, we kind of look at it as a fluke.  We're confident in each other that we have guys on this team who can go out and make plays."
Said Luck on what started working, "I think we settled down.  The O-line did a great job of protecting with the adjustments.  (I) got the ball to the guys.  I settled down and gave some catchable balls to the receivers.  We settled down, trusted our technique."
This marked the third double-digit deficit the Colts have rallied from to win in the past 24 games (18 versus Green Bay and 12 at Detroit, 2012).  Luck chuckled after the game that it was the biggest comeback win only because it was the most recent game.
He found seven different receivers, and he hit Coby Fleener on a two-point pass after the last touchdown to provide the three-point winning margin.
Castonzo feels the calm nature of Luck and others is a reason the team can thrive in clutch moments.
"Andrew basically takes control of the huddle," said Castonzo.  "He's telling us, 'One play at a time, one play at a time.'  He's focused.  Everybody is focused. 
"We kind of have a team full of leaders, which is why we're able to do that late in games."
COLTS NOTES – The 18-point comeback win matched the sixth-largest in Colts history…the Colts have four 21-point road comebacks and one other 18-pointer on the road…Pat Angerer was credited with 12 tackles…Hilton (7-121) had his eighth career 100-yard game, and he became the 11th Colts player with three TDs in a game, the seventh WR to do so…the Colts are 7-0 under Chuck Pagano when playing turnover-free games, 3-0 this year (vs. Oakland; at San Francisco)…the Colts converted four of their last five third downs after starting zero-for-eight…the Colts are 6-2 or better at halfway point for the seventh time since 2000…the victory kept the Colts two games ahead of Tennessee (4-4) in the AFC South, while Houston dropped to 2-6…under Pagano, the Colts are 13-2 in games decided by seven points or less, 9-1 in 2012, 4-1 in 2013 and have won 12 of the last 13 such games…Adam Vinatieri's streak of 24 straight FGs made inside 50 yards ended with a blocked 42-yarder on the club's first possession, but he came back to hit from 30 and 35 yards…with 779 points, Vinatieri moved past Marvin Harrison (778) into third-place in Colts career scoring (995, Mike Vanderjagt; 783, Dean Biasucci)…the Colts outscored Houston in the fourth quarter, 15-0, and have blanked five opponents in the final period this season…the Colts own a 59-29 fourth-quarter scoring advantage this season…Sunday's win broke a three-game Colts losing streak in Houston…Texans coach Gary Kubiak suffered a medical event at halftime and Wade Phillips directed Houston in the second half…with 10 game-winning drives in the fourth quarter or overtime, Luck has the most such efforts for any QB in the second year of a career since 1970…he had been tied with Jake Plummer.