 ](http://careyindiana.com)
INDIANAPOLIS – Andrew Luck always has felt a kinship with the quarterback draft class of 2012, including those from Texas.
Case Keenum was not among the 11 quarterbacks selected that year, joining Houston as an undrafted free agent.
Sunday will pair quarterbacks with Houston connections (Luck – Stratford HS; Keenum – Univ. of Houston and Abilene native) in a key divisional battle as the 5-2 Colts meet the 2-5 Texans.
The irony of featuring the draft's top pick and an undrafted talent is not of central importance as much as what is done with an opportunity to play.
"I haven't thought of it.  I guess that's kind of neat," said Keenum of the irony of facing Luck.  "That's the cool thing about this league.  After it's all said and done, it's about football.  It's not about all of the externals that come with it, the whole draft and all of that stuff. 
"When the whistle blows and that ball is snapped, it's just football.  It's who can block, tackle, complete passes, make first downs and turn them into touchdowns.  Drafted first overall or undrafted, I think it's all put to the side."
Keenum made his first career start two weeks ago at Kansas City, the same day Luck directed a 39-33 home victory over Denver and Peyton Manning, a ballyhooed match with the Colts' top picks from 1998 and 2012.
That win pushed Luck's career starting mark to 16-7, one of the best-ever NFL career starts and set up Sunday's game as key to the AFC South race.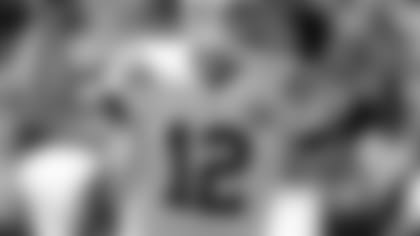 The quarterbacks have a baseline familiarity with each other, crossing paths at the Manning Passing Academy and various awards events surrounding their collegiate careers.
Luck directed Stanford to a 31-7 mark and was a two-time Heisman finalist after departing Houston.  With the Houston Cougars, Keenum was the NCAA career leader with 19,217 passing yards and 155 touchdowns.
The two-time Sammy Baugh Trophy winner spent last season on the Texans' practice squad while Luck went 11-5 with the Colts.  The book on Keenum is more complete as a Cougar than a Texan.
"If we had no body of work, I'd say it'd be tougher (to get a feel), but at least we got a game that we can look at," said Chuck Pagano, "(we) got enough preseason snaps that we went back and watched.
"He does a nice job of running their system, big stretch run and (bootleg) team.  He's built for it, and he's a good player.  We've got enough (material) where we know exactly what he's capable of doing."
Keenum (15-of-25, 271 yards, one TD) tied a franchise record with six completions of at least 25 yards against a tough Kansas City defense.  His 10.84 yards per attempt mark was robust, and his 110.6 rating was the fourth-highest of any undrafted player in a first NFL start since 1970.
"He's got moxie, savvy, he's able to extend plays," said Pagano.  "Going into one of the toughest venues in the NFL to play as a first-timer, he was as cool as a cucumber.  He's a smart guy.  He knows where to go with the football.  We thought he did an unbelievable job considering the circumstances."
Distant Colts history is pock-marked with young opposing quarterbacks having success.  Tom Ramsey (1987), Tommy Hodson (1991), Scott Zolak (1992) and Tom Brady (2001) all had first-ever starting wins over the Colts.
Luck took every rookie snap and handled his first 1,364 scrimmage plays, getting a crash course that has helped him win 16 times in 23 starts. 
Luck is not removed far enough from recalling the challenges of starting early and what his first home start was like.
"Just not getting too down or too excited for certain things, trying to stay consistent, emotionally (was tough)," said Luck.  "I remember I was so pumped even though we lost.
"I do remember my first home start.  It was fun, great energy, a lot of excitement.  But then I think once that ball is snapped, you just go into just playing football mode.  You realize it's the same game you've been playing for a long time."
Luck won on the Sunday Night stage against Denver.  He will be in his fourth career prime-time affair.  Keenum met the NFL's only undefeated team in his career debut, and he feels the growth.
"I really couldn't tell you what all I've learned because it's been exponential over the last two weeks," said Keenum.  "Even game reps (are) learning experience for me."
The man who tabbed Keenum to replace veteran Matt Schaub as Houston tries to end a five-game skid sees young talent.
"I liked him, or I wouldn't have brought him here," said Gary Kubiak.  "He has all the physical ability to do what you need to do in this league to be successful.  
"There is a growth period, which he is going through.  I like his confidence.  That's a very big factor with me.  You can't be successful unless you've got confidence.  He's got a big head start in that direction."