 INDIANAPOLIS –As Oliver Luck remembers it, the football marriage between his son, Andrew, and Jim Harbaugh may have first sparked because of a crawl on a television screen.
"I remember Andrew was a junior in high school and we were watching a game when the news flashed across that Jim Harbaugh was hired by Stanford," said Oliver.  "I remember saying to Andrew, 'Hey, that's kind of interesting.  Stanford offers a great school academically.  Boy, Coach Harbaugh could teach you a little about playing quarterback.' 
"I think it got Andrew to thinking a little bit.  He (eventually) went out there for a (recruiting) trip." 
That fatherly nudge pushed Luck into a terrific situation.  Harbaugh joined Stanford in 2007 after a 14-year NFL career and a 29-6 tenure at the University of San Diego (2004-06).
Harbaugh recalls his first impression of Luck's style.
"The first time I saw him play was a high school game in Houston," said Harbaugh.  "I was sitting with Oliver.  He threw a post route that hit a receiver in stride.  The ball flipped to the free safety, who intercepted it, a freaky play. 
"We turned back and watched Andrew's body language.  It was really impressive.  There was no sign of flinching or pounding or clapping his hands or anything like that.  I remember him going over and talking to the player and patting him on the hip.  That youngster made a couple of nice plays after that.  That always sticks out in my mind.  It speaks volumes about Andrew."
The peek into Luck's psyche was top-notch, as was what Harbaugh saw that night of his physical ability, "Just pinpoint accuracy, great command of the offense, the team, his throws, mechanics."
Luck joined Harbaugh at Stanford in 2008.  In his 2009 redshirt year, Luck opened 12 games and threw for a freshman-record 2,575 yards, hitting 13 TDs.  Stanford went 8-5 and reached the Sun Bowl.
In his second playing season under Harbaugh, Luck threw for 3,338 yards and 32 scores as Stanford went 11-2, and the signal-caller was named the top player in a 40-12 Orange Bowl win over Virginia Tech.
Harbaugh joined San Francisco as head coach in 2011 as Luck played his final collegiate season.  He had 3,517 passing yards, 37 TDs and a 71.3 completion percentage, ending his career with a 31-7 starting record and a BCS appearance against Oklahoma State.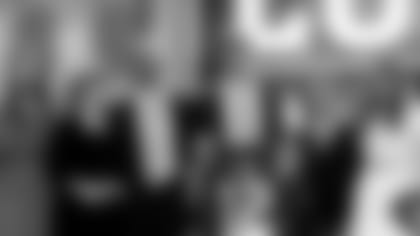 At the Combine podium in 2012, Harbaugh was tight-lipped when asked about Luck being the draft top pick, but he reverted to the glib nature he employed religiously as the Colts' quarterback from 1994-97.
"Have you ever played spades?  It's a trump game.  He's (Luck) holding a lot of aces in a lot of suits."
Harbaugh flashed his trademark smile for approval, and today he said he knew the day would arrive when he would face his former pupil.
"Yes, I knew it would (come)," said Harbaugh.  "I remember thinking, 'That will be a big challenge.'  Like a lot of the players that come out of college football in general, you can identify the really good ones and you figure you'll be playing against them.  That's the way with 31 other teams getting their picks.  As it relates to Andrew Luck, that ended up being the case."
Harbaugh got Stanford on the uptick, and Luck thinks his style was a reason.
"Coach Harbaugh was great in a lot of aspects.  Creating competition was one of the great things he did at Stanford.  The way he created his program, it was competition in everything you do," said Luck.  "I took that to heart as a freshman.  You have to compete at whatever spot you were on the depth chart, if you're red-shirting, if you're the starter.  I tried to carry the ethos with me at Stanford and here."
Not many former NFL quarterbacks enter the coaching ranks.  Harbaugh was weaned on the game by his father, Jack, a long-time coach.  Jim and his brother, John, both caught the bug and faced each other last February in Super Bowl XLVII.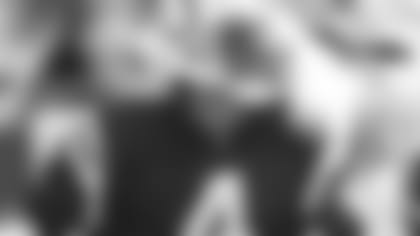 "I'm sure there were a bunch of factors," said Luck of why Harbaugh took this career path.  "I'm sure the DNA from Coach (Jack) Harbaugh (helped).  I'm sure there was a seed that germinated in him.  I'm sure there were complementing factors. 
"You could sort of tell it was a perfect spot for him – a head coach.  He seemed so comfortable in the role.  It's like it was destined to be that way.  (He has) a very competitive spirit.  I think that was the one thing that showed itself first when I got to Stanford." 
Oliver Luck though Harbaugh was great in Andrew's development.
"Jim did a tremendous job.  He really did," said Oliver.  "I think he is one of the best coaches who works with quarterbacks, not a position coach but a guy who can work with quarterbacks.  He is one of the best.  He did a great job with Andrew.  He (Harbaugh) is very talented."  
Luck felt Harbaugh's guiding hand through the varied ways a quarterback must mature.
"He was great, not only playing quarterback but growing up, being a college kid, the on- and off-the field stuff that comes with the position," said Luck.  "I feel very fortunate to have played under him three years.  (I) learned a lot."
Sunday's game brings together a confluence of connections.  Harbaugh faces a team that has placed him in its Ring of Honor.  He represents only the fifth former Colts player Indianapolis has ever met as an opposing head coach, joining Don Shula, Raymond Berry, Ray Perkins and Tom Cable.
Harbaugh and offensive and defensive coordinators Greg Roman and Vic Fangio were with Luck at Stanford.  Colts offensive coordinator Pep Hamilton was hired by Harbaugh at Stanford in 2010, and he was elevated to coordinator when Harbaugh, Roman and Fangio went to the 49ers.  Fangio and Chuck Pagano served together at Baltimore in 2008-09, and Colts defensive coordinator Greg Manusky served in the same role at San Francisco (2007-10) prior to Harbaugh's arrival. 
None of this bothers Luck.
"It (his relationship) doesn't concern me this Sunday.  Their defense concerns me," said Luck.  "It's good enough that you don't worry about anything else.  He definitely helped getting me on the right path to being a pro quarterback."
Pagano respects Sunday's counterpart and does not worry overly about the connections that may or may not come into play.
"I love Jim.  He's one heck of a football coach," said Pagano.  "He's a great competitor.  He played this game at a high level for a long time.  He's a really good person and football coach.  I'm glad I had time to spend with all the Harbaughs – Jack, Jim, John – all good people.
"It (the familiarity) can go both ways.  Vic and I worked together.  Pep (Hamilton) was out there (Stanford) with those guys (Harbaugh, Fangio, Roman).  It goes hand-in-hand.  They have some intel.  We have some intel.  We have the same intel.  There's crossover everywhere with that. 
"(Harbaugh) knows the kid (Luck) very well, obviously.  He knows his strengths.  If he has any weaknesses, I'm sure he will try to exploit those, if there are any."
Harbaugh played the same card, "I suppose there's a possibility of (familiarity having an impact).  From our point of view, we're familiar with Andrew, very familiar with him.  It doesn't help you a lot.  There are no weaknesses.  It just keeps you up at night thinking about the possibilities."
PRACTICE REPORT – Did not participate:  TE-Dwayne Allen (hip), LB-Pat Angerer (knee), S-Antoine Bethea (toe), S-LaRon Landry (ankle); Limited participation:  WR-T.Y. Hilton (groin), WR-David Reed (quadriceps); Full participation:  LB-Kavell Conner (ankle), WR-Darrius Heyward-Bey (ribs), C-Samson Satele (elbow), WR-Reggie Wayne (shoulder).