 ](http://careyindiana.com)
INDIANAPOLIS – Standing at the same podium where he was first introduced locally in April of 2012, Andrew Luck could have been excused if he took personal notice of the Colts' 39-33 victory over Denver.
Doing so would be totally out of character, even if some say this was a signature win.
"Any time we've had a win, it's been a total team effort," said Luck.  "Certain people may make it one person versus another person, but it's never that way.  It really isn't. 
"What great all three phases of football to get this one.  We love football because it's a team game."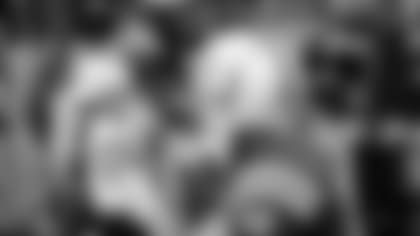 Luck kept focus this week when noise all around him portrayed the storyline of him going against Peyton Manning, a player whom Jim Irsay called this week the greatest Indianapolis Colt ever.
Luck was taken first overall in 2012 when Manning departed the team, and the second-year quarterback has focused only on being himself.
Luck has helped the club to a 10-2 home record and to 16 wins in 23 outings, yet he is Schembechler-like it keeping focus on the entire squad.
"I'm proud of the guys for just working, trusting the process, not getting caught up in the (noise) surrounding it.  We just worked," said Luck.  "We had a great football team coming in here.  We couldn't let other things distract us, or else they would expose us.  
"We have great veteran leadership.  Robert Mathis, Reggie Wayne, (they) set the tone.  We just follow them.  It managed to work tonight."
Manning rightly was greeted warmly by the 67,196 in attendance in pre-game moments and he opened the scoring with a touchdown pass less than seven minutes into the game.
While Manning, 29-of-49 for 386 yards with three touchdowns and an interception, guided Denver from behind to a 14-10 advantage early in the second quarter, Luck hummed along by tossing three first-half scoring passes as the Colts earned a 26-14 halftime lead.
Luck, 21-of-38 for 228 yards, had a stellar opening 30 minutes.  He was 16-of-25 for 199 yards at intermission, and his 11-yard run on third-and-11 with 7:32 left in the second quarter triggered a touchdown drive that put the Colts ahead to stay.
After converting that first down, Luck then hit Stanley Havili on a 20-yard touchdown.  He punctuated the first half with an eight-yard scoring pass to Coby Fleener with 15 seconds left in the half.
"Zero, zero," said Chuck Pagano about how much pressure Luck put on himself this week.  "About the same amount he put on here when he signed his first contract, which was none.
"I thought he played really well.  When I came in at halftime and looked at the stats, I think he had three touchdown passes at half, if I'm not mistaken (and a) 128-something QB rating."
After Indianapolis punted twice and Denver three times to open the second half, Luck moved the Colts for a 33-14 lead.  The final 10 yards of the drive came on Luck's scramble.  It was his third rushing score this year, the eighth for his career.
"We knew we needed points," said Luck.  "We did a good job of mixing run and pass.  Reggie made a heckuva catch on that drive, a couple of guys did as well.  I managed to run it into the end zone.  Good job by the offensive line all day against a very physical, good front seven.  That was a big drive to get points."
After Denver cut the margin to 33-17, Luck immediately conducted a field goal drive to re-establish the margin.  After Manning had two touchdown passes to get Denver within 36-30 with 8:49 to go, Indianapolis intercepted Manning and Adam Vinatieri's 42-yard field goal with 6:02 remaining provided a two-score margin.
Luck hit seven different receivers, finding Darrius Heyward-Bey (11) in addition to Fleener and Havili for scores.  He had 29 rushing yards as the Colts produced 121 on the night.  Indianapolis limited Denver to 64 yards on 20 rushes.
INJURIES – Reggie Wayne suffered a sprained knee and will undergo evaluation…the injury occurred in the fourth quarter when Wayne and Luck failed to click on a third-and-one play…"It stinks to the nth degree," said Luck.  "I put a lot of blame on myself for missing him.  I don't think there was anybody within a square mile of him.  I missed it.  We hope for the best."…Samson Satele (bone bruise), Josh Gordy (groin), Darius Butler (groin), Mario Harvey (hamstring), Cam Johnson (ankle) were injured.  "We had a ton of guys suck it up, find a way," said Pagano.
COLTS NOTES – Indianapolis' NFL-record 23-game winning streak earned from 2008-09 remains safe since the win snapped Denver's 17-game winning streak dating back to last year…Stanley Havili became the first Colts FB with a touchdown reception since Luke Lawton snared one from Peyton Manning on 12/2/07…the Colts have not dropped consecutive games under Pagano, out-scoring opponents 176-126 in coming back after seven losses…the Colts reach the bye with a two-game lead over Tennessee (3-4) in the AFC South, and Indianapolis has owned or shared the division pace six-of-seven weeks…Robert Mathis had 2.0 sacks, and one resulted in a safety, the first for the Colts since 2007…the Colts are 10-2 at home under Pagano…the Colts were able to sack Manning four times on 53 pass calls after he entered the game with but five sacks on 245 pass calls in the first six games…the Colts moved to 9-0 under Pagano when rushing 30-plus times…Wayne participated in a 132nd regular-season victory, tying John Unitas and Jeff Saturday for 2nd-most in franchise history behind Manning (141).