 ](http://careyindiana.com)
INDIANAPOLIS – Andrew Luck has shared the playing field already with Robert Griffin, Ryan Tannehill and Brandon Weeden, and this Sunday provides the chance to occupy it with another 2012 quarterback draft class alumnus – Russell Wilson.
Both Indianapolis and Seattle have prospered greatly with their choices, but Luck knows this is not head-to-head competition.
"It's the defense that goes up against the quarterbacks," kidded Luck.  "I'm never on the field at the same time as them."
Luck (first overall) and Wilson (third round, 75th overall) are more intent on competition than comparison, and their numbers to date place them among the most successful young quarterbacks ever – far beyond just the 2012 class.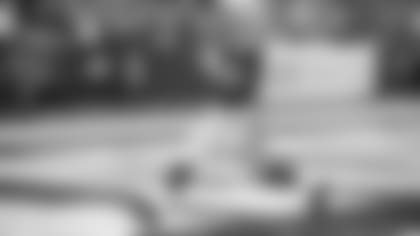 This year, Luck has hit 82-of-128 passes for 918 yards and five touchdowns, rushing 16 times for 126 yards (7.9 avg.) and two more scores.  He now has 5,292 career yards and 28 TDs, along with 381 rushing yards and seven scores, leading the Colts to 14 wins in 20 regular-season games. 
That victory total ties him with John Elway for the most earned an NFL top pick in the first 20 games of a career.
Wilson earned a bit of history by throwing for 26 touchdowns in 2012, tying Peyton Manning's rookie mark for most ever.  He has guided Seattle to its first 4-0 start and to wins in nine straight regular-season games.
MOST TOUCHDOWN PASSES BY ROOKIE QB
MOST ROOKIE STARTING VICTORIES IN A SEASON
In his last 12 outings, Wilson is 11-1 with a 111.7 rating forged on 182 completions in 279 attempts for 2,439 yards, with 22 touchdowns and five interceptions. 
Luck has upped his completion percentage dramatically from 2012 (64.1 from 54.1), and he has benefited from a rushing attack that is operating at a 4.9 clip and 149.5 average. 
Their challenges Sunday will be defenses that are holding their own in 2013. 
The Colts have given up 10 points in the last two games, putting a net on San Francisco's varied offensive attack and shutting down Jacksonville's Maurice Jones-Drew (13 rushes, 23 yards). 
Wilson (27 rushes, 131 yards) is a mobile quarterback like the Colts have faced in Oakland's Terrelle Pryor and the 49ers' Colin Kaepernick.
"He's (Wilson) a dual-threat," said Antoine Bethea.  "He can make plays with his legs.  He most definitely can make all the throws.  He can make all the throws a little bit better than the previous two guys.  He's a great quarterback and he leads their offense well."
Chuck Pagano knows Wilson will provide a two-pronged challenge to his defense that ranks fourth in the league in points allowed.
"(Wilson) is a top level starter in this league.  He's a proven winner," said Pagano.  "He's got an NFL arm, he can make all the throws, great presence, great command, never shaken, athletic as all get out, and his ability to extend plays scares the heck out of you.
"He is a tremendous athlete and a tremendous quarterback.  He's sharp as a tack."
Luck will try to inflict damage on a Seattle defense giving up 11.8 points a game while holding opposing quarterbacks to a league-low 60.7 rating.  A former Stanford teammate, Seattle receiver Doug Baldwin, knows all about Luck.
"Andrew can be the greatest quarterback who ever played the game of football," said Baldwin.  "I've seen him do some unbelievable things that I still can't believe a quarterback was able to do.  He's everything you would want in a quarterback, both as a pocket passer and a guy who can make plays with his legs.  He's highly intelligent.
"They're (Luck and Wilson) both very good quarterbacks.  They're both highly intelligent, both make plays with their feet and both have great arms."
Luck admits keeping an eye on class members and rooting for them until games like Sunday's occur.  Wilson is the same where personal moments are eclipsed by team goals.
"To be able to play against Andrew Luck, it's going to be a fun game.  I have a lot of respect for him and how he plays the game," said Wilson.  "I think this quarterback class is going to be really, really good one day.  Our goal is to be one of the best quarterback classes to ever play the game.  We have a long ways to go. 
"For me, we're playing the Indianapolis Colts.  We're trying to find a way to go into a very tough environment.  We're going to have to play our best football.  That's the challenge for us this week.  We're going to have to play a great football game."