 ANDERSON – Vick Ballard is starting his second year with the Colts.  With training camp underway, Colts.com catches up with him.
Most fun thing I did during the summer – I went to King's Island a couple of weeks ago and rode the rides.  It was my first time going to an amusement park since I was about 10.  It was fun.  I rode everything.  I paid for three people to go, so I made sure to get my money's worth.  We got on every ride.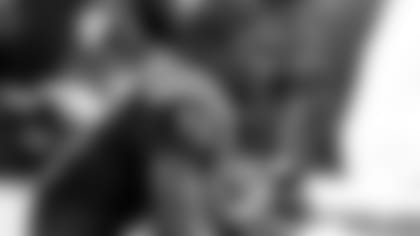 Teammate I expect to have a great camp and why– T.Y. Hilton, because he showed a whole lot last year and it was the foundation for the rest of his career.  He's going keep building and building once he gets comfortable with the offense and his game.  His growth potential is great.
What I want to accomplish in camp – I want to get the system down.  I feel it's a little more dynamic than last year.  It's going to take more studying and being in my playbook so I'm ready for week one.  It's an offense that can fit me.  Coming into the NFL from Mississippi State, our bread and butter was gap schemes.  I feel like we're going to utilize that here.  That's my type of running.
Toughest thing about training camp – Just the grind, the long days is the toughest thing.  You wake up early around 7:00 a.m. and don't get back to the room until around 9:00 p.m.  Just the grind and the routine of camp are tough.  There's no way around it.
Most fun thing about training camp – One of the fun things is making the rookies sing.  I got away with it last year because I didn't have to sing.  When my time came up, we were breaking training camp.  I didn't have to do it.  Just watching the other guys sing, they made themselves look (silly).  It was pretty funny.  I would have fit in with those guys.  I'm definitely not a singer.
What you know now about training camp that you didn't as a rookie – I had heard rumors that it was a little bit easier.  I also didn't know we got paid and that we got a day off.  Those two things took a load off me.  Even if I was to get cut last year, I'd have a little money in my pocket.  The day off was big.  In college, you went every day, and every other day was two-a-days.  Having a day off means a whole lot.
Best advice you received before entering the NFL and who gave it to you** – "It was to learn how to say the word, "No."  All of the sudden at lot of people are liking you on Facebook, like, 'What's up, cuz?  How have you been?'  You don't give your number out.  I didn't believe it at first.  Now, I see first-hand you have to learn to say, "No." It was a couple of people who taught me that.  One was D.T. (David Thornton, the Colts' director of player engagement).  I heard it at the Rookie Symposium.  They educated us on how to handle it.  It's a tough thing to do, especially when it's the family you know."
The perfect meal is – I'm not really a picky eater.  I'm not going to say any meal is perfect.  As long as I'm eating for free, it doesn't matter what I'm eating.
Who are the teammates you eat most often with in training camp and why** – Most of the time, I eat with my position group.  I guess we're used to being around each other.  We talk about everything.  We sit down and see a dude at another table, we have him sit down with us.  We're together so much.  We talk about everything from football to girls, you name it.  Whatever guys talk about, that's what we do.  Last year, I was nervous.  Sitting down and talking with the guys calmed me down.  
What is the most challenging drill for you in camp and why – I'd say when I'm pass-blocking the linebackers.  There are no reads, no offensive linemen, it's just you and the linebackers.  You have to stop them from getting to the quarterback.  It's pretty tough.
Who was the NFL player you wanted to meet the most before you made the league and why – It was **Clinton Portis (click for video)**.  When I was younger, he was one of my favorite running backs and still is even though he's not playing anymore.  I wore number 26 for him.  He was another Mississippi native and grew up about two hours where I was from.  I followed him throughout his career.  I remember him with both Denver and Washington.