 ANDERSON – Tom McMahon is starting his first year with the Colts.  With training camp underway, Colts.com catches up with him.
What is your favorite road stadium to play in and why – I liked playing in Oakland.  The fans come up with great one-liners about my height.
What is your most memorable career game and why – It was the 1987 Montana State Championship Game when we defeated Butte High School.  We told each other that our four-year journey would end with a championship, and it did.
What is the most memorable game of your coaching career and why – It was in 2008 when I was with Atlanta and we were playing Chicago.  We were down by one point with 11 seconds left and Chicago kicked off.  Three plays later, Jason Elam kicked the winning field goal from 48 yards out.  It was a great example of situational football.
What is your most memorable road win** – It was last year when I was with Kansas City and we played at New Orleans.  Ryan Succop hit his sixth field goal, a game-winner in overtime.  We were down by 18 points in second half and came back to win.  He tied the game with three seconds left with his fifth field goal.
What is the hardest thing about playing on the road – Wind and weather and how it affects the kicking game outdoors in some stadiums is the hardest thing in my opinion.
What is the most fun thing about training camp – It's football all day, every day. 
What is the toughest thing about training camp – I miss my wife, Kim, and the kids.
If you could pick three people to share a meal with, who would they be and why would you include them – I would pick Jesus Christ to thank him for being our Savior.  Also, Steve McMahon, a brother who died before I was born to introduce him to my family.  The other is my wife, Kim.
If you could pick one historical figure to meet, who would it be – Martin Luther King.  He covered the kick of life with extreme courage.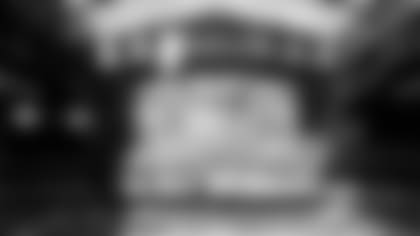 What are the most memorable stadiums your career has taken you to and why are they memorable – Lucas Oil will be the most memorable because I believe this organization will win another Super Bowl under Coach Pagano.
What is your all-time favorite stadium (not necessarily in the NFL) and why – It's Vigilante Stadium Helena, Montana.  I played in over 35 games there in my career between college and high school.
What is the greatest sporting event or individual performance outside the NFL that you saw in person – Those are my children's games week in and week out.
What was your favorite team growing up and why – The Dallas Cowboys because my younger brother liked the Redskins.
Who was your favorite NFL player growing up and why – **Randy White**, number 54, the defensive tackle of the Cowboys because he played with great effort, toughs and played through injuries.  He had consistent accountability to his teammates, period.
Do you have a favorite quote?  If so, what is it and why does it mean something to you – Mine is from Dick Fryhover, a family friend, "We were all given a brush at birth to paint the picture we want our life to be…pack your brush each morning and paint it." 
Who played the biggest role in you starting your career – Coach Bob Petrino, Sr., my former head football coach at Carroll College.
Who played the biggest role in you reaching the NFL (if different than above) – My wife, Kim McMahon.