 INDIANAPOLIS – Matt Hasselbeck is starting his first year with the Colts, his 15th in the NFL.  With training camp underway, Colts.com catches up with him.
Most fun thing I did during the summer – In Indiana, the most fun thing was I was invited on stage by Tim McGraw and throw footballs into the crowd.  Some teammates and I did that.  My best vacation was to the Bahamas.  Ironically, it was where I was when I got released (by Tennessee) and signed by the Colts.  Those were the two highlights.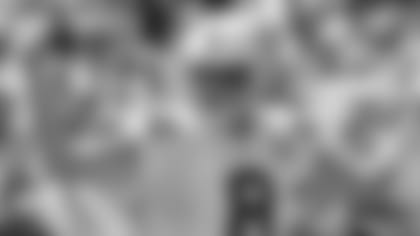 Teammate I expect to have a great camp and why – There are some guys who are impressive to me.  I think T.Y. Hilton![](/team/roster/ty-hilton/1bfc81a4-87be-4e0e-bc21-25099996be55/ "T.Y. Hilton") (click here for video) can be really special as a receiver, and I've been around a lot of receivers.  He's a guy I see who could be poised to break out.  He has the guys around him.  I think Dwayne Allen is a really good football player.  There's nothing I see that he's not good at.
Song(s) and artist(s) I listened to the most this summer – My artists were Luke Bryan, Ed Church, Jeremy Camp, Third Day.  The favorite book I read, and I re-read it this summer, is 'Unbroken,' the about the story of Louis Zamperini in World War II by Laura Hillenbrand.  
What I want to accomplish in camp – I have a list of three things I try to work on in every practice.  Unfortunately, I'm behind in the learning curve, so I'm putting five things on the sheet.  Some common ones are always having two hands on the ball when moving around in the pocket, mixing up different cadences at the line of scrimmage to give our guys on the line an advantage and mastering calling out the plays.  Right now, I'm saying the plays in the huddle properly, but I don't know I'm saying it with a lot of confidence.  It's two different things.  I want to hone it.
Toughest thing about training camp – To me, it's throwing twice in one day.  Your arm (laughs), you train all off-season for the season and you get muscle memory to throw once a day.  It would be like a pitcher in baseball going out and throwing a double-header.  You'd go out for the second game and your body would say to you, 'No.  What are you doing?'
Most fun thing about training camp – The camaraderie with the guys and feeling like you're in college again.  That's the most exciting thing about camp, the bonding.
Best advice you received before entering the NFL and who gave it to you** – I received so much good advice, from little things to very, very important things.  One thing my dad, Don, told me at a young age that has held true was, "Never walk on the football field."  That's just something you don't do.  If you're walking from drill-to-drill, you're wrong.  It's something that is a little thing, but it matters to coaches.  There's something with body language, just with the tempo of a practice.  That's something small, I guess, but it matters.
The perfect meal is – I love to eat, but lately I've been more attuned to being healthy.  What I do now is try to make half my plate plant and half my plate animal.  My favorite ice cream is Graeter's, which I think is made in Cincinnati, Ohio.  It was really a special thing to have when I lived in Seattle or Green Bay.  When I moved to Nashville, you could get it at the grocery store.  I had to walk away from that.  It was too dangerous.
What is the most challenging drill for you in camp and why – It's the Machine Gun drill, which is a warm-up before the warm-up drill.  It takes your breath away.  I'd rather run a mile conditioning-wise.  I think that would be easier than the Machine Gun Drill (click here for video of Hasselbeck and Chandler Harnish![](/team/roster/chandler-harnish/78a06e15-7071-471d-86ca-2eca8d8e8029/ "Chandler Harnish") settling a jersey number).
Who was the NFL player you wanted to meet the most before you made the league and why – It was John Elway.  He was my favorite quarterback growing up.  He was the guy I wanted to meet.  I actually met him at the Rookie Symposium.  I was surprised how big he was.  He was a big dude.