 ](http://careyindiana.com)
INDIANAPOLIS – After last week's 27-24 win at Houston, Chuck Pagano and Andrew Luck both identified Pep Hamilton as the reason the team went up-tempo and pass heavy in the second half.
It was a two-quarter decision based on a predicament – an 18-point deficit – not an alteration of philosophy that has kept Indianapolis rooted in balance for eight games.
"The scoreboard somewhat dictated our decision to do what we felt like we needed to do to score points and score points fast," said Hamilton.  "We ran the ball extremely well.  We had to open it up some to score some points and finish the game off."
In doing so, the Colts finished off a third comeback effort this season and a 10th under Luck, but Hamilton cautioned against thinking 40-plus attempt games is the new norm.
"Oh no, we want to do whatever we need to do to get first downs and score touchdowns," said Hamilton.  "We don't go into a game with the expectations of running the ball more than we throw the ball or vice versa.
"A big part of what we have to do schematically is consider what they're doing and then make the appropriate adjustments.  We'll continue to take that approach."
That approach is a reason why opponents have trouble distinguishing tendencies with the offense.
"He's able to put our guys in the best possible position," said Chuck Pagano.  "He's great with setting things up to where we can kind of dictate what we're going to get and what we want to see in the looks that we want to get our opponent in, make sure we dictate tempo and that the defense doesn't dictate tempo to us.
"He does a great job of mixing personnel groups, staying balanced from a formation, personnel (and) down-and-distance standpoint.  If you self-scout us, it's hard to try and get a beat on us from a tendency standpoint."
An offense that seeks "can-do" from every player hit a tight end and fullback for touchdowns against Denver – a first for the franchise in six years.
Indianapolis is averaging 26.8 points a game, while rushing 25-plus times in six games, completing 58 percent of its passes and owning a 13-3 edge in touchdown passes-to-interceptions.  Three interceptions by the Colts are the fewest of any team.
Hamilton's job has been made difficult with personnel upheaval.  Dwayne Allen's loss to injury after the opener took a valued component from the attack.  Days later in practice, top back Vick Ballard suffered a non-contact knee injury and was gone for the year. 
Guard Donald Thomas exited for the year early in the second game, and Ahmad Bradshaw departed a week later with a neck injury.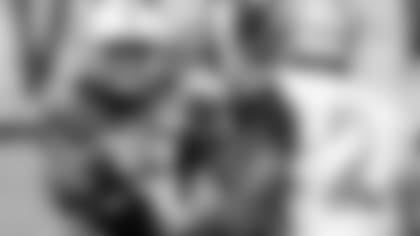 The in-season trade of Trent Richardson has been an adaptation process for all parties, along with the return of LaVon Brazill off suspension after four games.  Compounding those situations, plus having multiple offensive line configurations, Reggie Wayne (knee) was lost for the year two weeks ago.
Hamilton will keep working to incorporate Richardson into more situations that accentuate his talent.  As for the receivers without Wayne, he will look for the committee approach.
"Andrew has done a pretty good job of distributing the ball to different guys," said Hamilton. "That's a big part of our system and approach.  Defensively, they can't zero in on one guy and scheme up a way to take that one guy away.  Those guys (are) up to the challenge.  They made plays throughout the (Houston) game."
NEW DAY JOB –Hamilton was able to employ Reggie Wayne in a new vein last Sunday at Houston.  Out after hurting his knee against Denver, Wayne assisted the coaching staff with expertise gained over the years.
"In between series, I would pass over the picture book and ask his opinion," said Hamilton. "During the series he had a job.  His job was to watch their slot coverage and then give me feedback, give myself and Andrew (Luck) feedback in between series.  Reggie loves this game. He loves the horseshoe.  He was into it, now.  It's awesome that he's still around, even under the circumstances."
RICHARDSON PRACTICES –Trent Richardson went through the whole Friday practice after missing two day's work with a swollen ankle.  Pagano said Richardson will be used every way possible in a contest that falls between divisional battles with Houston and Tennessee.  The Colts visit Tennessee next Thursday, meaning a short week. 
"We're going to do whatever we have to do to win on Sunday," said Pagano.  "Thursday doesn't (matter).  We're worried about one thing and one thing only, that's the Rams."
Earlier this week Pagano and Hamilton spoke about finding ways to get Richardson the ball to let him thrive.  He has four receptions for a 13.0 average, including a 24-yard reception on the go-ahead drive at Houston.
Richardson claims he "heal(s) like a wolverine" and will do whatever is offered.  He says he has learned a great deal of the passing game which involves about 200 route concepts.
"Most definitely.  They didn't bring me in to sit down," said Richardson.  "I have about everything down.  That's very hard to do.  I don't care who you are, you need more than two or three months to learn the whole system. 
"I am impressing myself a lot by knowing most of what I know now.  You have to be patient, keep trusting.  When it (a breakout performance) happens, don't be surprised.  Don't be caught off guard when it happens."
PRACTICE REPORT – Did not participate:  NT-Josh Chapman (knee), CB-Josh Gordy (groin), S-Delano Howell (neck), CB-Greg Toler (groin); Full Participation:  Darrius Heyward-Bey (hamstring), LB-Cam Johnson (knee), LB-Robert Mathis (shoulder), RB-Trent Richardson (ankle), G-Hugh Thornton (calf).
INJURY REPORT – Out:  Chapman, Gordy, Howell, Toler; Questionable:  Richardson, Thornton; Probable:  Heyward-Bey, Johnson, Mathis.