 INDIANAPOLIS – Griff Whalen is determination and grit wrapped in a 5-11, 198-pound package.
The prep quarterback and safety walked on as a safety at Stanford, moving to running back then receiver before playing.  He then worked his way up among 10 targets to become a reliable target in the Cardinal offense.
Now in his third Colts season, Whalen is jostling among a talent receiving corps to hopefully extend his time in Indianapolis.
Has it always been that uphill fight?
"Yeah, I think so," said Andrew Luck.  "He's always been the underdog and probably always will be, but his attitude more than makes up for that."
Luck said Whalen has "always done a lot of things well," citing here, in part, his mental ability to absorb nuances of the offense while hurt as a rookie.
In 2013 training camp, Chuck Pagano continually credited Whalen for doing little things that made himself appealing to the coaches.
He played in three three-game stretches last year, making the team before serving a practice squad stint and then starting the in final stages of the season and in one-of-two playoff outings.
With OTA work in its second week, Whalen is full-go trying to beat the numbers again.
"Our group has a ton of competition right now," said Whalen.  "It's been good for us so far. We're all pushing each other.
"You can't really take a day off or anything.  We're pushing each other to get better, and I think we're all getting a lot better because of it."
Whalen had 24 receptions for two touchdowns in 2013, while also finding time on specialty units – again, being able and available.
"I was glad I was able to contribute.  I got to do some special teams, some coverage and punt returns.  I stepped up on offense, too.  I felt I ended the season on a strong note."
Whalen, LaVon Brazill and Da'Rick Rogers all found playing time available when Reggie Wayne suffered a mid-season knee injury.
Luck developed the chemistry with Brazill and Rogers he had honed with "the Griffer" at Stanford. 
They are joined by first-year Colts Hakeem Nicks and Donte Moncrief.  Wayne and T.Y. Hilton are among 11 receivers on roster. 
Teams roughly carry half that total during the season.
The Colts are in a second season in Pep Hamilton's offense, one that Whalen says he is almost as familiar with as the back of his hand.    
"We're always adding new stuff, but it's easy to learn one or two new things as opposed to a whole new playbook," said Whalen.  "We're (the offense) making a ton of improvements because we don't have that whole mental hurdle to get over of trying to learn something new.
"We already know it and we can kind of just go out there and do it, work on the details and get better at those."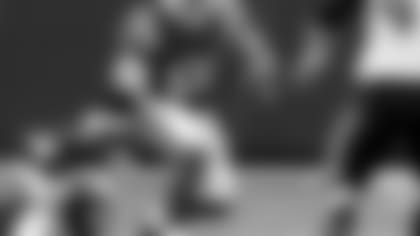 Whalen never has neglected any aspect of preparation, be it the practice field or meeting rooms.  He is a meticulous worker also in conditioning.
"I feel stronger, faster, better overall.  I can feel the difference on the field," said Whalen.  "During the off-season, I've been working on that.  During the workouts, I think it's showing up. 
"The weight room is really important.  There are different aspects that are important.  It changes as you go along from building your base strength, and there's a lot of stability work to help prevent injury."
As one-of-eight true freshmen who saw the field at Stanford, Whalen finished as a 1,000-yard career performer.  He exited with 749 reception yards in 2011, the school's top gainer.
It is a yearly battle for every player, not just Whalen.  In week two of OTAs, he is trying to establish relevance that must be earned by the day.
"I'm in the best shape I've ever been in.  I feel really good," said Whalen.  "I'm comfortable with the system and have been through it for several years now. 
"It's gone well.  There's a lot of competition.  Top-to-bottom we have a solid group, a lot of depth, a lot of guys who know what they're doing, have made big plays (and) know how to make big plays.  It's exciting to have this much depth.  It's been going great."