 ](http://careyindiana.com)
INDIANAPOLIS – Wanting a bookend to Vontae Davis at cornerback, the Colts signed Greg Toler to man the left slot on the first day of last year's free agency period.
Toler paid obvious dividends through seven starts before a groin injury altered the last half of the season.
Subbing in the last two games and starting against Kansas City, Toler had to give up the fight and have his injury repaired. 
"I had surgery after the season," said Toler.  "The doctor wondered how I was still playing.  The coaches thought I did a good job of trying to fight through it.  I've always been that guy.  I was trying to work through the pain because I wanted to be out there.  We were going through the post-season push."
Toler was not able to get through the first half against the Chiefs.  He missed the New England game with the injury, the nature of which is not historically related to football, and is anxious to return.
"The doctor recommended surgery to get it behind me because (he thought) the rest of my body looked good from previous injuries," said Toler.  "Now, I'm just rehabbing.  I'm staying around the game, still watching film so I can be ready to contribute."
Toler's impact was obvious.  A slick preseason interception in man coverage at New York set up a Colts score.  An end zone theft on Oakland's opening drive in week one halted a score. 
Toler defensed seven passes while healthy, but it was the inactivity that bothered him.
"It was feeling like I wasn't being accountable," said Toler.  "You wanted to be on the field with your brothers.  I wanted to be out there making plays the way I can.  It was frustrating going through the process, taking it day-by-day and trying so hard to get back."
Toler says he never has played in a "stacked" secondary like he has found in Indianapolis, one where defenders work hard in practice and push each other on and off the field.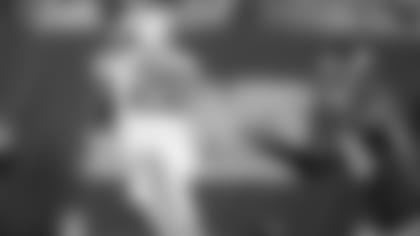 After excelling in 2010 (64 tackles, nine passes defensed, two interceptions, one TD) at Arizona and playing in 38 games there since 2009, Toler wanted to stamp himself quickly with the Colts.
"I told myself when I came here I was going to be a new and improved player," said Toler.  "I wanted to change my game and make everyone around me better.  I tried to do that by being vocal and executing plays that came my way. 
"When I went down, I felt I was letting the guys down.  I got down on myself, but it's a great group of guys, 'Man sharpens man, iron sharpens iron.'  Being injured, guys made sure I stayed around the game and kept the love for it."
Toler says he is very difficult on himself, but the camaraderie among unit mates helped during the rough stretch.
"When I got hurt, Antoine Bethea said, 'You're being hard on yourself,' " said Toler.  "I know what I'm capable of, and I'm trying to get back to what I did in 2010. 
"He'd kid me, 'You're like a Lamborghini.  When a Lamborghini has some (issues), you have to get it tuned up.'  I'm my biggest critic.  I try not to be too hard on myself."
Though Toler gave a peek of his talents, he wants to provide fans a larger volume of work in 2014.
"I don't think they've seen (my) best, honestly," said Toler.  "I just have to get back to staying 100 percent (healthy). 
"I know my 16 games against any corner in the league's 16 games, it'd be a good job.  As a unit, I want to show the fans we can get it done.  We can be one of the best secondaries.  We were proving it early in the year.  We have to stay consistent."
Part of his motivation comes from having a coach who sharpens players through specific tutelage.  The Pagano method is an instructive one.
"Coach Pagano has really broken me down to studying film," said Toler.  "Coming into the league, I was such an athlete.  Sometimes you thought you could go out and do your job because you were athletic, but 90 percent of the game is mental. 
"Coach Pagano having played this game is still hands on.  He always comes over and watches us, 'Greg, what is this?  Get up to the ball.'  I like that.   There's no favoritism or hiding your veteran players.  He's holding us accountable as much as he's doing it with the rookies.  I got better with that."
The self-judging Toler still will analyze himself, but he finds himself in a positive setting.
"I love it, the team culture, the city, the fans," said Toler.  "I'm not just saying that, but I'm truly happy I made the decision (to come here). 
"It's truly humbling to play for a team that from Coach Pagano on down has a good chemistry.  It makes you want to come to work."
COLTS NEWS – The Colts have signed OLB-Justin Hickman, an exclusive rights FA who played in 12 games in 2012 and spent last season on IR.  Indianapolis also promoted Brad White to assistant LB Coach.  White spent the last two seasons as the team's defensive quality control coach.  The Colts also agreed to terms with Fili Moala.  Moala tied a career-high with 26 tackles last year, plus had 1.5 sacks, one pass defensed and one fumble recovery while starting six of 16 games.  Moala has started 45-of-64 games and has 112 tackles and 3.5 sacks since being a second-round pick in 2009.