 ](http://careyindiana.com)
INDIANAPOLIS – Almost to a man, Colts defenders said year two in the club's 3-4 defense would mean better performances because the system would be more familiar.
To help stack those odds, Indianapolis dipped into the free agency market to land tackles Aubrayo Franklin and Ricky Jean Francois to go along with components like Cory Redding who were versed in the attack.
Other added pieces to bolster the unit were linebackers Erik Walden and Kelvin Sheppard, along with safety LaRon Landry and cornerback Greg Toler.
On-lookers were not skeptical of the outlook, but after the departure of Dwight Freeney some wondered where pressure on the opposing quarterback would come outside of Robert Mathis, who was manning Freeney's previous role in the scheme.
Through three games, one prominent answer is Jerrell Freeman.
"He's a good athlete.  He studies the game, he works hard, he can run," said Chuck Pagano, who along with Greg Manusky oversees the unit's development.  "He's got intangibles.  The guy's got instincts.  He knows probably what's coming before it comes."
Freeman was not a one-hit wonder last season in making the NFL after a stop in the CFL.  He was a 203-hit dervish who topped the team in tackles in 13 outings on the way to recording only the second 200-plus tackle season in the club's Indianapolis era.
Freeman scored a touchdown in his very first game – a four-yard interception return – that made him the league's first undrafted player since 1987 to pull the feat in a career debut.
His fluency last year was a boost to the installed scheme and through three games this year, Freeman has kept trucking.
Freeman has a team-leading 29 tackles, and his 23 solo stops also pace the defense.  This past week, Indianapolis throttled San Francisco, 27-7, with the defense having five three-and-outs and limiting the 49ers to 163 net yards on 10 non-scoring drives.  San Francisco's touchdown march covered 91 yards and after rushing for 78 on the drive, the Colts held the 49ers to 28 ground yards afterward.
"I think we're getting used to each other.  We're gelling together a lot more," said Freeman. "We're trusting everything on the field, whether it's the person next to you, whether it's the call. We're just going out there and playing the call to the best of our ability."
While Freeman is not the lone reason the Colts have shaved 33 yards per game from last year's average and are allowing eight points less per outing, he is a key contributor.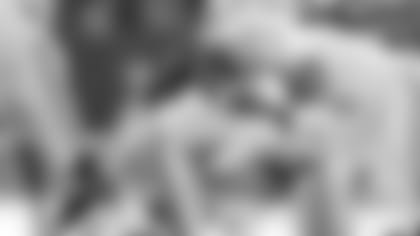 Freeman has been on the field at least 53 defensive snaps in each game, with his lowest participation rate being 83 percent against Miami.
"He's effective both in coverage.  He's effective in the run game and when we do blitz, he finds a way to get to the quarterback, so he's got a knack for that," said Pagano.
It is that knack that is noteworthy for a Colts linebacker.
Freeman had two sacks and a forced fumble against Miami.  His strip-sack of Ryan Tannehill set up a go-ahead third-quarter score, and his second one on the next possession made him only the fourth undrafted free agent Indianapolis Colt to produce a multiple-sack game.
In addition to hauling Colin Kaepernick down for a five-yard loss last Sunday, Freeman had a fourth-quarter strip-sack at the 49ers' eight that set up the Colts' final touchdown that provided the first 20-point road win since 2009. 
It made Freeman the first Colts linebacker other than Dwight Freeney or Robert Mathis to have sacks in consecutive games since 2004, when Rob Morris turned the feat.
"It's just making the most of an opportunity," said Freeman of his 3.0 sacks that rank behind Mathis' 4.5.  "Guys up front, my other linebackers blitzing in and doing their thing, they're doing all that work.  The least I can do is make a play when I get the opportunity.  It's just the opportunity presented itself and I'm making the play."
The humble nature comes from the first-ever NFL player from Mary Hardin-Baylor.  The sacks are one matter, but his two strips have helped the Colts reverse a minus-12 turnover ratio last year to plus-four, the NFL's fifth-best mark.
"We just try to get turnovers.  Try to make a difference out there.  That's what we preach," said Freeman.  "Last year, we wanted to do more with the turnover battle, and I think we're at plus-four now.
"We still got to try to get those turnovers.  It's a big thing.  Get old Andy (Andrew Luck) the ball over there, and I think we'll be pretty good."