 ](http://careyindiana.com/)
INDIANAPOLIS –During the Colts bye week last season, general manager Ryan Grigson brought Darius Butler into his office and handed the free agent cornerback his 2009 draft evaluation.
Grigson wanted to show Butler why he thought highly of the Connecticut product and why he became a second round draft pick.
That message resonated with Butler and he became a key component in an improved Colts secondary, by intercepting four passes in 11 games with Indianapolis.
The pages of Grigson's past college scouting notebooks were once again opened, this time when assessing new free agent signee Lawrence Sidbury.
"Coming out of school (Richmond) he had great measurables," Grigson said of Sidbury. "He's 6'3, 270, 35" arms, ran a 4.53 at the combine. I was at his pro day and I always thought, 'Boy when is this guy going to show up?'
"I think that the arrow is up on Lawrence. I think it's going to take some time for him to learn the scheme since he's primarily been in a 4-3 but I think he's a good fit. It's up to him, it's all out in front of him and he definitely has the measurables and the flashes on film of a guy that could put it all together and really do well in this scheme so we'll see."
Sidbury played in 48 games during his four seasons in Atlanta but will be making the transition from a 'hand-in-the-ground' defensive end into a 'standup' linebacker.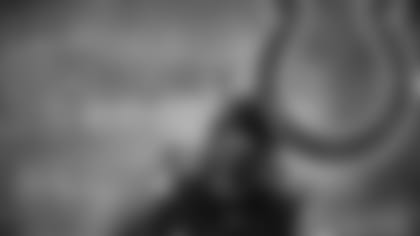 ](/assets/images/imported/IND/article-images/2013/infographs/Sidbury_Lawrence2.jpg)
When Sidbury was looking for options during the free agency period, the genuine interest from the Colts made a lasting impression.
"First and foremost, I feel wanted. It's always a good situation when I'll come here because they want me to be here," Sidbury said. "I'm grateful for the opportunity. It's a young team and they had a lot of success and I just wanted to come be a part of it and help these guys win."
Making the move to more reps as a standup linebacker isn't going to be too 'foreign' according to Sidbury.
In 2011, Sidbury had a career-high four sacks and considers his forte coming off the edge.
"They're getting a very explosive guy," Sidbury said. "I like to use a lot of my speed in my game. I like to get after the quarterback."
With a starting spot open at the rush linebacker position, the Colts have several young prospects looking to emerge and Sidbury has added his name to the bunch.
"I want to get the opportunity to help this team win and help get after the quarterback and come play in this defense," Sidbury said. "Like I said, they want me here so obviously my opportunity is going to come here."